A recipe for my sweet potatoes lovin' sweet potatoes…that's you!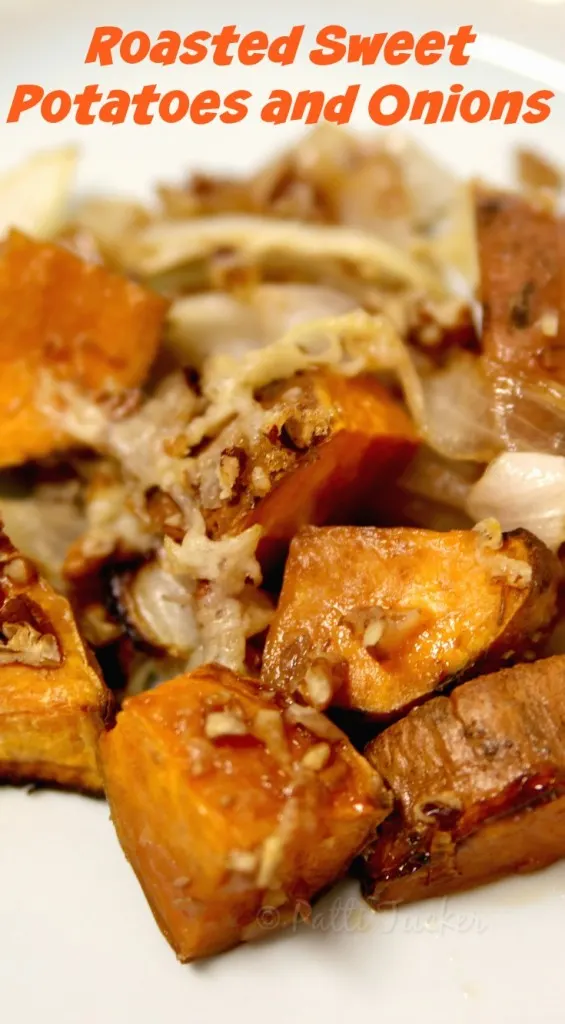 Full Disclosure: While I do love me sweets in any form, I'm not a fan of the traditional holiday sweet potato dish topped with marshmallows and I'm always on the look out for a substitute dish of sweet potatoes that includes a bit of sweetness. This dish has the sweet you may be craving, without the gooey stickiness.
Roasted Sweet Potatoes and Onions
Ingredients:
3 large sweet potatoes, peeled and cut into 1 1/2-inch cubes
2 medium sweet onions, cut into eighths
1/4 cup unsalted butter, melted
1/4 cup firmly packed brown sugar OR 1/4 cup honey
1/4 cup chopped pecans
1/3-1/2 cup Parmesan cheese
Directions:
Heat oven to 450°. Place sweet potatoes and onions in a bowl and toss with butter. Transfer to roasting pan or rectangular pan, 13x9x2 inches, lined with parchment paper.
Bake uncovered 25 to 30 minutes, until tender, stirring once.
Stir in brown sugar or honey, pecans, then top with desired amount of Parmesan cheese.
Bake 10 to 15 minutes longer.
(recipe adapted from Betty Crocker)
~~~~~
The best part about this recipe is not only is it delicious, but sweet potatoes are loaded with nutrition.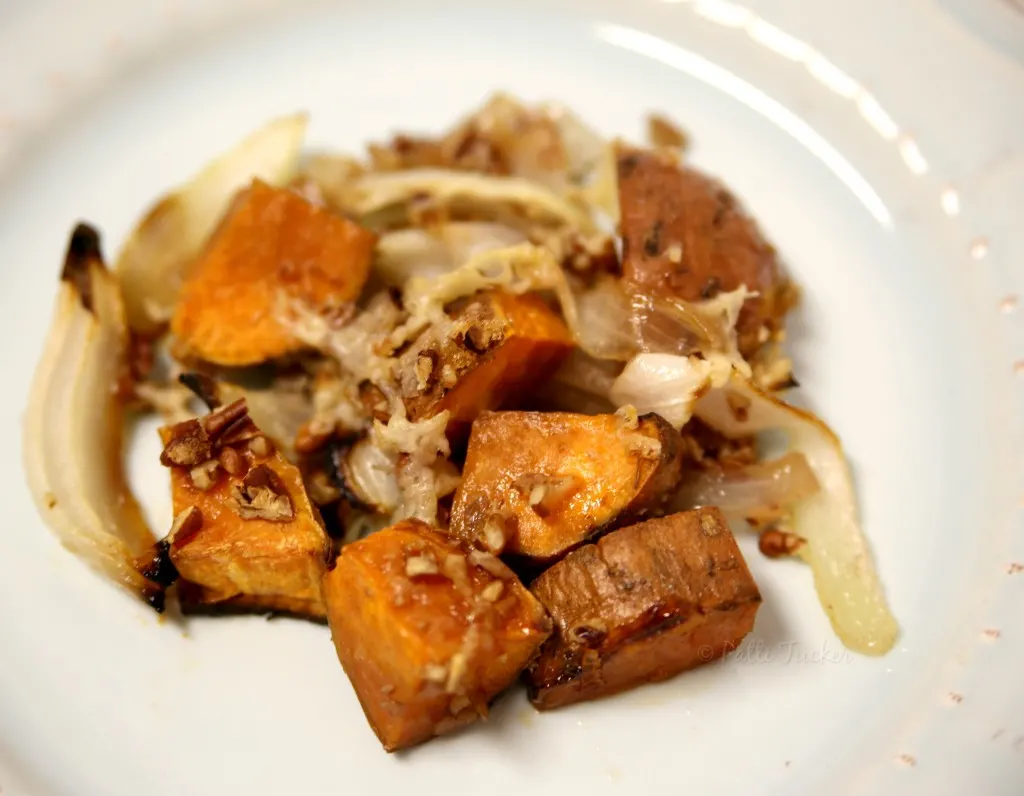 For about one cup of sweet potatoes, you get 7gs of fiber, 4gs of protein, not to mention they're PACKED with vitamins, minerals and anti-oxidants. Just a few examples:
Vitamin A: 769% (whoa!)
Vitamin C: 65%
Calcium: 8%
Iron: 8%
Amazing you can get all of that in one cup of anything. Makes my mommy/grandmommy heart sing!
Of course there is no marshmallow-topping happiness, but we do what we gotta do, right?
Happy Sweet Potato and Onion roasting, Y'all!
~If you found your mouth watering while reading this sweet post, please consider sharing on social media. Thanks!~