We've all been unexpectedly hurt by someone in our family. Well, most of us have. Whether it's an auntie or a sibling or even a parent, there will most likely come a time when someone in your family, someone you trust and love, maybe adore, will cause you such an unfathomable pain that you'll question who you are.
My Sweet E, it's at this moment, should you be in a place where your family is unavailable for counsel, that you will, and should, turn to the friends that have become your family.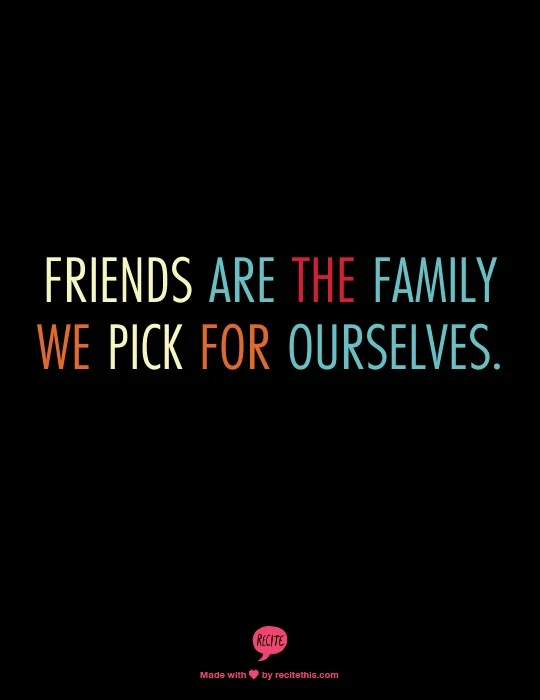 Many make friends as they travel through life, but the lucky ones make friends that in turn become an extension of your family.
These wonderful people will serve as your life's safety net. When you're falling into the abyss because of a horrible hurt, and those of us closest to you are unable to cushion the fall, just before you hit the ground and shatter, reach out to those that love you like family, no matter of bloodline; those are your kin, too.
Those are the souls that will wash you clean and renew your strength.
Friends expand our frailties into strength. This is a truth you must hold close.

Your immediate family is your immediate strength. They are your shelter. They are your protectors. They are your biggest champions.
The friends that you pick as your family? They are no different, if they're doing it right.
Many a time, I was saved by my friendships. Most of the world can wonder what the hell your problem is, but if you have a few solid friends, people who not only get you, understand you, but love you in the face of your failings, if you have these people that become your family too, you have more than most. I can't fully express how valuable these friendships will be to your walk through this life.
Ecclesiasticus 6:14 A faithful friend is a strong defense: and he that hath found him, hath found a treasure.
So many times yes.
Sweet E, as I write these words my fervent prayer is that you may know the joy of picking your family to bolster the one you already have that loves you deeply.
Your family, your mom, your daddy, me, and G-Daddy have a rich history of such friends turned family.
It's your legacy, baby.