~ A gentle reminder: OMT! uses Amazon referral links at no cost to you. ~
One of the best things about being a grandmama is cruising the kid's section at the book store (physical or virtual).
Oh, how I've missed reading/buying/sharing silly fun books. The high-pitched voices and acting out of scenes is a glorious bonus (or at least I hope it is).
Garry and I were out together when I came across this one: 10 Fat Turkeys.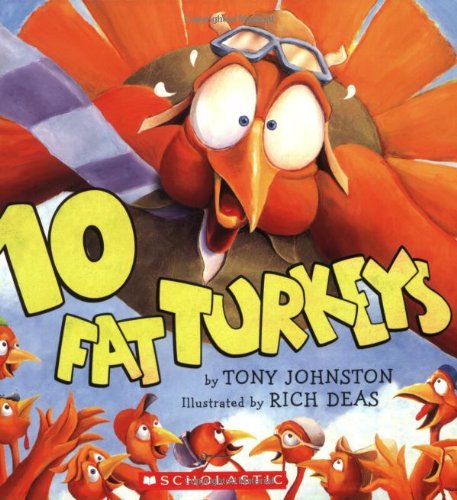 (source: Amazon)
We read parts of it aloud and could totally imagine Sweet E loving it, which of course meant it came home with us.
Product Deets from Publisher:
This silly rhyming story about ten turkeys teaches children how to count backwards.
"Looky!" says a silly turkey swinging from a vine.
Gobble gobble wibble wobble.
Whoops! Now there are nine.
Girls and boys will gobble up this hilarious story about ten goofy turkeys and their silly antics: swinging from a vine, strutting on a boar, doing a noodle dance, and more. Veteran author Tony Johnston has written a joyful text, which first-time illustrator Richard Deas brings to life as wild and wacky fun!
The book had us at gobble gobble wibble wobble.
Go ahead, I'll wait while you say it a few times.
SOLD!
While this is a fun book to read around Thanksgiving, it really has nothing to do with the holiday. It's a silly romping read year round.
Got a book you love to share with itty-bitties this time of year?
Tell us!
Happy high-pitched reading and acting out the scenes, y'all!