Christmas is hard work, yo.  The baking, the decorating, the shopping.  Whew.  I needs a vacay just thinking about it.
What if your shopping could be made easier?  What if there was one place to find all the wishes and wants of your loved ones? (nope, not Amazon wish list) What if I told you there's a registry site for that?  WHAT IF?!
Nope, Mrs. Tucker is not playin'.  She wouldn't do that to you so close to Christmas.
What is this wondrous registry I'm talking about? Checked Twice registry.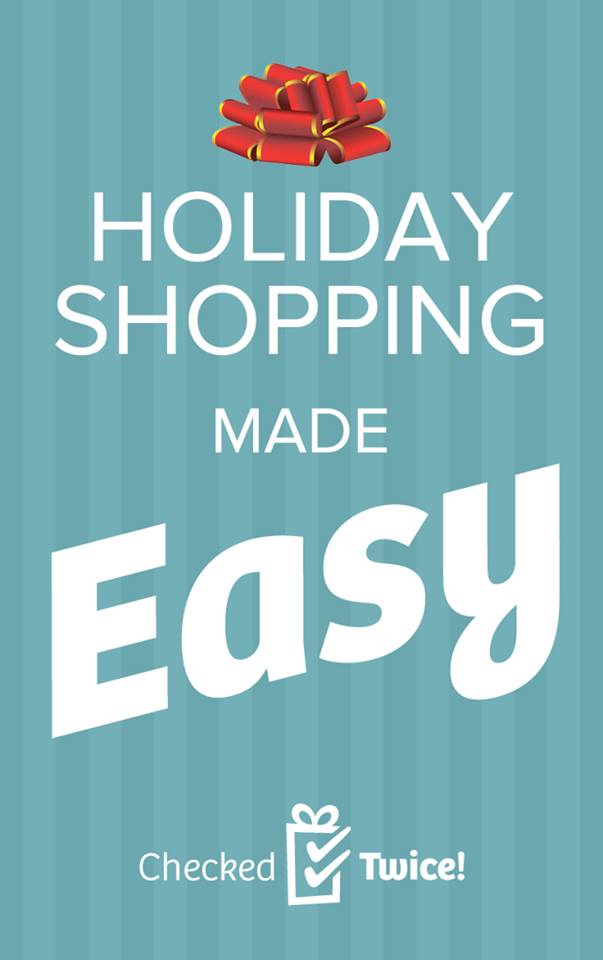 image source: checkedtwice
I first heard of the service through a friend of mine when she posted a link to the company on facebook (Oh hai, Jonna!).  You can pop over there, HERE.
The company has been reviewed by Lifehacker, Apartment Therapy and Cool Mom Tech, just to name a few.
Here's what Checked Twice sez: Create a wishlist containing items you love from around the web. Share with your friends and family and see their wishlists too. No more stress in finding the perfect gift so you can enjoy the occasions that matter most. It's great for Christmas, birthdays, anniversaries, and all the moments in between.
One feature includes being able to check-off gifts that you have purchased.  The recipient can't see what is checked, only those shopping can.  You know what this means, right?  No more duplicate gifts.
I see your eyeballs growing wide with wonder!  It's like a Christmas gift for you that lasts all year long, through each and every giving season.
Using the service seems pretty straight-forward: Give them your name and email.  Wait for a verification email.  BAM!  You're in.
If you're a GIMME YOUR LIST kinda shopper, then this may be what you've been waiting for.
Has anyone already signed up?  If you have, pop in and let us know what you think.
If you haven't, do you think you would?  Let us know, too!
Happy Shopping, y'all!
DISCLAIMER: I will not use this registry.  WHAT?  Why?  Hang on, hear me out…I am one of those people that listens all year long, jotting down specific spoke-about needs and wants, squirreling away the list until I'm ready to go shopping.  I LOVE IT!  I know I'm in the minority.  I know most of y'all want a list from those you're shopping for, dang it!  If I had to get a list, it would take all the fun out of giving for me, but I can see how this service could be a HUGE help to most.  That's why I'm posting…FOR YOU!
I'm stubborn, not stupid!
Please Share on Your Favorite Social Media! ~ OMT thanks you! ~