Come close, my babies. OMT has a tale to tell.
Once upon a time, two years ago to be exact, My sister-in-law made us a Christmas surprise that at first glance seemed nothing more than a healthy snack of nuts and raisins.
When I looked upon it, I may or may not have (totally may) rolled my eyes.
I don't want your healthy snack, madam! Nay! Not when there are chocolate Santas that need my attention!
I immediately advised Husband that he could have it.
Then, for some odd reason, perhaps it was my Southern politeness kicking in (Yep, I have some of that.), I decided to at least taste the twigs and roots mishmash, so that I might thank her accordingly.
What happened next, I can only explain thusly: I went blind as I spoke to the angels, declaring my sin of poor judgement, because that taste…that marvelous melding of flavor, that unexpected Hallelujah chorus…made me sorry I had acted rashly in my offer to Husband.
I quickly withdrew my generosity and advised him we would be sharing.
The concoction, formally known as Spiced Cranberries and Almonds, but since renamed (by me) Christmas Crack, was one of the best homemade gifts I'd ever received.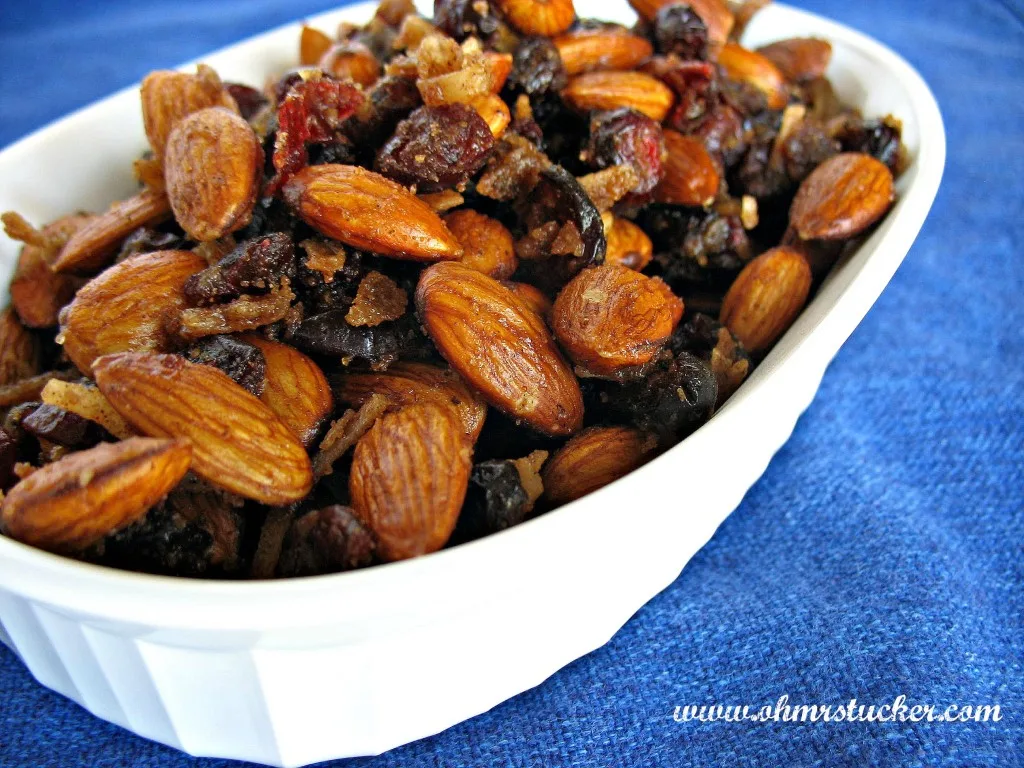 When my sweet s-i-l discovered that I had renamed her recipe Christmas Crack, she was horrified.
She's a proper woman, you see; she would never use such language.
I tried explaining my coarseness and told her that it meant I couldn't live without it, that it's addicting on first sample, that it's all I think about.
She remained horrified, but also weirdly complimented (my family = they've learned to live with me).
Listen to me, my babies: if you have a disagreeable neighbor, a pinched-faced boss, a distant family member that you want to win over, or you just want something wonderful for yourself, THIS IS THE GIFT FOR ANY OCCASION (um, Valentine's Day is a'comin').
When the recipients of your generosity turn into blue birds of happiness because of your Christmas Crack gift, you can thank me with an extra tin left on my porch.
Ingredients
3/4 stick butter (6 tbsp)
1/2 cups packed brown sugar
1 tbsp maple syrup
1 1/2 tsp cinnamon
1/2 tsp nutmeg
1/2 tsp ginger
1/2 tsp ground cloves
2 cups Craisins
3-4 cups almonds/pecans
1/2 cups unsweetened coconut flakes
Instructions
Melt butter, brown sugar, and maple syrup in a large pot over medium heat. Stir in spices.
Take off flame.
Add nuts, Craisins and coconut flakes. Stir to coat all ingredients well.
Spread mixture on a greased baking sheet.
Bake at 350° for 20 minutes.
Transfer to bowl when cooled and serve.
Notes
* Adapted from Sandra Lee
* Store in airtight container with lid.
* OMT assumes no responsibility for any addictive behavior stemming from eating Christmas Crack.
https://ohmrstucker.com/a-christmas-crack-fairytale/
SOOOO GOOOD!
One more thing.
If I had happened across this recipe on my own, I would have dismissed it, DISMISSED IT!, because:
#1) I'm not a fan of Craisins (blech)
#2) it includes coconut
While I'm a big fan of the c-nut, many people aren't.
The thing is that neither Husband or I knew it was in our mix. I emailed s-i-l to ask why she had omitted the coconut. She hadn't; it was in there.
Somehow in the cracky mix of nom, it worked.
No, go on. Git. Make a batch and give it to someone you need to impress, or that you want to trick into marriage.
Seriously, it's that good.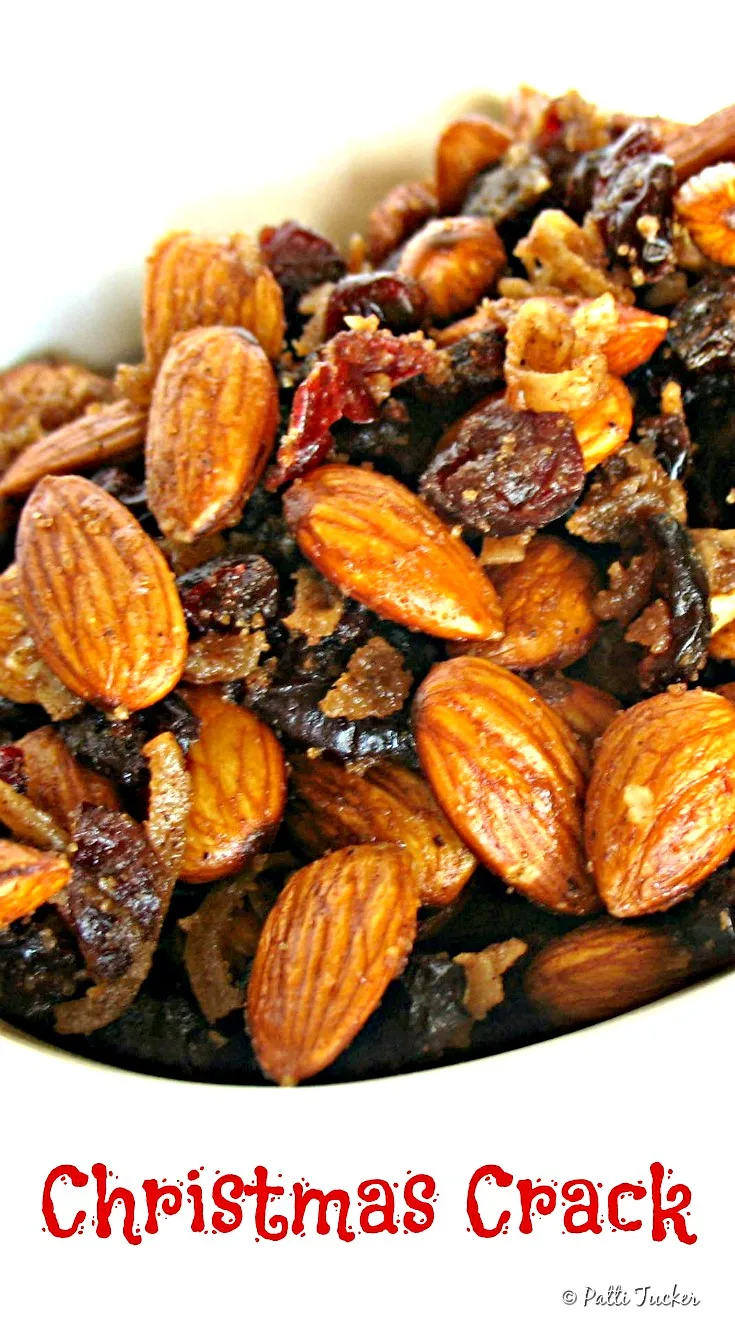 The End