Who else shivered at the thought of dirty germy kitchen sponges being used to wipe down cabinets or countertops?
~ugh~
Facts are facts, Jack. Most kitchen sponges harbor harmful pathogens that have the potential to make us sick with potentially life-threatening food poisoning.
~double ugh~
That's why I wanted to share this simple household tip that can keep your family healthy and you happy knowing that your sponge isn't spreading around illness instead of soaking up messes: microwave those babies for two minutes to kill 99.9% of bacteria!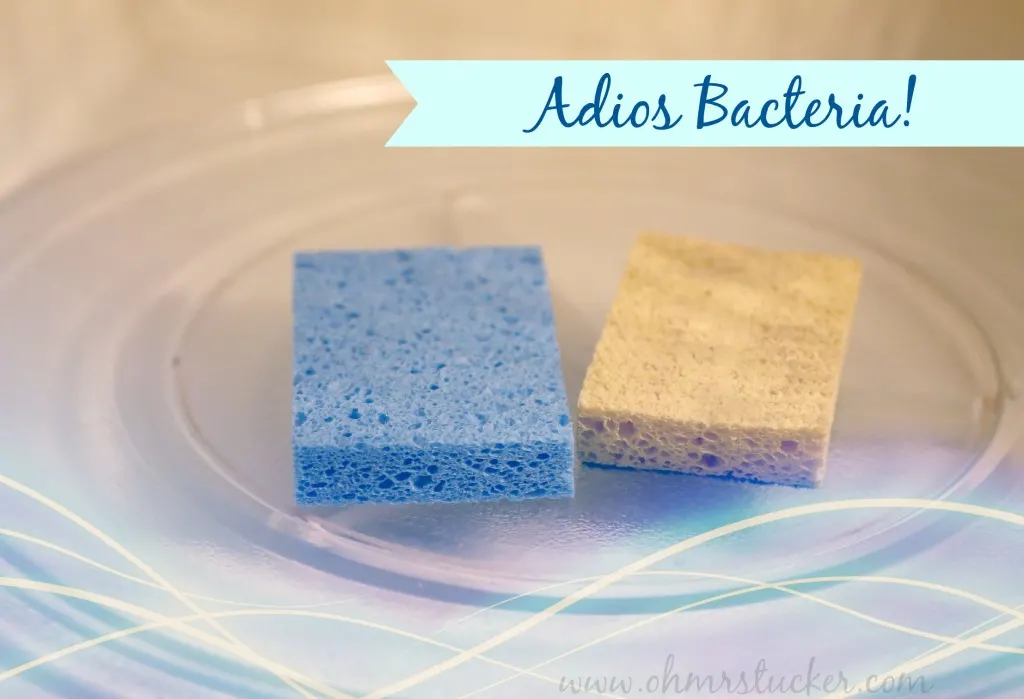 Scientists tested the effectiveness of cleaning a sponge, with the purpose of eliminating food-borne pathogens, five different ways.
#1: Soak for three minutes in a 10 percent chlorine bleach solution.
#2: Soak in lemon juice or deionized water for one minute.
#3: Heat in a microwave for two minutes.
#4: Place in a dishwasher operating with a drying cycle.
#5: Left untreated.
When I first read the studies, I was sure that #1 would be the clear winner. I mean bleach kills everything, right? Turns out, not so much.
The absolute winner was #3: Heat in a microwave for two minutes…AND…#4: Place in a dishwasher operating with a drying cycle.
Microwaving sponges killed 99.99999 percent of bacteria present on them, while dishwashing killed 99.9998 percent of bacteria.
Whoa.
For years I have thrown my sponges in the microwave about every other day or so and zapped for two minutes.
Three Caveats:
#1: Make sure your sponge does not contain any metal pieces.
#2: Rinse sponges thoroughly with water prior to zapping to guard against fire.
#3: When done, the sponges are HOT to the point of steaming! Handle with care.
I have read that some sponges are so lightweight (I use the heavier ones) that they can melt in the microwave. As a precaution to that, always microwave your sponges on a paper plate or napkin.
Also, know that microwaving sponges can accelerate their breakdown. I've never noticed that I'm going through sponges like nobody's business, but they will look a bit shabby before their time. That's why I buy the cheaper cellulose kind and toss them when they start falling apart. My Scotch-Brite heavy duty sponges hold up a bit better. ~ A gentle reminder: OMT! uses Amazon referral links. When you do your shopping through the Amazon links on this page, you support the blog at no cost to yourself. It's much appreciated!~
Don't you feel better now knowing you can win this germy fight? I know I do.
Zap those germ breeders and say Adios, Bacteria!