Yes, yes, yes! Jalapeno poppers are everywhere during grill season. This site is no different: POPPERS FOR EVERYONE!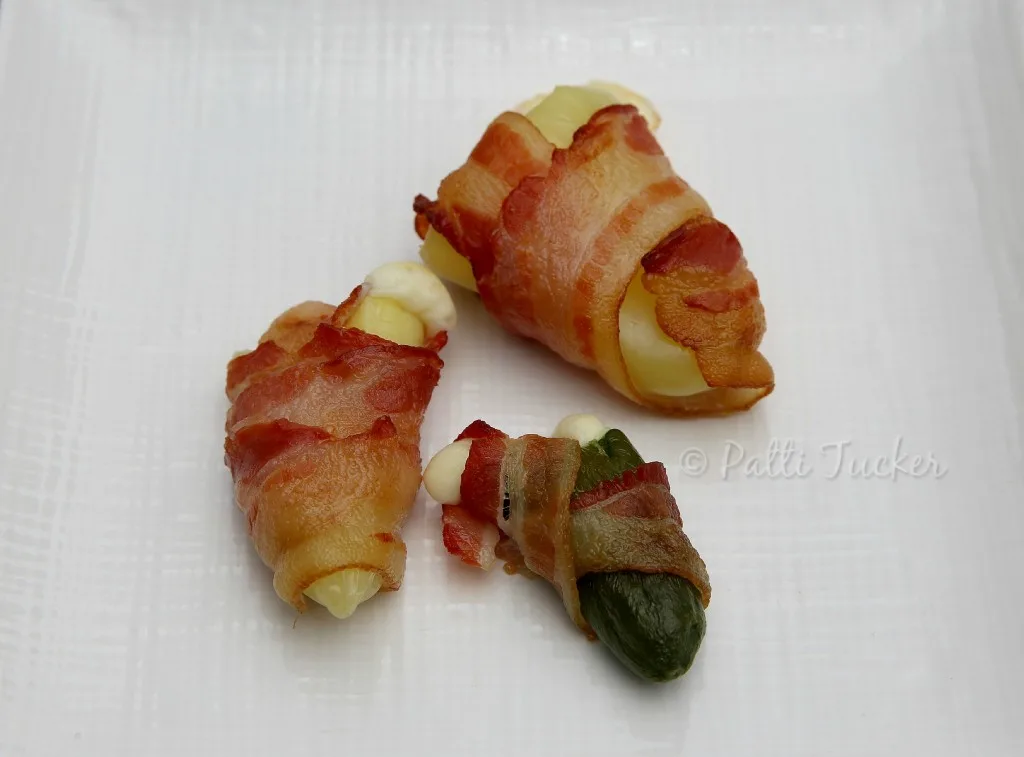 My twist? Adding Fresno Chili peppers, cause you know, ain't nobody ever done thought of that before. ~snort~
First of all, you might wanna pop over HERE and order one of the handy dandy jalapeno corers that you'll see used by Garry in this post. It came in handy and meant we didn't have to half the peppers in order to de-seed them. ~ A gentle reminder: OMT! uses Amazon referral links. When you do your shopping through the Amazon links on this page, you support the blog at no cost to yourself. It's much appreciated!~
NOTE TO NEW COOKS: Sometimes your plans get wet; have a backup plan so you don't stress. Our initial idea was to grill these bad boys on the pit outdoors (like the corn), but as we were getting the fire going, it started to rain. We thought we'd ride it out, until we saw small animals looking for the Ark, so we Plan B'd it. Instead of grilling, we'd stick them in the oven. They wouldn't have that smokey punch, but they'd still be worth making.
We started with jalapeno and Fresno chili peppers fresh from my garden (seriously would have never thought "fresh from my garden" would be uttered on these pages).
Wash the peppers and protect you hands with gloves, if that's your thang. The innards of the peppers are where the 'picy heat is y'all!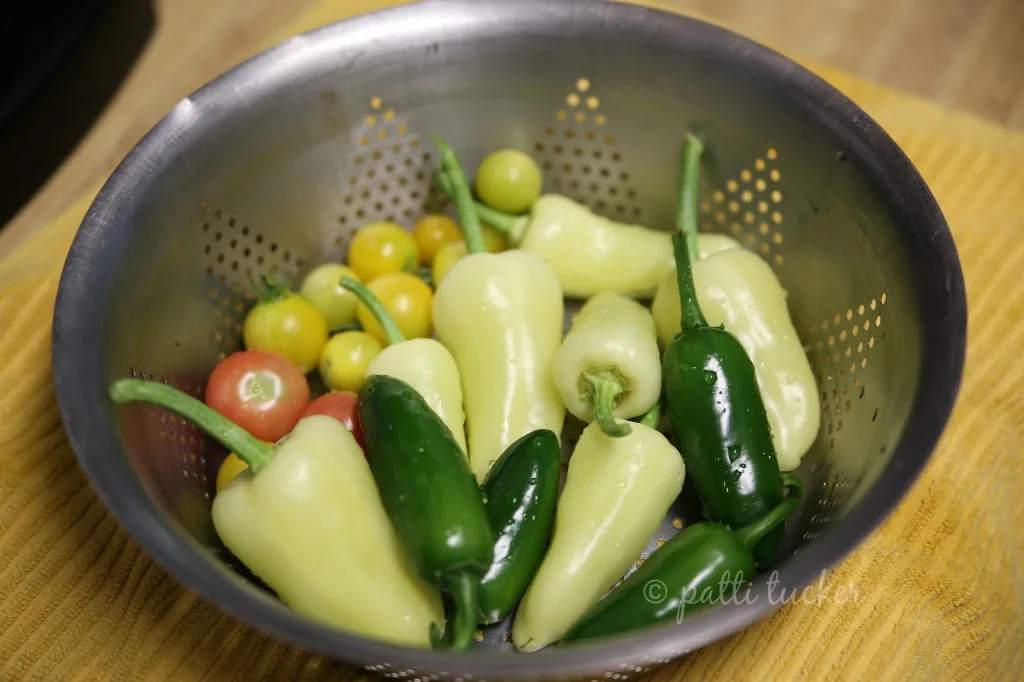 Cut the stems off the peppers, giving yourself room to work the corer into each pepper.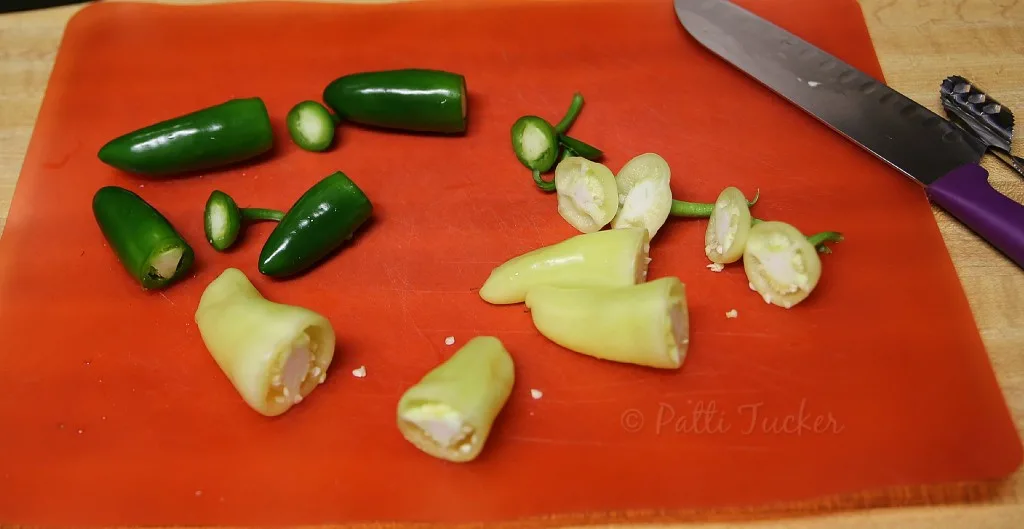 This is how I prefer to protect my hands from hot pepper oil: LET GARRY DO IT! He was my model for all things too-hot-to-handle. This jalapeno is about to get its guts ripped out.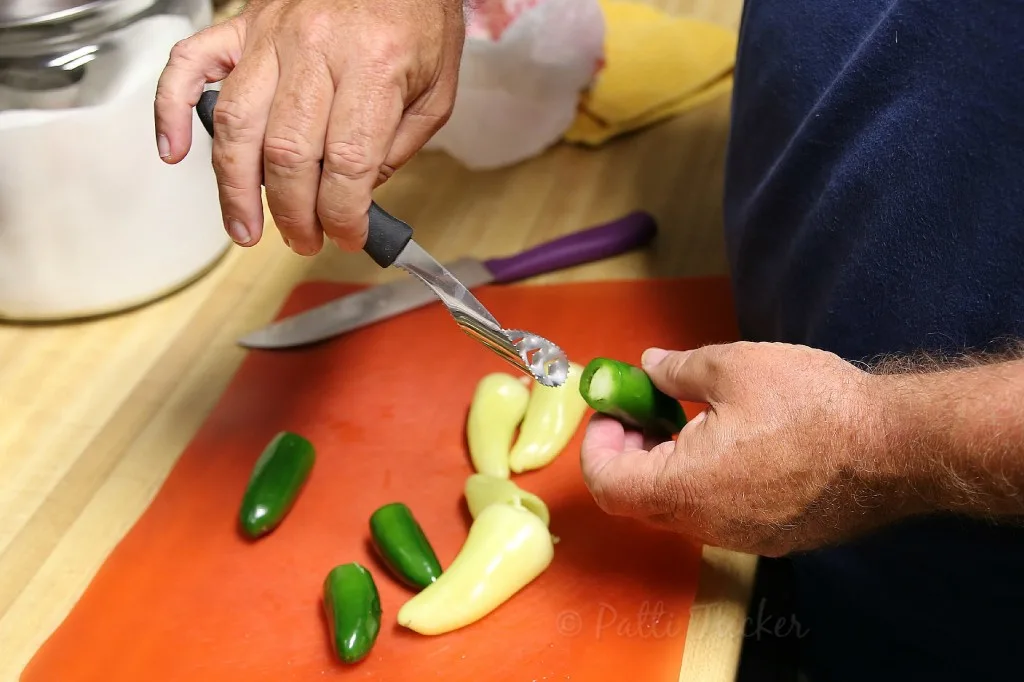 BAM! No 'picy-to-sear-Patti's-mouth innards. Garry noted on some of the small peppers that the corer, which is sharp, would leave small perforations in the bottom of the pepper. I say that the peppers deserved it…trying to burn us with its hotness. TAKE THAT PEPPER!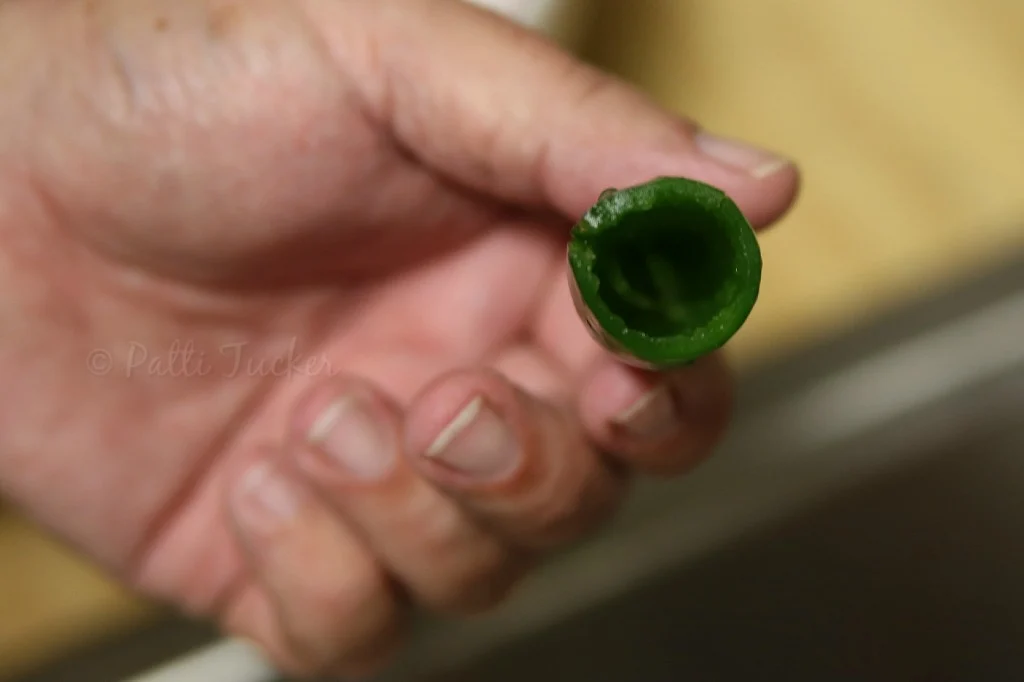 The bigger, wider-mouthed, peppers were a cinch to de-seed.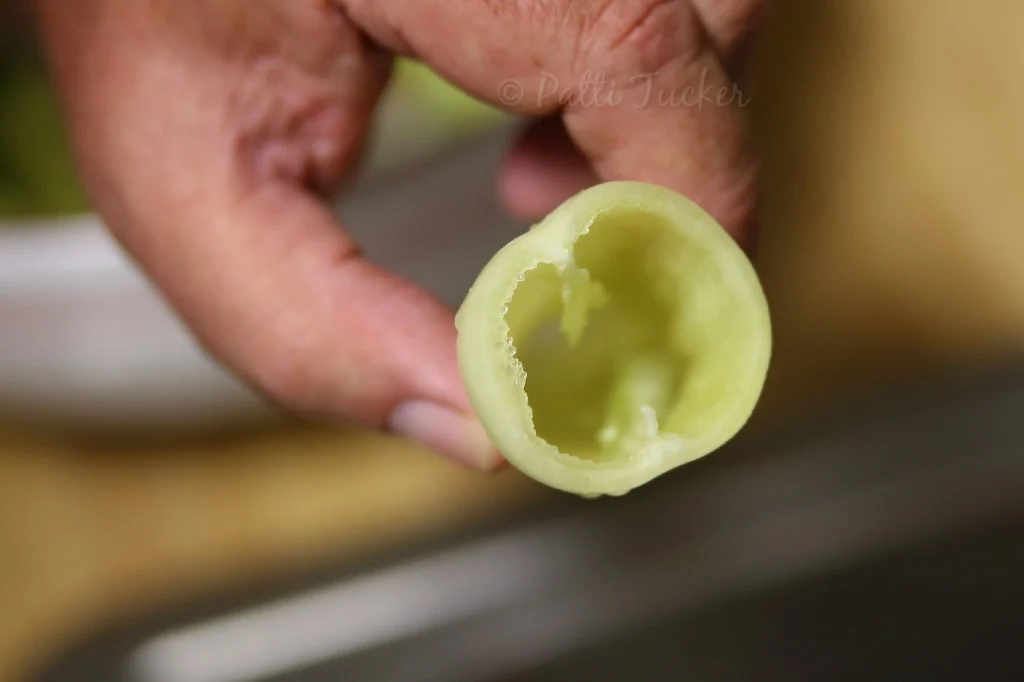 We debated on what kind of cheese should fill the peppers. We happened to have an abundance of string cheese, so that's what we used. Don't like string cheese? Simply use what you love to eat.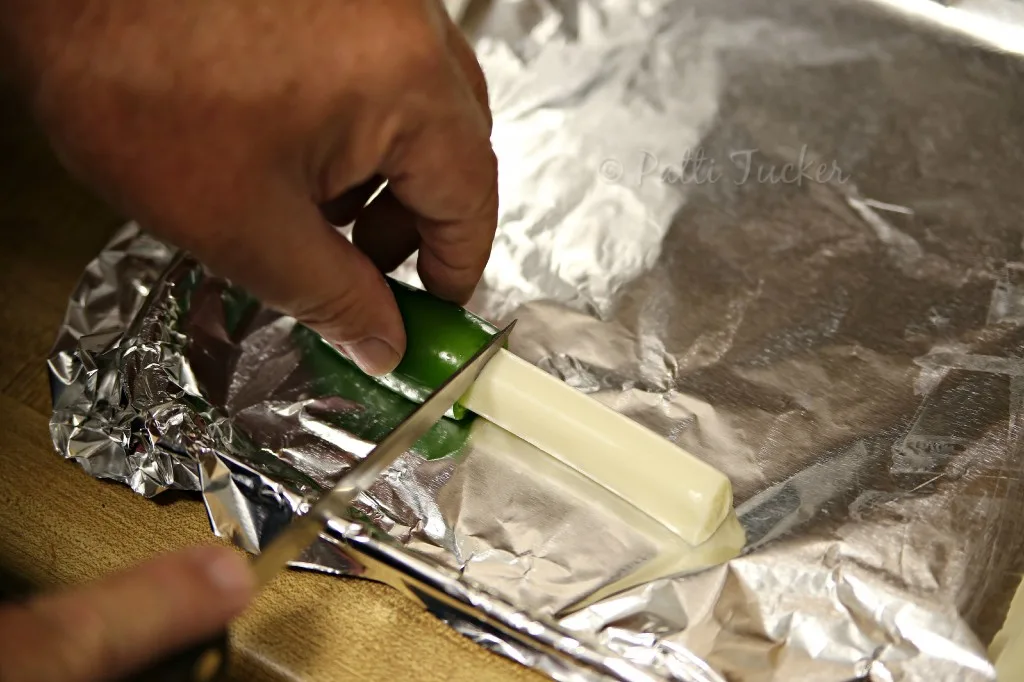 Easiest stuffing a pepper, evah!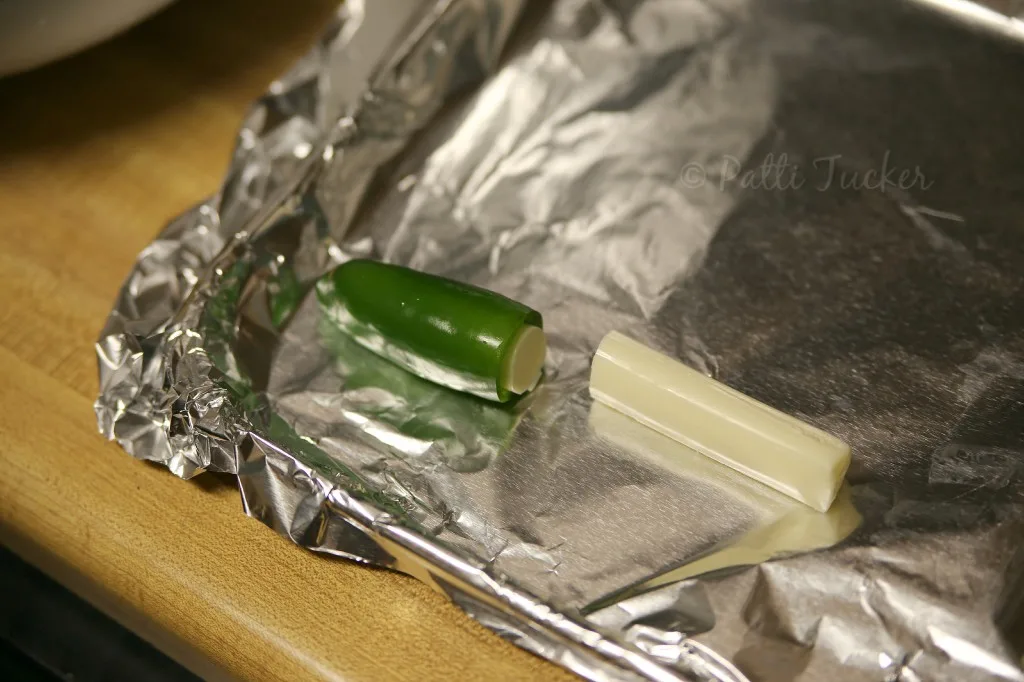 Wrap those babies in a bacon blanket. How much bacon? You decide. The bigger peppers got a full piece of bacon, the smaller ones got half. Looking back, I'd wrap every single pepper with a full slice of bacon. Why? Because, um, BACON! Lesson learned.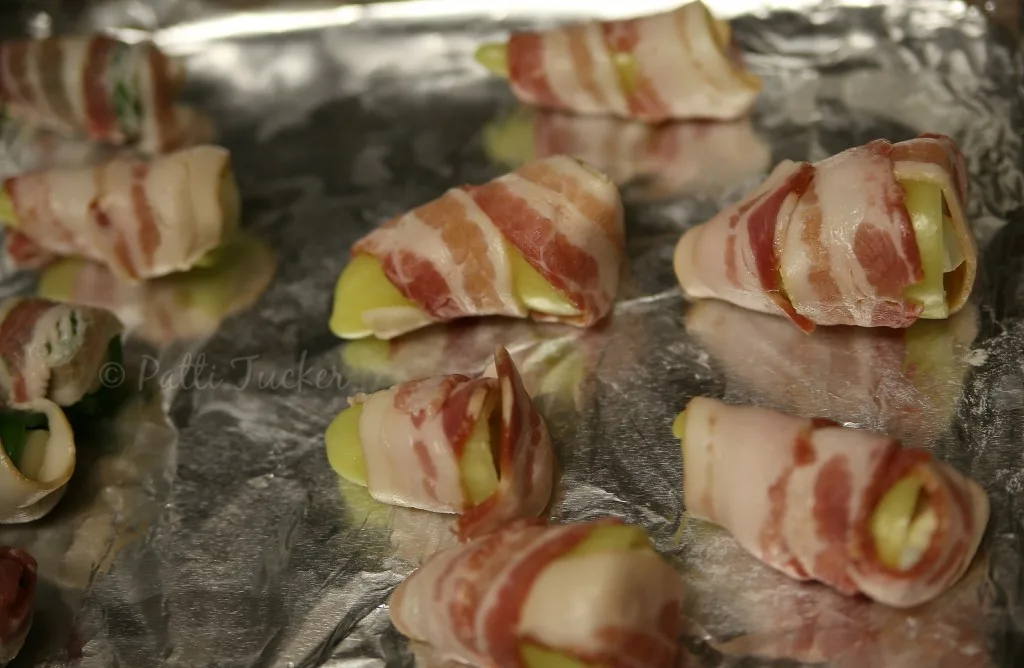 Bake at 425° for 15ish minutes. The "ish" comes into play because I don't know how you like your bacon. Kinda chewy? Crisp? In between? It's all about you pleasing your tastebuds.
Keep an eye on the oven after 10 minutes, until the bacon is just right for your happiness.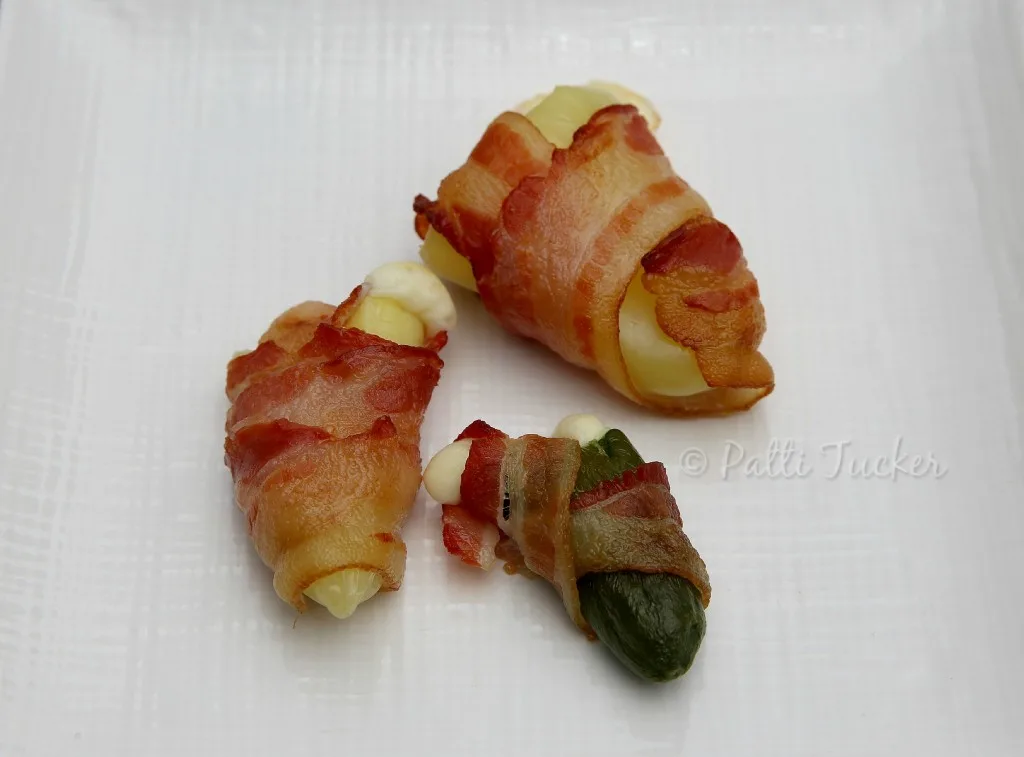 The cheese will run out of the peppers a bit and get a little crispy on the ends. Mmmm, momma likey. Don't worry about that.
If you're going to grill these badboys as opposed to baking them, follow the same pattern of keeping an eye on them. As soon as your bacon is done, so are the peppers.
Even de-seeded the peppers set my taste buds to OH, HELLO! They were delish.
At this very moment, my pepper plants, both varieties, are regrouping and setting about producing the next round of poppers. The next ones will get grilled. Torrential rains or not!
Happy Grilling/Baking, y'all!