Books. I can't get enough of them. Especially if they're children's books that I enjoyed or Boy enjoyed as a kiddo.
~ A gentle reminder: OMT! uses Amazon referral links. When you do your shopping through the Amazon links on this page, you support the blog at no cost to yourself. It's much appreciated!~
Enter: Gregory, the Terrible Eater.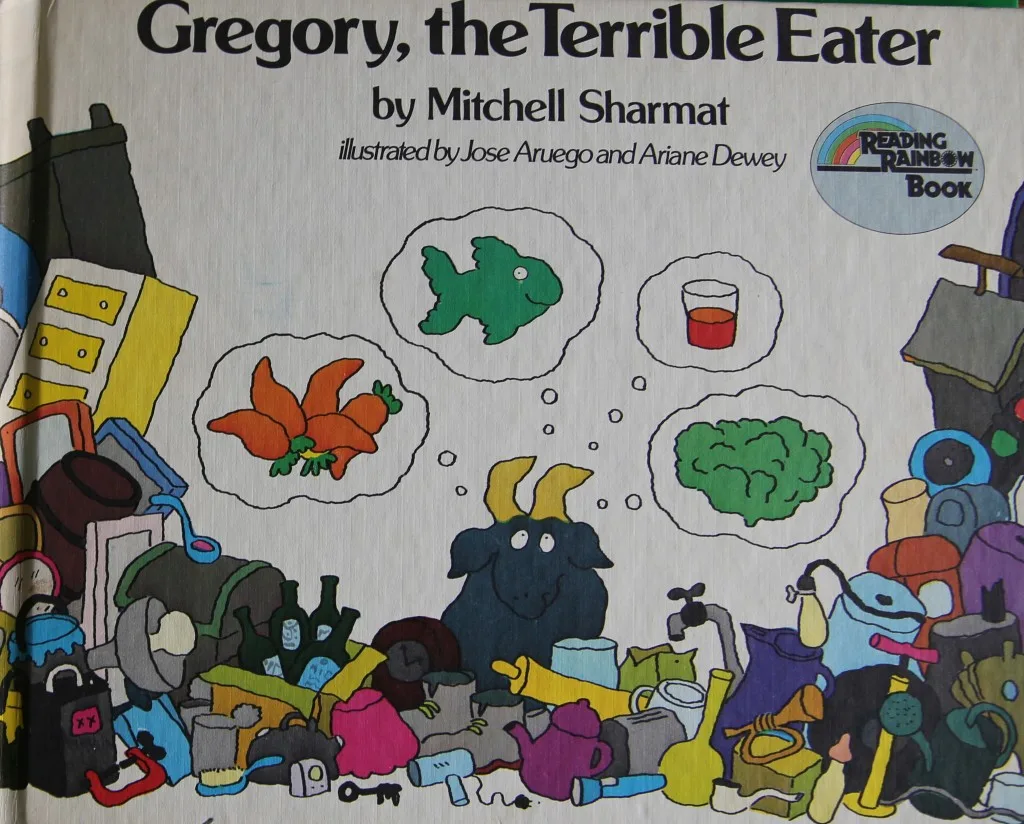 Producer Info: Gregory isn't like most goats. Instead of indulging in delicacies like old shoes, boxes, and bottle caps, he prefers to eat fruits, vegetables, eggs, and fish. Mother Goat and Father Goat are disgusted, and after several attempts to get Gregory to eat like a proper goat, they finally take him to see Dr. Ram. But when Gregory finally develops a taste for flat tires and broken violins, he's not just eating like a goat—he's eating like a pig! Will Gregory be able to find a healthy balance before he eats everything in the house?
Product Deets:
Age Range: 4 – 8 years
Grade Level: Preschool – 3
Paperback: 32 pages
Publisher: Scholastic Paperbacks; 1 edition (October 1, 2009)
Language: English
Whenever I'm on Amazon, I like to check out the reviews, just to see what folks are saying, either pro or con. When I looked up this book, I noticed that it had three 1-star reviews (1-star = BOOO!). Who didn't love Gregory?!
Um, these guys:
#1: A goat owner peeved about goat misconceptions. They went as far as to say the book promotes goat abuse. WHAT?! It doesn't. It's a…wait for it…children's book.
#2: A person disappointed that it wasn't a book on healthy eating. You would have thought the illustrated goat would have tipped her off.
#3: A person ticked that there's nothing funny about eating healthy, "…whether you're a goat or a child."
Is it just me, or do you suspend a little bit of reality when reading children's book?
You can trust me. Gregory the Terrible Eater is a fun book. Kiddos love it. Especially picky eaters.
Go. Read. Enjoy.
~If you aren't a goat-hater, or care what goats eat, consider sharing this post on social media. Smooches!~