Credit this post with getting a jump on your pre-holiday baking ideas, or to WOW! guests that need wowing, with a bar that tastes like pie.
Chocolate Pecan Pie that you eat with your fingers, because that's the kind of barbarians we are! RAWR!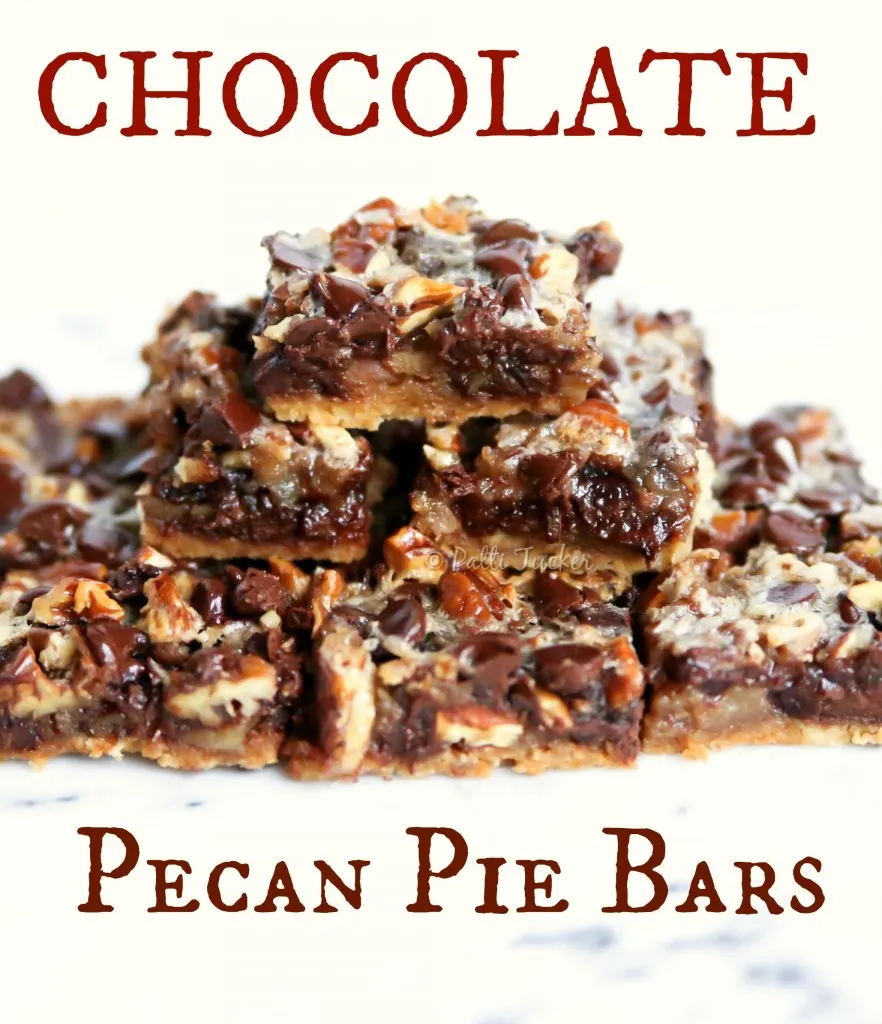 Of course, there are folks who love them some pecan pie (I'm not one of them) and then there are folks who will eat pecan pie if you fill it with chocolate (yep, that's me).
Let's focus on that second group of pie eaters and satisfying what they crave.
Pie + Chocolate + Toasted Pecans = your new BFFs.
Ingredients
1/2 cup unsalted butter, room temperature
2 tablespoons unsalted butter, melted
1/4 cup light brown sugar, packed
1 1/4 cups all-purpose flour
1/2 teaspoon salt
3 large eggs
3/4 cup light corn syrup
1/2 cup granulated sugar
2 cups semi-sweet chocolate chips
2 cups lightly toasted pecans, coarsely chopped
Instructions
Preheat oven to 350°.
Butter bottom and sides of a 9×13 inch baking pan.
In the bowl of an electric mixer, beat 1/2 cup room-temp butter, brown sugar, flour,and salt until coarse crumbs form. Press firmly into bottom of prepared pan.
Bake until lightly browned, 25-30 minutes. Let cool, 10 minutes.
Meanwhile, mix eggs, corn syrup, granulated sugar, and 2 tbsp melted butter until well combined. Add chocolate chips and pecans; spread over crust.
Bake until set, 25-30 minutes. Cool completely in pan before cutting.
Notes
https://ohmrstucker.com/chocolate-pecan-pie-bars-yes-please/
This bar recipe is one of the easiest I have ever found. Make a crust, make a topping, combine the two…viola! PIE-LIKE BARS!
While the bars are perfect on their own, there's no law that says you can't put a giant scoop of whatever ice cream you'd like on these badboys, whether hot from the oven or cooled on the dessert table.
NO LAWS! Ain't livin' in 'Merica great!
Ain't nothing left to do but one thing: Get to bakin', mah babies!