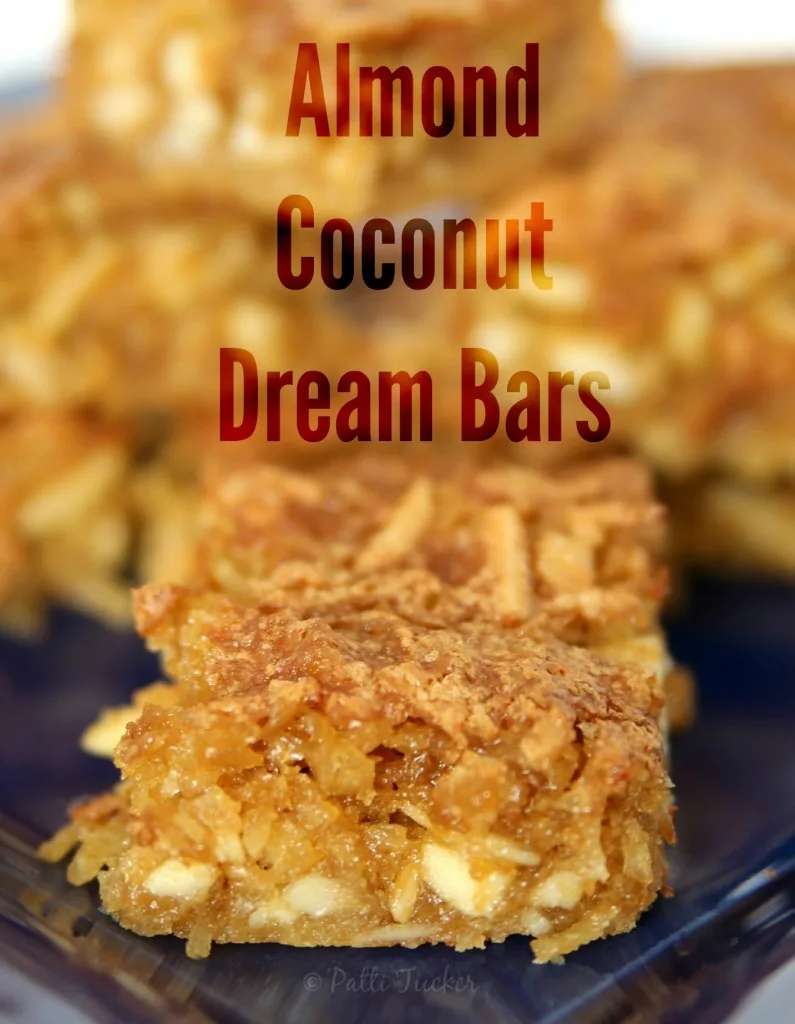 Oh, momma…look at that! Dream Bars are everything you dream about in a bar: balanced sweetness against a flaky crust with a filling that makes you Mmmmmm in delight.
This recipe was handed down to me from The German (my mother, for the uninitiated); I have no idea where it originated, but am grateful that someone somewhere invented these bars. They're making me drool just writing about them.
As a kiddo, I looked forward to these every Christmas almost as much as the coming of Santa.
[Tweet "Dream Bars are everything you dream about in a dessert, making you Mmmmmm in delight."]
These days, I don't save them solely for Christmas; I make them whenever I need a bit of fancy. And now you can too!
They are perfection for any occasion. Easy to make, easy to eat! (A little OMT! oddness: I store mine in the freezer and eat them straight from the bag with little to no time allowed for thawing. Chilled goodness!)
On to the recipe!
DREAM BARS
Ingredients:
CRUST
1/2 shortening (I use butter)
1/2 packed brown sugar
1 cup flour
TOPPING
2 eggs, well beaten
1 cup packed brown sugar
1 tsp vanilla
2 tbsp flour
1 tsp baking powder
1/2 tsp salt
1 cup moist shredded coconut
1 cup slivered almonds
Instructions:
CRUST
Heat oven to 350°.
Mix shortening and sugar thoroughly.
Stir in flour.
Press and flatten to cover bottom of ungreased 9×13 pan. (1)
Bake 10 minutes.
Spread with topping. (2)
Return to oven and bake 25 minutes (or a bit more or less) until golden brown.
Cool slightly, then cut into bars.
TOPPING
Mix eggs, sugar and vanilla.
Mix flour, baking powder and salt together and then add to egg mixture.
Stir in coconut and almonds.
NOTES:
1) I typically use my hand for flattening.
2) This may take some care as the crust isn't firmly baked yet. If you tear a piece, do the best you can to slap it back in place and keep on going!
See? So stinkin' easy!
Happy Baking, Y'all!