I cook lots.
For the sake of this post, I'm speaking to volume as opposed to frequency, which I also do; I cook L-O-T-S.
When I was a kid, The German wouldn't let anyone in her kitchen, although I can't complain because she mostly made German fare and who would want to mess up that delicious arrangement?
Under her direction, I learned how to iron, make beds, clean a house, mend socks (oh lawsy, I'm having a yarn darn flashback!), make a list for when your father gets home, and cuss in German. She did not teach me how to cook or bake. OMT was on her own, my babies.
So, learn I did.
~A bit of back-story: I have always believed, for as long as I can remember, that there was an old Italian Jewish woman in me and she would never let you go hungry. She would rather die first.~
When I was first on my own, I belonged to a wild pack of dingos, um, male friends, who ate like, well, wild dingos. When we cooked together, we cooked in large quantities. It became second nature to me.
Coming from a large family, I suppose I was always a little on the hungry side too. You gotta be fast with four other hungry siblings. As a result, my pantry is always stocked, my fridge is full and if you come to my house, I'll ask you if you'd like something to eat. When you say no, I'll wait the appropriate time…a few minutes…and then ask you again. Need a little something?
It's a family joke. There is always food and lots of it.
Recently, I thought I might try to cook a smaller meal for Husband and me. A meal for two. With no leftovers. An easy pasta dish (Italian. Did you see that coming?). You know, just to prove that I could do it.
I picked something simple, so as not to get distracted; just throw it together and BAM! dinner for two.
People.
What was I thinking?
Take a look: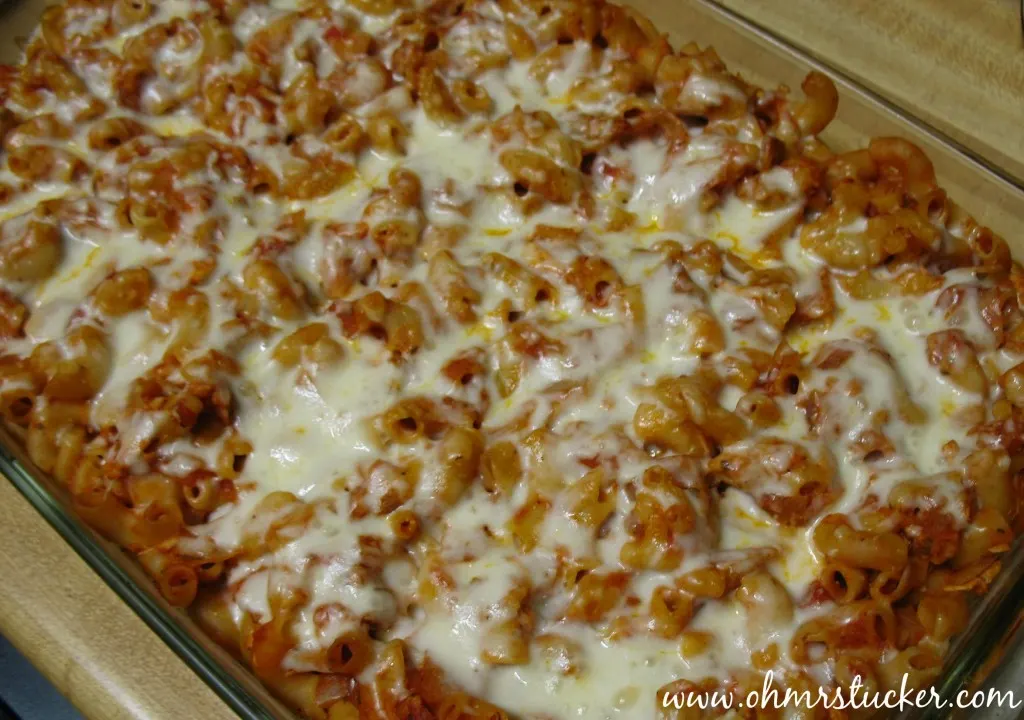 ~ A gentle reminder: OMT! uses Amazon referral links. When you do your shopping through the Amazon links on this page, you support the blog at no cost to yourself. It's much appreciated!~
This is a giant 15 x 10 pan. I didn't mean for the meal to get out of hand….it just kinda did.
It started when I boiled water for the pasta. When the water was ready, I threw in the pre-measured pasta for two. It was then my old Italian Jewish woman took over. Before I knew what had happened, I had thrown in more pasta and made the sauce accordingly for an army. Once I drained the cooked noodles, but before I mixed everything together, I realized I had failed.
Dinner for two became a tailgate meal for a crowd.
Although, I can't complain. It was delicious, as will be the leftovers. Thank God we love leftovers.
What about you? You hungry? Need a little something?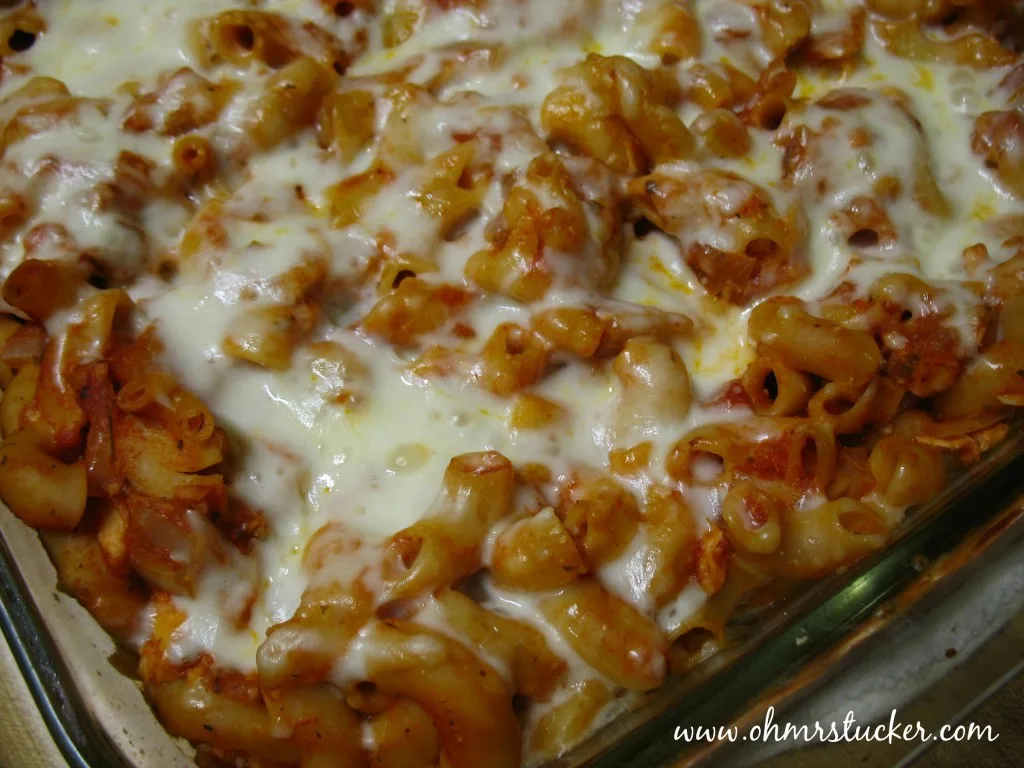 Ingredients
1 package of 24 oz large elbow pasta
1 67 oz container of pre-made tomato sauce (like Ragu)
1/2 Rotisserie chicken, deboned and chopped
1 chopped onion
6 cloves chopped garlic
1/4 cup olive oil
1-2 cups mozzarella cheese, grated
Instructions
Bring enough water to a rolling boil, in large pot.
While waiting for water to come to a boil, place oil and chopped onion in another pot over medium heat and saute onions for about 8 minutes.
When onion is translucent, throw in chopped garlic and cook for a few minutes, stirring frequently so as not to burn.
Once garlic is cooked, pour in about 60 ounces of prepared tomato sauce. (1) (2) (3)
Add chicken.
Season to taste and let simmer until pasta is ready.
Once water is boiling, throw in pasta and cook for 6-8 minutes.
Drain, but do not rinse.
Pour cooked pasta into pot with tomato sauce and mix well.
Spray a 15 x 11 pan with Pam, then pour in pasta mixture. (4)
Spread evenly, then top with cheese.
Cook for 20 minutes at 350°.
Eat like kings.
Notes
1) Yes, you would have thought the copious amount of tomato sauce would have tipped me off that I was NOT cooking for two.
2) I froze the remainder (flat in a ziplock bag) to use on a giant pizza in the near future.
3) I buy the giant container of tomato sauce at Costco. Big surprise!
4) Gasp at the sheer volume of food.
https://ohmrstucker.com/easy-mac-for-a-crowd-or-dinner-for-two-at-my-house-2/