Remember the post I did for Nose Frida, the snotsucker?! No? Go on….we'll wait here while you check it out.
For the rest of us that have seen the post, while they're over there being totally skeeved out by an amazing baby product, we're here laughing. Ha!
SNOT SUCKER!
Oh, you're back? That was an adventure, wasn't it!
When I first heard of, then saw the Nose Frida in action, I channeled the late great Whitney Houston: Oh, Hell to the No! BOB-BAAAAY!

Then, I stuck around a minute to see how Sweet E reacted. He could breathe again. Clearly. Easily. He was moderately annoyed, but not as annoyed as he could have been had an old-school blue bulb sucker been used on him.
I was sold. Sweet E seemed sold. Momma and Daddy were sold.
Now? The game of snot sucking has been elevated. (Yeah, I can't believe I just wrote that sentence either.) So many questions. It's a game? Snot can be elevated? Oh, man.
Yes and yes.
Check this product out: Clearinse Nasal Wash System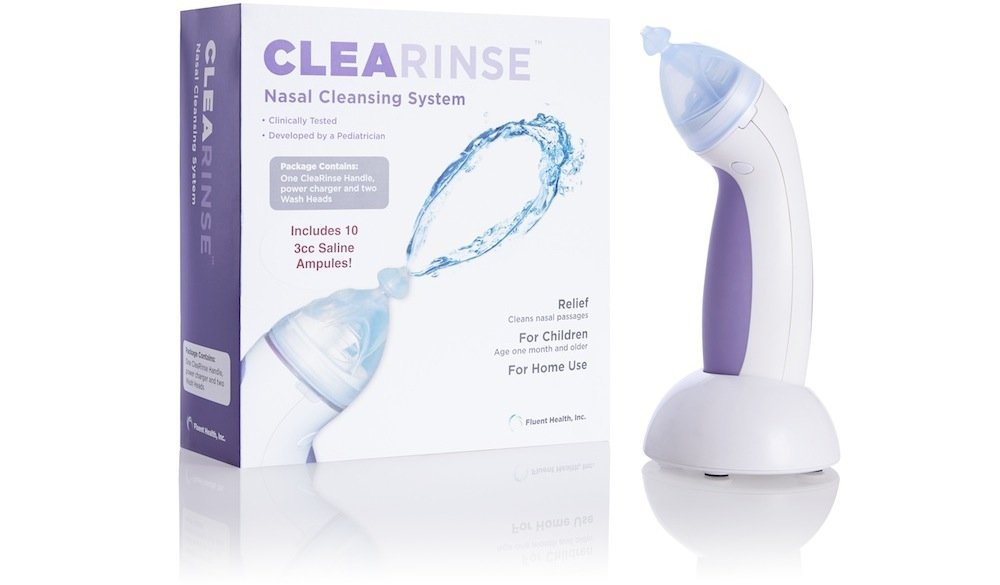 (source: Amazon)
Product Deets:
Nasal congestion is common and can disrupt eating, sleeping and breathing

Children should not use over the counter cold and allergy medicine as they do not work and can have side effects

Salt water irrigation and aspiration is recommended by the American Academy of Pediatrics

Until now, this has been difficult to perform with currently available products

Clearinse makes saline irrigation/aspiration quick and easy and mimics what is done in hospitals
A bit pricey in the $95 range, but from everything I'm reading, the product is worth the cost when your child is sick. Y'all know what I'm talking about. When your baby is sick, you'll sell a kidney to help them feel better.
Still, $95 is nothing to dismiss.
Think baby shower gift that you can go in with another, or several, friends. Or grandparents, Christmas will be here before you know it. You can snag one now and stash it in your gift closet (or as I call it in my house: a closet) until it's ready to be wrapped.
I'm all about making Sweet E more comfortable when he's sick, especially since they live there and I live here. Makes it tough to get my mitts on a sick child to hold and help when a fever is gripping the household. But, if there's something else that can make him feel better, other than my off-key singing of Soft Kitty, then I'm all in.
It's one of those things that you won't use often, but when you do, you'll be grateful you have it on hand.
Suck snot with or without irrigation? (Yeah, I can't believe I wrote that sentence either.)
What say you?