OMT loves her coffee almost as much as she enjoys talking about herself in third person.
SO MUCH!
Today, I'm gonna share one of the easiest and most inexpensive ways to enjoy a customized coffee blend without feeling like it's a luxury you should give up.
In the past, as a coffee lover, I have bought my coffee by the bean at Starbucks, at specialty grocery stores and even by catalog. By the bean is important to such coffee snobs as moi. NO PRE-GROUND!
I know, I roll my eyes at me too.
Each option was expensive and made me feel a twinge of guilt knowing I could spend my money smarter.
Enter World Market coffees (this is not a sponsored post, although it totally should be as much as I invest there).
One day, I was mindin' my own beeswax, shopping ALL THE COUNTRIES at World Market and stumbled upon their coffee wall. So many flavors, so little time.
I picked up a few bags of beans (I have a burr grinder at home…oy, the eye-rollin') and got to grinding. After a few pots of coffee, nothing really set our taste buds into a frenzy, so I honestly thought the coffee was a bust. That is until I wondered what the Italian Roast and the Moca Java Blend would taste like when combined.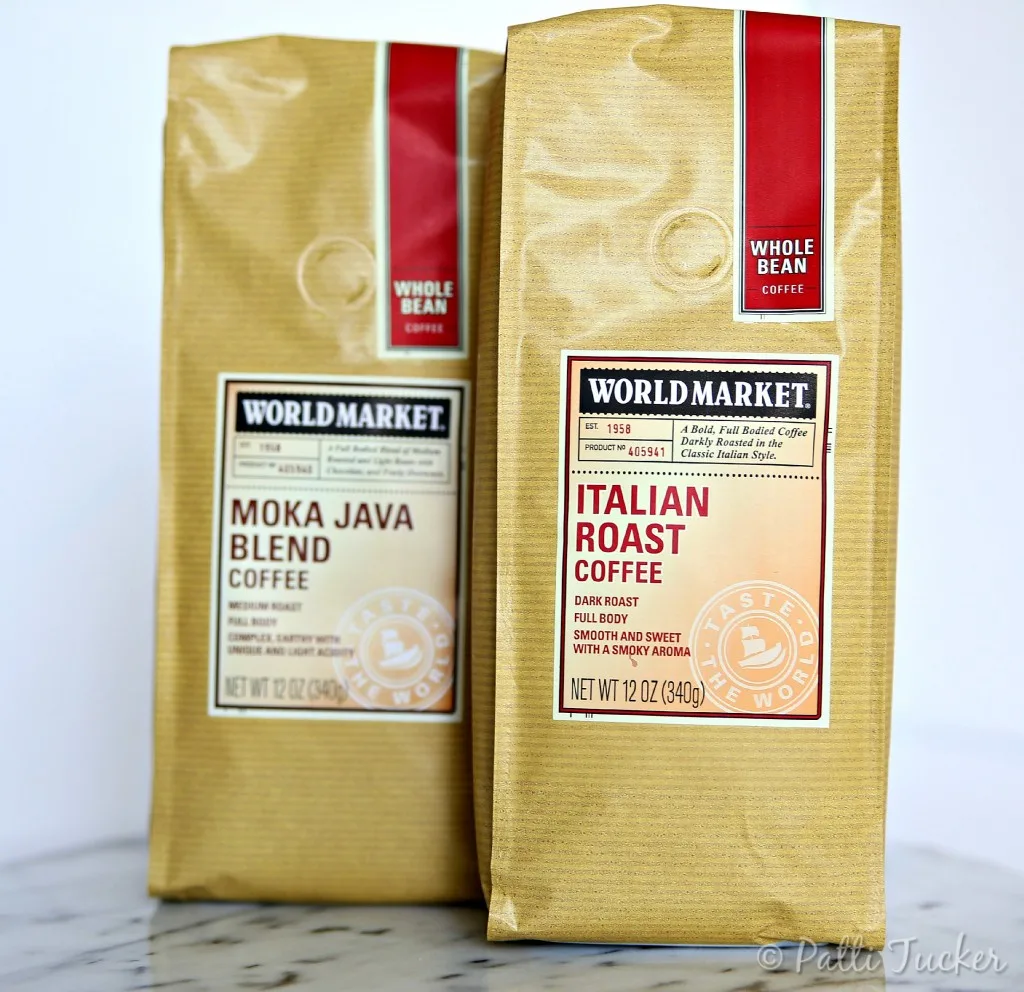 I ground one bag of each, dumped all of it in a giant mixing bowl and stirred until combined. Then, I spooned the resulting mix back into the two bags and labeled as mixed. I felt like a mad coffee scientist.
~cue lighting strikes and maniacal laughter~
The next morning, we brewed a full 14-cup pot. You read the part where I love my coffee, right?! STOP JUDGING ME!
The results were delicious and unique…just like OMT! Okay, that last part was a bit much. I'm gonna blame the coffee.
Seriously, it was perfect. We happily drained the pot and haven't looked back since.
Some of our coffee picks from World Market have been total misses, but we keep experimenting. Although, over the years our most loved mix is the one above.
Each 12 ounce bag runs about $6, but you can purchase them in the 24 ounce bags for around $10. They're a bargain as is, but as a personalized custom blend?! It's like high-brow theft.
One last thing, (~ A gentle reminder: OMT! uses Amazon referral links. When you do your shopping through the Amazon links on this page, you support the blog at no cost to yourself. It's much appreciated!~) while I have an electric burr grinder, I'm not that happy with it and am thinking about asking Santa for THIS ONE next. The difference between a grinder that tears the coffee bean and a burr grinder is palatable. If you're using a regular grinder, and you're a budding coffee-snob (WELCOME!), you should upgrade to a burr. Doesn't have to be this one. There are lots out there in every price range.
Happy Customizing, y'all!