Gardeners, where you at?
Does this sound familiar:
You plan, then plant the perfect garden.
You lovingly water and weed around your tender babies and cheer them on to maturity.
You watch impatiently as the produce gets thisclose to harvest; you can taste the homegrown goodness.
Picking day arrives, only for you to discover half-eaten tomatoes or lemons with GIANT peck holes.
GAAAAAA! How rude!
The birds and squirrels and I are at war – WAR, I TELL YA!
Every year, I try to outsmart my enemy of garden to table deliciousness.
Every year, I lose.
Until THIS year!
~ A gentle reminder: OMT! uses Amazon referral links. When you do your shopping through the Amazon links on this page, you support the blog at no cost to yourself. It's much appreciated!~
Enter Bird-X:
(Source: Amazon)
Product Deets:
~ Protective netting protects fruit and berries from thieving birds and other garden pests.
~ For use on berry bushes, fruit trees, and strawberries.
~ Made of durable 3/4 " polypropylene mesh with UV inhibitors
~ Size: 28′ x 28′
~ Made in the USA

Product Description:
Bird-X® helps protect fruit and berries from thieving birds and other garden pests. This 28′ x 28′ net is a strong and durable 3/4″ polypropylene mesh with UV inhibitors for longer life.
While I would love to take credit for this bit of genius, two things:
#1: G has been after me for the last two years to get a bird net. I totally gave him a proper pshhhhtt in response each time he brought it up.
#2: My lovely neighbor gifted me the net.
When my neighbor heard me lamenting about the thieving critters, she pulled this outta her garage and insisted I try it.
It sat on the dining room table for two weeks, as I was thoroughly unconvinced it would work.
At some point I realized she'd ask me how it was working, so I opened the package and put it over the tomatoes.
I may have even rolled my eyes a little, while G smiled the smile of the triumphant.
This is never gonna work.
There it stayed until my tomatoes actually ripened to perfection with nary a peck or nibble taken.
Um, hello beautiful untouched garden bounty!
HOLY SMOKES, Y'ALL – IT WORKS!
The Lowdown:
~ It is so extremely light and thin that you'll think it won't work. You'll be wrong.
~ It sticks to stuff. The bushes, a button on your shirt, the garden edges – but not so much you can finagle it exactly where you want it.
~ It's not overly dark, so as to hide what's underneath. I can see what is ripe and ready to pick from across the yard.
~ I'm wondering how hard it's going to be to remove from the garden and reuse. Lots of gardeners say they've used theirs FOR YEARS. I'll keep you posted on that.
Check it: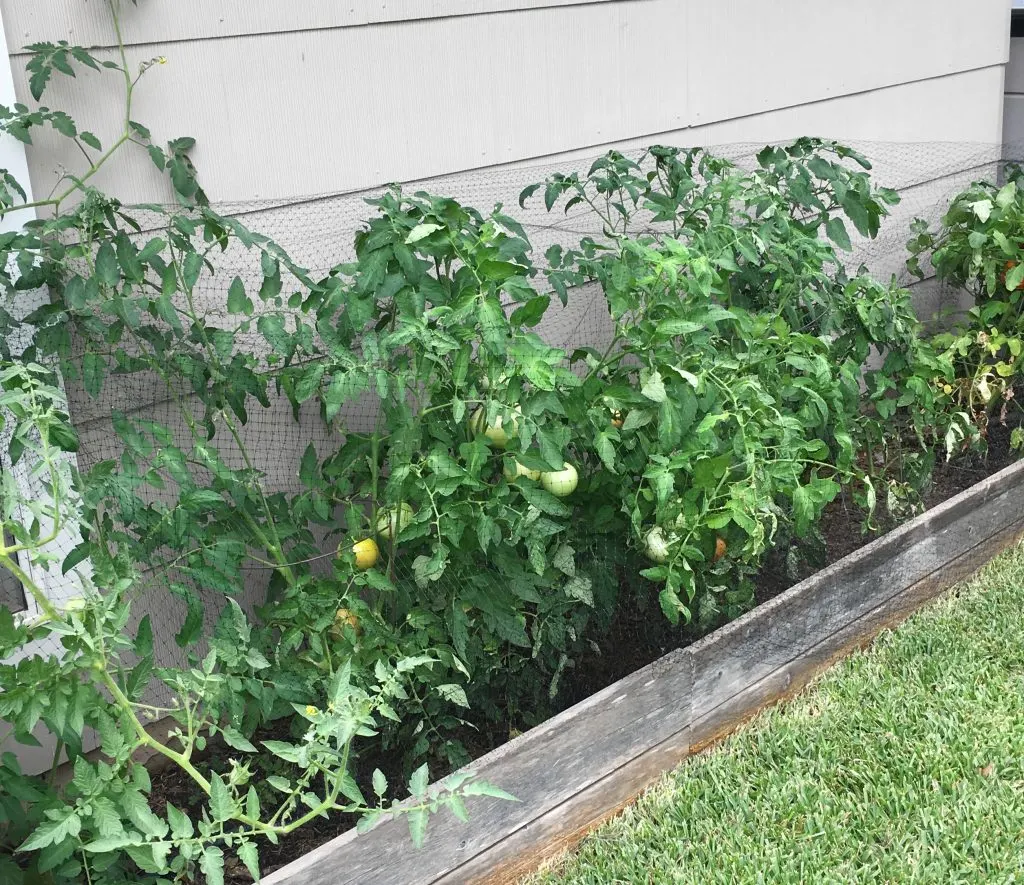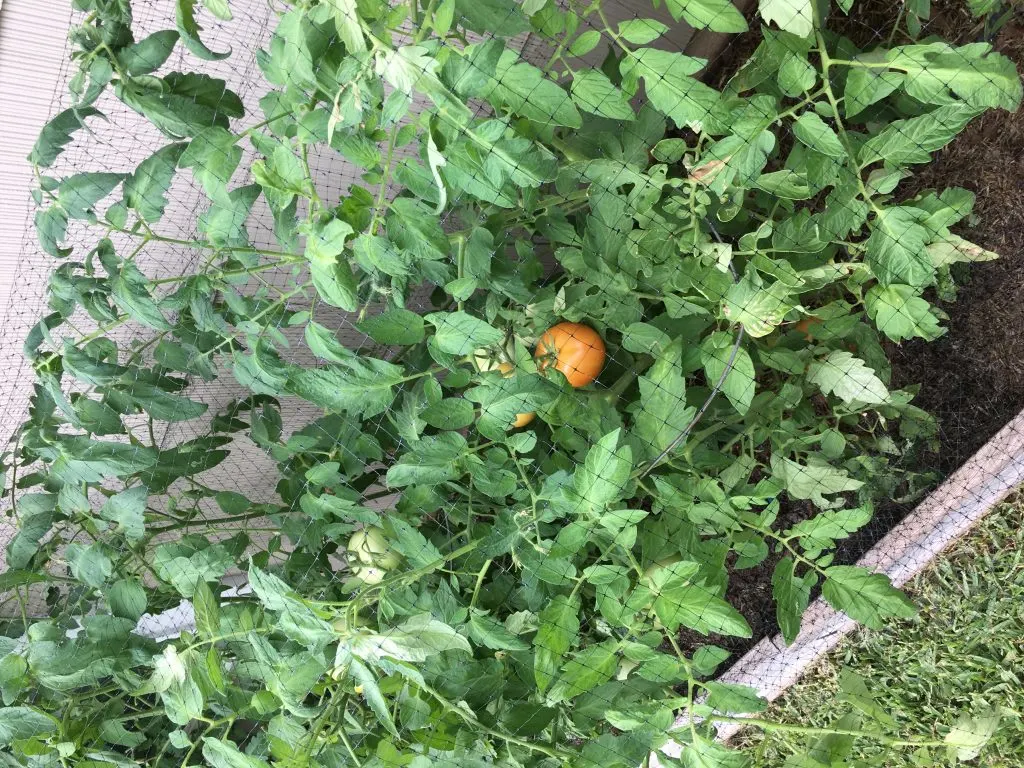 Every time I go to the garden and see the 'maters undisturbed by critters, I feel the war is won!
If you haven't tried netting to prevent stolen garden produce – don't be an OMT!
Buy. Protect. Win the war.