OMT CONFESSION: I am not a fan of cauliflower, but I eat it because it's good for me (so grown up!).
Following the fact that I'm not a fan (my nose is wrinkled as I type), I'm tired of looking for new and easy cauliflower dishes.
Are you?
I am happy to report I have found a such a recipe that I actually like, because I decided to take matters into my own hands and DIY that veggie!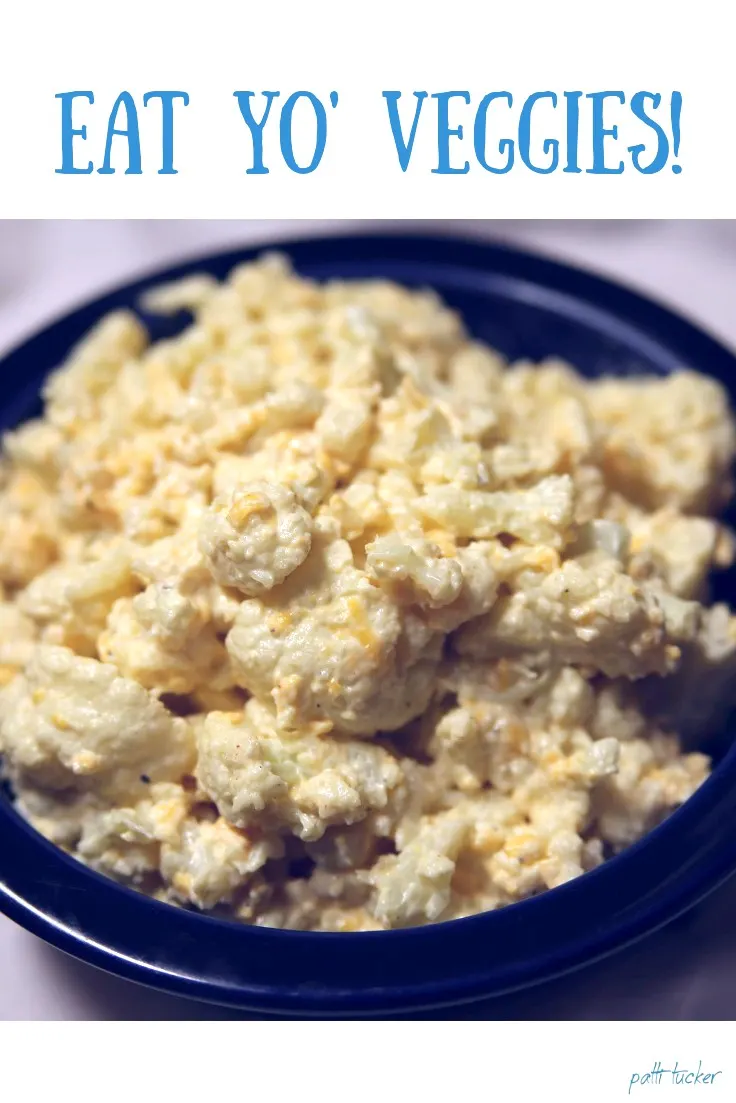 So, it's not a traditional recipe in the way I'll offer exact measurements – BUT THAT'S GOOD! – don't be scared if you're a newbie cook.
Take the loosely held together ingredients and make it your own.
I offer substitutions, mainly because Garry wasn't thrilled with the finished product, but he agreed to try it again, once I used ingredients more to his tastes.
See? EASY AND NEW!
OMT!'s New and Easy Cauliflower Dish
INGREDIENTS:
1 head of cauliflower
1/2 cup(ish) full-fat sour cream
2 cups your choice of cheese
1-2 tsp smoked paprika
1 tsp onion powder
2 stalks thinly sliced green onion (optional)
salt and pepper to taste
DIRECTIONS:
Break cauliflower into florets and steam until tender (5ish minutes)
Drain well.
While still hot, add sour cream and cheese. Stir until well mixed and cheese starts to melt.
Add seasonings.
Taste and adjust seasonings.
Right before serving, sprinkle the sliced green onions on top.
Serve warm.
NOTES:
~ If you're not a sour cream fan, you can easily substitute mayo OR any dressing you like. Caesar, Ranch, French – if you're feeling zesty! Add more or less than the amount I offered, to suit your tastes.
~ What's not in the pic, but makes a zippy addition is thinly sliced green onions.
~ I ate some leftover right from the fridge (cold) and liked.
~ I'm considering pan frying the leftovers next time. I'll let you know how that goes.
~ Seasonings can be anything you love: Pinto bean seasoning (you know I love that stuff!), sea salt, garlic (crushed, browned or salt!)…be adventurous, but most importantly, listen to your taste buds.
~~~~~
That's it!
Let me know if you try it, especially if you're a reluctant lover of cauliflower.
Here's a link to the pinto bean seasoning. I use almost daily! Love it!
~ A gentle reminder: OMT! uses Amazon referral links. When you do your shopping through the Amazon links on this page, you support the site at no cost to yourself. It's much appreciated!~
Eat yo' veggies!