Some recipes are complex and require fancy-pants ingredients…others, like this quick and dirty bacon-stuffed grilled cheese, not so much.
Lifehack: Click here before you begin: How To: Quick and Easy Bacon Makin'.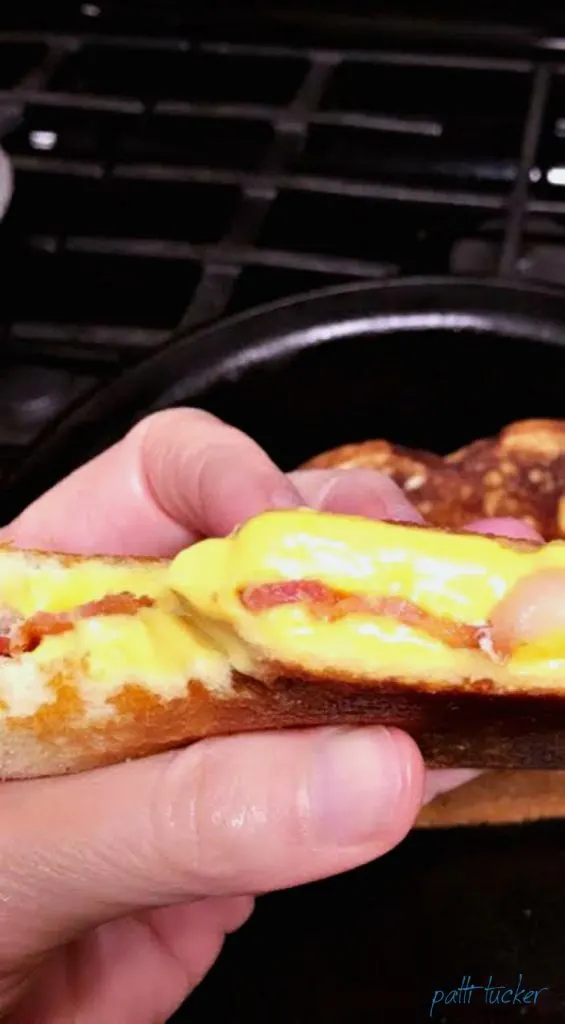 One Saturday we were cleaning out the attic. The attic which Garry likes to tease holds Boy's presidential library. Oh, hardy-har.
It wasn't until I climbed into the "library" that I realized most of the boxed treasures were from Boy's childhood. We slogged through half of the attic before stopping for the day.
Half the attic was now cleared and dadgumit, we were hungray….NOW.
Enter the recipe that requires no fancy-pants ingredients and will have you asking for seconds.
Quick and Dirty Bacon-Stuffed Grill Cheese
Ingredients:
Velveeta block, sliced
Bread (the whiter, the better)
Very soft or melted butter
Cooked bacon (crisped in oven)
Instructions:
Preheat cast iron skillet over medium flame.
Generously butter one side of each piece of bread.*
Place in pan, butter side down.*
Quickly add cheese to cover.
Place strips of bacon (tear each bacon piece in half so it doesn't fall outside of sandwich) on top of cheese.
Cover bacon with addition slice(s) of Velveeta.
Cover with another slice of bread, buttered side up.
Grill until browned, then flip.
Eat while warm and oozing melty cheese.
Roll eyes in ecstasy.
NOTES:
* I butter all my slices before I get started. Makes assembly easier.
* I assemble the sandwiches prior to placing in pan, so I'm not rushed, but you do what makes you happy.
* Velveeta is the KING OF CHEESES (not technically a cheese, but go with it) for grilled cheese. I've had hundreds of grilled cheese sandwiches in my life and the ones that make me insanely happy have all been made with Velveeta.
* I always make more than we think we can eat. Why? Because you WILL want seconds.
Happy Eating, Y'all!
~Pin, Tweet, Facebook or otherwise share this post. OMT smooches!~