I can't get out of my mind how Boy and Mrs. Boy must be feeling as they round third to FB's due date.
All the emotions prior to Boy's birth have settled in my bones these last few weeks. They appear in moments of quiet. They shout YES! when I get an update from Boy. They rush in when I'm shopping at ~name a baby store here~ and touch those tiny receiving blankets or hold out an impossibly miniature outfit.
Do all expectant parents experience the joy? The mounting excitement? The fear of the unknown? Is it the same for them as it was for us? *
I remember feeling anxious for Boy. Do I have it in me to be a good mother? This was the main question I asked myself continuously. How would I know how to mother? Would it be instinct or would I need to learn from a book or from the older mothers around me? (I was the first of my friend's group to have a child)
I remember the growing excitement to meet him (although a that point, we didn't know Boy was a boy). I wondered about his personality and who he would become and how we would help him chase his dreams. I wondered if he'd have our sense of humor or if he'd be a jock. I wondered if he'd inherit my bad eyesight or my love of the written word. I wondered if his features would favor his father or me. I wondered if he would be tall or taller.
I remember looking down and thinking: How the hell will this giant baby come out of my vagina?! (sorry if your retinas just burned-up a little). Of course I knew the physiology of birth…in theory. Experiencing the strength of labor was entirely different.
In my high school biology class, our teacher told the boys: You want to know what birth feels like? Try pushing a watermelon through your nose. Scared the crap out of me then and again as I contemplated pushing Boy through my birth canal (again. sorry about the retinal damage to those of you who are not of the female persuasion). Turned out, my teacher left out my saving grace: THE DRUGS!
I remember knowing that our lives would never be the same and how I couldn't put *that* overwhelming, all-encompassing, never-look-back sort of reality into words. It would simply have to wash over us and be. The humor gene that I wondered about above?
Get ready to point and laugh, here's one of the very few photos taken towards the end of my pregnancy, about where Mrs. Boy is now (our art selection was stellar):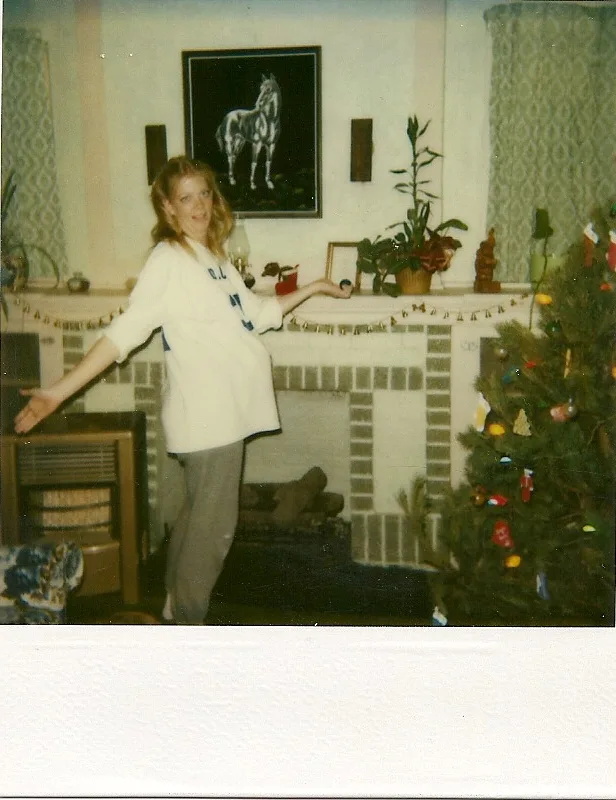 Thinking back over the beginning of Husband's and my adventure as we started our tiny family, I think I should get Boy and Girl's thoughts on video for them to keep and then share with FB when their turn comes to be grandparents (God-willing). The whirling dervish that is the waning days of a pregnancy are almost too much to contain, yet since the beginning of time mothers and fathers of all generations have been knit together in a similar, yet completely unique, experience.
Do you think it's the same?