Who else bakes when the going gets tough?
~show of hands~
Oooo, that's a lot of us.
I've had this recipe on hand for a while, waiting for the perfect moment to make. When we had a rough week, I pulled it out, shopped for ingredients and got to baking.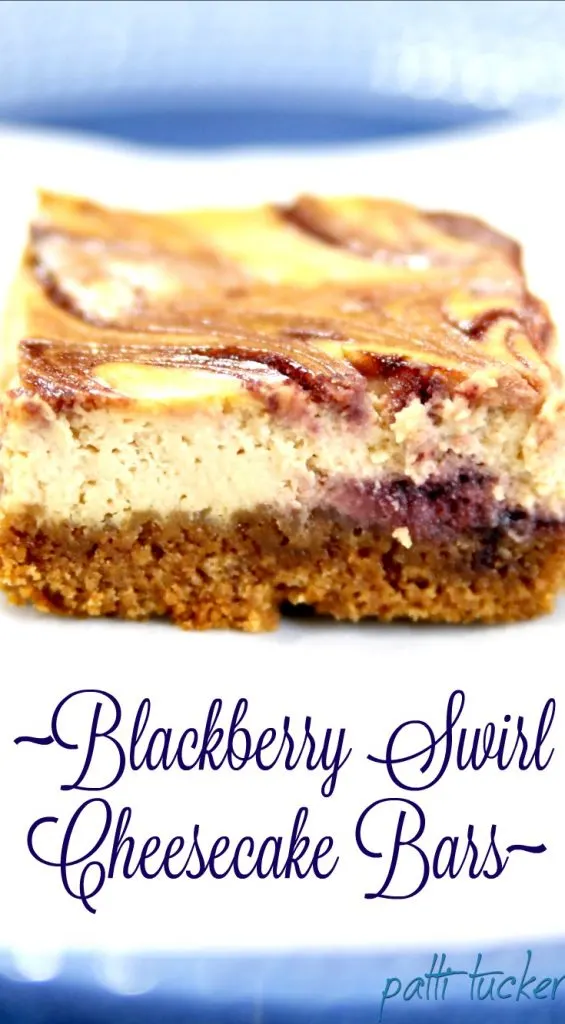 Your turn!
Meyer Lemon Blackberry Cheesecake Bars
Ingredients:
For the crust:
12 sheets graham crackers, pulsed until crumbled in a food processor (about 2 cups crumbs)
1/4 cup granulated sugar
6 tablespoons butter, melted
For the blackberry puree:
6 oz fresh or frozen blackberries
1/4 cup granulated white sugar
1/4 cup water
For the cheesecake:
16 ounces cream cheese, room temperature
1/2 cup sour cream, room temperature
2 large eggs, room temperature
1/2 cup granulated white sugar
1 tablespoon Meyer lemon zest
1/4 cup fresh Meyer lemon juice
1/4 teaspoon salt
Instructions:
Preheat the oven to 350ºF.
Butter a 9″x9″ glass pan.
CRUST:
Using a food processor, pulse the cookies until they are completely broken down into a fine crumb and add the sugar and melted butter. Pulse a few more times until the mixture is like wet sand.
Dump into the pan and press firmly into the bottom.
Bake for 8-10 minutes for a nice golden color.
Remove to cool.
PUREE:
In a small saucepan on medium low heat mix together the blackberries, sugar and water.
Cook for 8-10 minutes until the blackberries are completely broken down.
Place a fine mesh strainer over a bowl and with a silicone spatula press through all the liquid, disposing the solids.
If the puree seems a little thin, return to the pot and bring to a boil to cook for an additional minute. Let cool.
CHEESECAKE:
Lower the temperature of the oven to 325ºF and bring water to boil in a teakettle.
Using a stand mixer or a hand mixer with a large bowl, cream together the cream cheese sugar and lemon zest until light and airy about 3-4 minutes.
Add the sour cream and eggs one at a time until well combined.
Scrape down the sides and bottom and finally add the Meyer lemon juice and salt. Mix to combine.
Scrape everything together again and pour into the prepared pan.
Smooth the top of the cheesecake batter with a spatula and drizzle the blackberry puree on top of the cheesecake. With a skewer or chopstick, make a swirl pattern.
Place the square pan into a larger pan and put both into the oven. Pour the boiling water into the larger pan so that it reaches about halfway up.
Bake for about an hour and fifteen minutes or until the middle no longer jiggles.
Remove and let cool completely (about two hours) before removing from the pan.
Recipe: Broma Bakery adapted from Girl in the Little Red Kitchen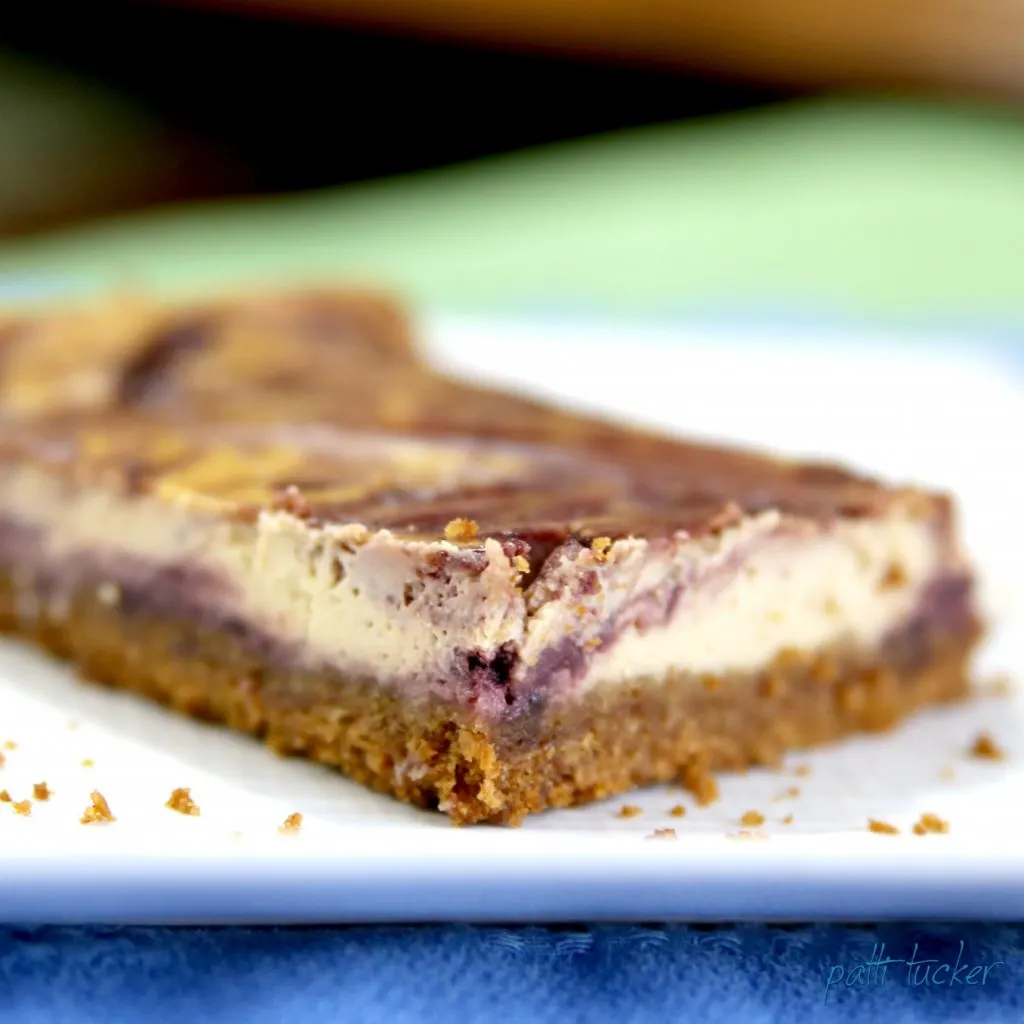 OMT NOTES: Once I zipped over to read the original recipe (linked above), I wanted to make that as well. It looks perfect, but she had me when she talked using Walker's Shortbread for crust. I die!
Need more cheesecake bars in your life? Start here.
Happy Baking, Y'all!
~Please feel free to Pin, Tweet, Facebook or otherwise share this post. OMT smooches!~