If you've been reading any amount of time here, you know my weakness for all thangs cake. I once thought my time might be near to exit this world, and my biggest regret was that I hadn't eaten more cake.
Hand to God, y'all. (I was good in all the family/friend departments)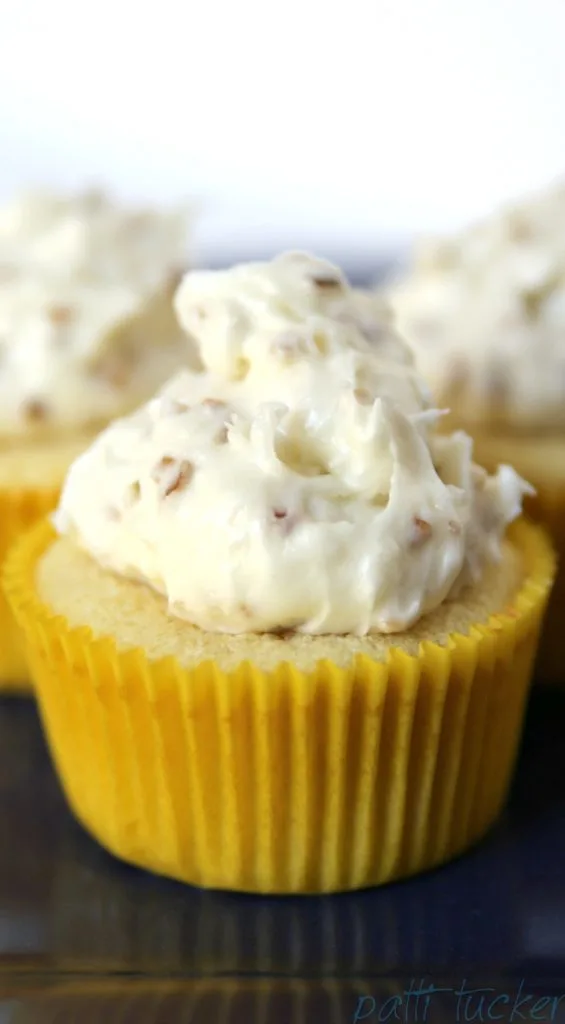 MORE CAKE! Or…MORE CUPCAKES!
Easily remedied, right? Right.
I'd like to clarify before we continue: I consider cupcakes mini-cakes, so my love of all thangs cake is happily extended to cupcakes.
Here is my favorite Italian Cream Cake recipe: CLICK CAKE!
It's a veritable cake's cake, standing all of three-layers high and much requested in our home. To die delish.
But let's say (for argument's sake…humor me) that I was feeling like a three-layer dream was too much ~snort~ and just wanted a small taste. I KNOW! Highly unlikely, but come on…humor me.
If that was ever the case, then these babies would fit the bill. You'd just have to look away while I ate six of them. On a plate, with a fork of course. I'm not a barbarian.
Ingredients
Cupcakes

5 whole Eggs, Separated
1/2 cup Butter, Softened
1 cup Vegetable Oil
1 cup Sugar
1 Tablespoon Vanilla Extract
1 cup Sweetened, Flaked Coconut
2 cups All-purpose Flour
1 teaspoon Baking Soda
1 teaspoon Baking Powder
1 cup Buttermilk

Icing

2 packages (8 Ounces Each) Cream Cheese, Softened
1/2 cup Butter, Softened
2 teaspoons Vanilla Extract
2 pounds Powdered Sugar
1 cup Finely Chopped Pecans
1 cup Sweetened, Flaked Coconut
Instructions
Preheat the oven to 350 degrees. Spray muffin pans (regular or mini) with nonstick baking spray OR line with paper cupcake liners.
In the bowl of an electric mixer fitted with the whisk attachment, beat the egg whites they're stiff. Transfer to another bowl and set aside; clean the mixing bowl and return to the mixer.
Combine the butter, vegetable oil, and sugar in the mixing bowl and mix until light and fluffy. Add the egg yolks and vanilla, the beat until smooth. Add 1 cup of coconut and beat to combine.
Sift together the flour, baking soda, and baking powder in a bowl, then alternate adding the flour mixture with the buttermilk, mixing for a few seconds after each addition. Add the egg whites and use a rubber spatula to fold them into the batter. Add batter to the muffin cups, the bake for 13-14 minutes, or until golden brown on top. Remove from the oven and allow to cool completely.
To make the frosting, whip together the butter and cream cheese until smooth, then sift the powdered sugar and mix it in until combine. Add the vanilla and mix. Add 1 cup of coconut and the pecans, reserving a small amount of pecans for garnish. Mix until totally combined.
Frost cooled cupcakes, then sprinkle extra pecans on top. Refrigerate cupcakes if not serving right away (frosting will soften at room temperature.)
Notes
https://ohmrstucker.com/italian-cream-cupcakes/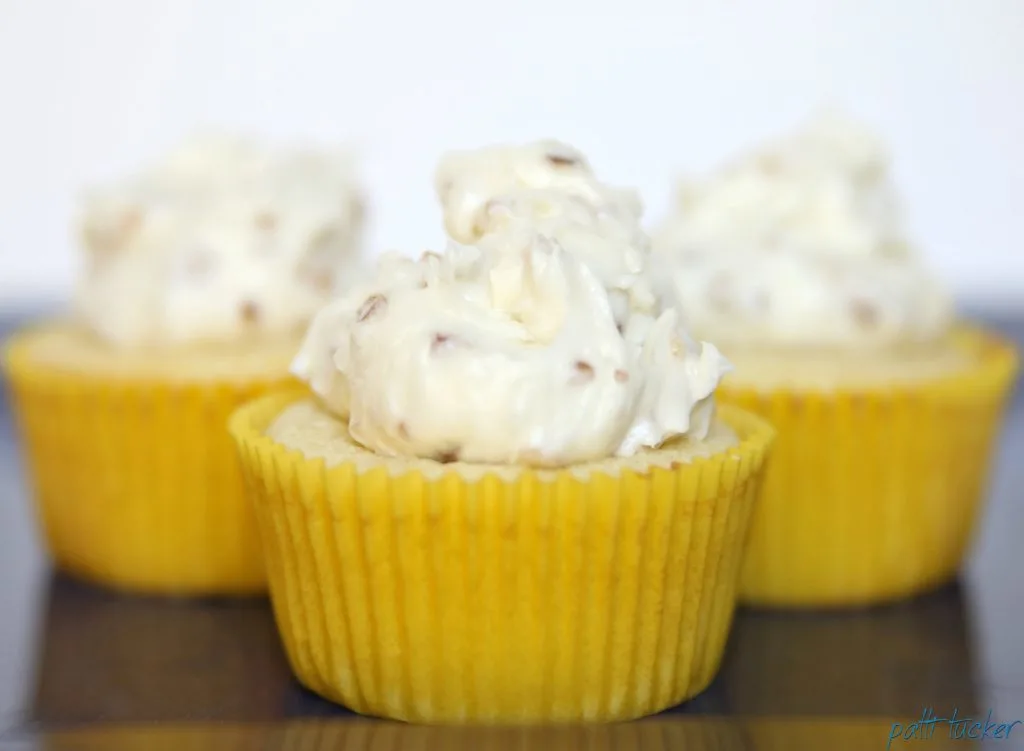 As you can see, I got the recipe from Miss Ree herself (who got it from someone else!) and knew I'd have to share it here.
One Note: The icing makes enough to generously frost every cupcake, PLUS smear between french toast in the morning. I know you're not shocked; it's why we're friends.
Our lives are but a blink, my babies. What if one day your time is almost up? Will you have eaten enough cake?
Let's remedy that today, shall we?
Happy Baking, Y'all!
~Please feel free to Pin, Tweet, Facebook or otherwise share this post. OMT smooches!~