Baby has a stuffy nose?
What to do, what to do.
My generation reached for a bulb nasal aspirator, that was sent home with us from the hospital.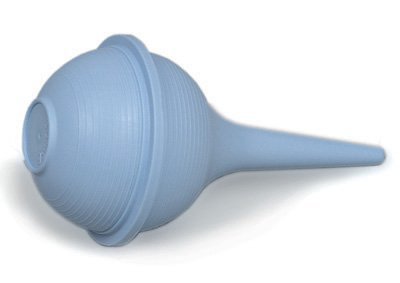 ~ A gentle reminder: OMT! uses Amazon referral links. When you do your shopping through the Amazon links on this page, you support the blog at no cost to yourself. It's much appreciated!~
How we all hated that thing.
It was invasive, tear-producing and mostly ineffective.
Today, a generational change is afoot; a change that isn't for the squeamish.
It's called NoseFrida, The Snot Sucker.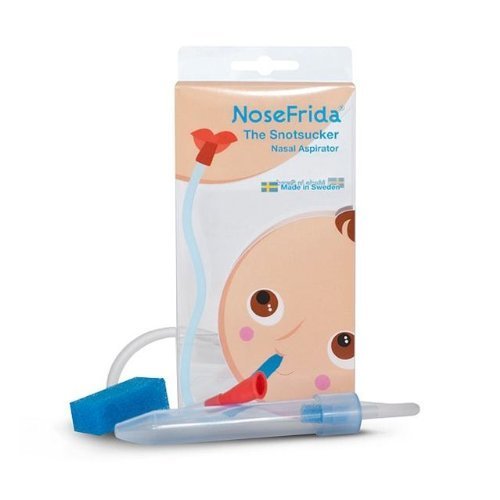 (source: AMAZON)
Here are the details:
Nosefrida The Snotsucker, the doctor-developed and doctor-recommended nasal aspirator is the new standard in keeping babies naturally snot free.
Ingeniously simple Swedish design features a tube that is placed against the nostril (not inside).
Parents use their own suction to draw mucus out of their child's nose.
Disposable filters prevent any bacterial transfer.
Nosefrida is easy to clean, dishwasher safe, and BPA and Phthalate free.
It is superior to the bulb aspirator, presents no risk or harm to internal nasal structures and is dramatically more efficacious.
How do I know about this product?
Boy and Girl use one on Sweet E. I watched, several times, as they effortlessly sucked the snot right out of his tiny little nose and watched him breath free afterwards.
I will say that prior to seeing it used, while Girl was explaining it to me, I was all, " Ohhhh, hell no! You suck out the snot?"
~gag~
But, take my word for it older generation, and newer generation that may be grossed out: The bulb aspirator never did much for Boy when he was miserable because he didn't know how to blow his nose.
Seeing is believing; I would have used this in a heartbeat.
Basically, the NoseFrida sits outside of the nose on the nostril.
It isn't invasive.
Sweet E tolerated his momma takin' care of snot business.
Sure, he made a face when the snot exited his nose, but even kiddos who can blow their noses make faces when doing it.
And you should have seen how much was extracted.
I never ever got that much from the bulb.
Another fact? The blue aspiration bulb can be a breeding ground for mold. It's difficult to clean, if near impossible.
I dare you to cut yours in half and see what's growing in there.
~shiver~
Anyone else out there use the NoseFrida?
Anyone game to try?
This product is on my TOP TEN list of things to have on hand when you have a baby in the house.