Summertime is Sangria time!
These hot and sticky dog days were made for icy dranks. Put down the heat and enjoy the chill.
Let us take a moment of silence to stand in ♫ awwwwwwww ♫ ….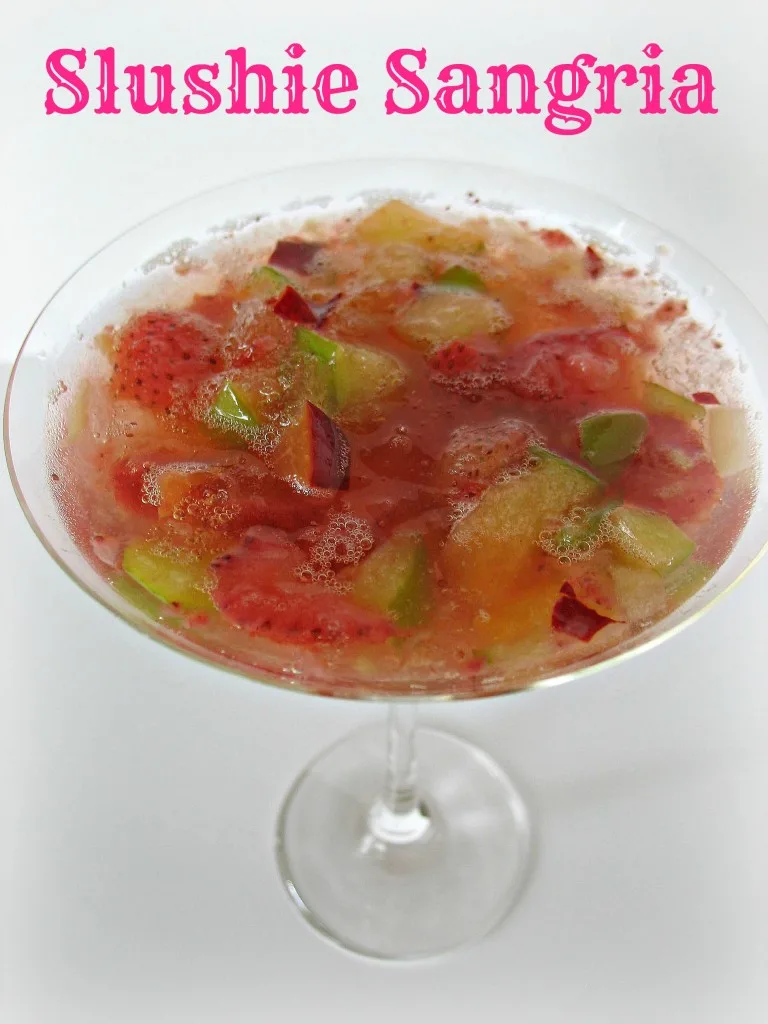 Yes, I know the martini glass is in fact a martini glass and technically inappropriate for sangria, but the pic I took of the sangria in the fun summer GIANT GOBLET just didn't capture the extreme yumminess that is drunk fruit.
Want the recipe? I know ya do!
Ingredients
1 bottle of your favorite inexpensive wine*
1 24oz. bottle of 7-Up or Sprite*
1 20 oz. can of Pineapple Chunks in 100% pineapple juice*
Fruit chunks of your choice (my favs: frozen strawberry slices, plums, pineapple and green apple)
Instructions
Pour the entire bottle of wine in a large pitcher.
Open and pour the full contents of the pineapple can into the pitcher, juice and all (the pineapple juice is actually the secret ingredient!).
Stir.
Cut up whatever fruit you have decided to use. Amounts and measurements left to you.
I typically use about 1-2 cups of frozen strawberries, 1 finely diced green apple (skin on), 1-2 coarsely chopped ripe plums (skin on), along with the pineapples from the can.
Pour fruit into pitcher and stir.
Add 7-Up and stir lightly to mix.
Fill freezer pitcher about 2/3 of the way to allow the carbonation room to rise without overflowing.
Freeze a few hours and stir. If sangria is now suitably slushed....garnish with drink umbrellies and enjoy! If it's not as icy as you would like, return to freezer for another hour.
Notes
*I used Barefoot Moscato because it has a bubbly effervescence.
* I use the full-on sugared variety
*I used (and pretty much always use) Dole Tropical Gold Premium chunks because they taste like candy. No lie. So delicious and amazing. They add a depth to the sangria that you won't find with other pineapple chunks.
https://ohmrstucker.com/slushie-sangria/
~ A gentle reminder: OMT! uses Amazon referral links. When you do your shopping through the Amazon links on this page, you support the blog at no cost to yourself. It's much appreciated!~
NOTE: The pitcher I throw the sangria in to "slush-up" is one of those double-walled pitchers that has a liquid in between the walls that freezes to keep drinks cold once you pour them into the pitcher. My pitcher is similar to this one:
Enjoy!