Fear can paralyze strength.
Fear can belittle wisdom.
Fear can create chaos.
Fear can manipulate truth.
Fear can amplify insecurities.
Fear can mute goodness.
Fear can blacken day.
Fear can expand deceit.
Fear can wither boldness.
Fear can crush action.
Fear is slippery and insidious and able to enter our spirit like a virus, exponentially replicating itself until we are left terrified and weakened.
What are we to do? What can we do?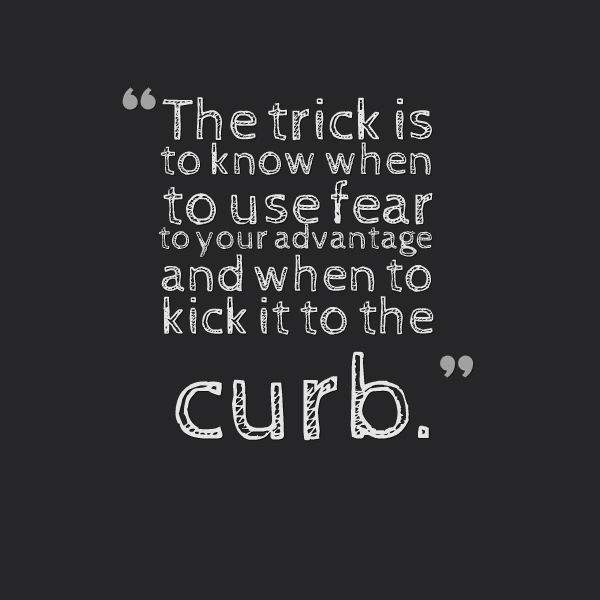 My experience tells me that one should never willingly give over to fear; one must look fear in its flat soulless eyes.
Face your fears, baby.
Lean into those gremlins that seek to steal your peace. Look into the unsettling abyss, stand unsteady, yet determined, at the precipice, understand what must be overcome by turning into your fear instead of running from it.
And if that fails you?
If that fails, my Sweet E, you can borrow Mrs. Tucker's baseball bat and do what you must.
Fear needs to be fed in order to stick around. What if I don't do that? What if I do this? What if that doesn't happen? What if that does happen? Take a look at the answers to those questions. Think calmly. Figure things out, or don't, but take time to look at what you're facing instead of letting it fester into something it's not.
Once a fear is faced, is turned over for sharp edges, is suddenly seen for what it is instead of what it feels like in a moment of panic, you can start playing offense instead of defense. (For those who hate sports analogies: offense is regarded as an active positive position and defense is considered reactionary.)
The trick is to know when to use fear to your advantage and when to kick it to the curb.
Some fear is healthy.
Wearing a helmet while riding a bike because you value your brain = healthy fear of physical pain and injury.
Telling the truth, even when it's gonna hurt = healthy fear of your folks/authority/Santa.
Never swiping the last piece of cake from Mrs. Tucker, because after all, she owns a bat = healthy fear of a granny who doesn't play when it comes to her cake (who am I kidding?! you can totally have it!).
Some fear is unhealthy.
Not making a decision because you don't know which direction to go = fear of failure. (everyone fails, baby. you can't escape it.)
Refusing to voice an opinion because of what people might think = fear of rejection. (there will always be people who won't like you, regardless if you agree with them or not.)
Wondering if there is indeed someone for everyone = fear of not being loved. (IMPOSSIBLE!)
Fear is part of human nature, it will never fully be defeated.
Facing your fears, walking right up to them, thumping them in the chest, then beating your way through them without retreating or hiding, gets you to the other side intact, bearing the well-earned scars of wisdom and strength.
It may not be easy. It may not be pretty. It may require a fortitude you never knew you had until the moment needed, but fears faced = fears overcome.
Do not be afraid, Sweet E.
Face your fears.