Y'all know I am comfy with rough and rugged little boys and that floofy cutesy little girls kinda scare the begeebers out of me, right? Well, what you may not know is that I love me some little girl fun-time adorableness that jumps outside the box when tackling tough issues, like whether or not Mommy thinks it's time to get pierced ears.
~ A gentle reminder: OMT! uses Amazon referral links. When you do your shopping through the Amazon links on this page, you support the blog at no cost to yourself. It's much appreciated!~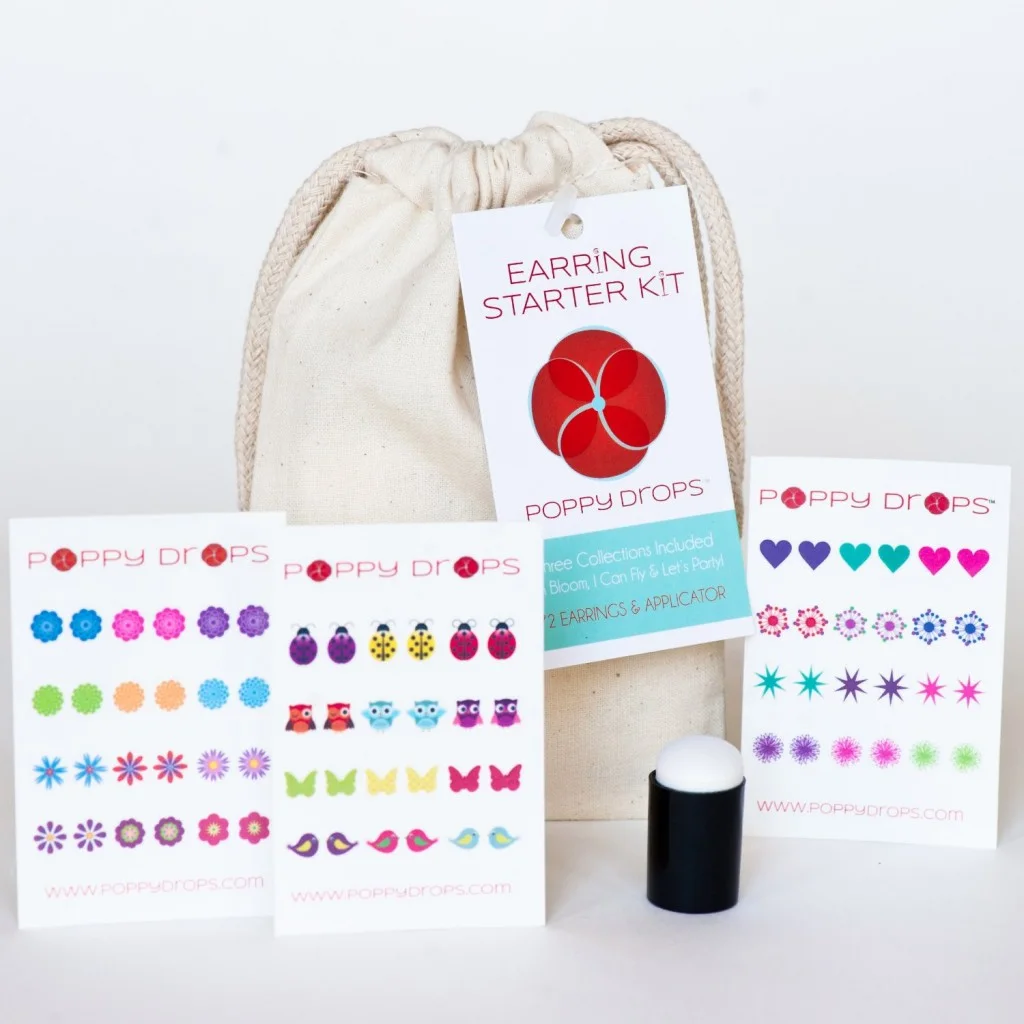 (Source: Amazon)
Ever heard of the company?
They make non-toxic, vegetable dye, temporary tattoos (earrings and nail art) for little girls who might not be ready for pierced ears, but want to look like mommy!
From the Company: All of our products are made with natural ingredients, making them 100% safe and worry free for any age. Additionally, our products are Made in the USA, with FDA approved ingredients, and Certified by the Consumer Product Safety Commission for use by children.
Product Deets:
Temporary Tattoo Earrings, the perfect alternative to pierced ears!

Made with Veggie Dyes – 100% safe for kids, longlasting & waterproof

Safe for any age and suitable for sensitive skin

Great for nails, body & baby dolls too!

No Piercing. No Pain. Just FUN!
ADORABLE!
The pic above is for earrings, but they also offer nail art and temporary tattoos, all of which survive bath time.
What an fun gift for any little girl who is in a hurry to grow up without the pain of piercing.
Put Poppy Drops. in your gift-giving bag o'surprises the next time you need a fun unique pain-free gift for any floofy cutesy little girl on your list.
Bonus OMT! Fun Fact: I had my ears pierced as a gift from my neighbor when I was 16-years-old. I was thrilled to sit in the chair and get 'er done. The gal jammed the nail gun's earring into place, pulled the trigger, then had to duck as I came out swinging. It took almost an hour, a surprising amount of tears, some serious bribing, along with a giant swirly sucker to get me back in that chair for the other ear. This time the gal jumped back a nonasecond after she pulled the trigger. That's the day I realized my pain threshold probably was much lower than most and should prepare accordingly from there on out.
Happy Shopping!