When I was a newlywed with limited culinary experience a friend passed along this easy recipe for Spanish Rice and it has remained a family favorite. The first time I made it I was so proud of myself for producing something that tasted exactly like I wished it would taste, exactly like someone else would make, yet it came from my kitchen.
SUCCESS!
While the recipe is easy, there are a few steps involved. For you new cooks, be brave. It's worth the effort. If you can read, you can do this; trust me.
This is what you'll get for your leap of faith: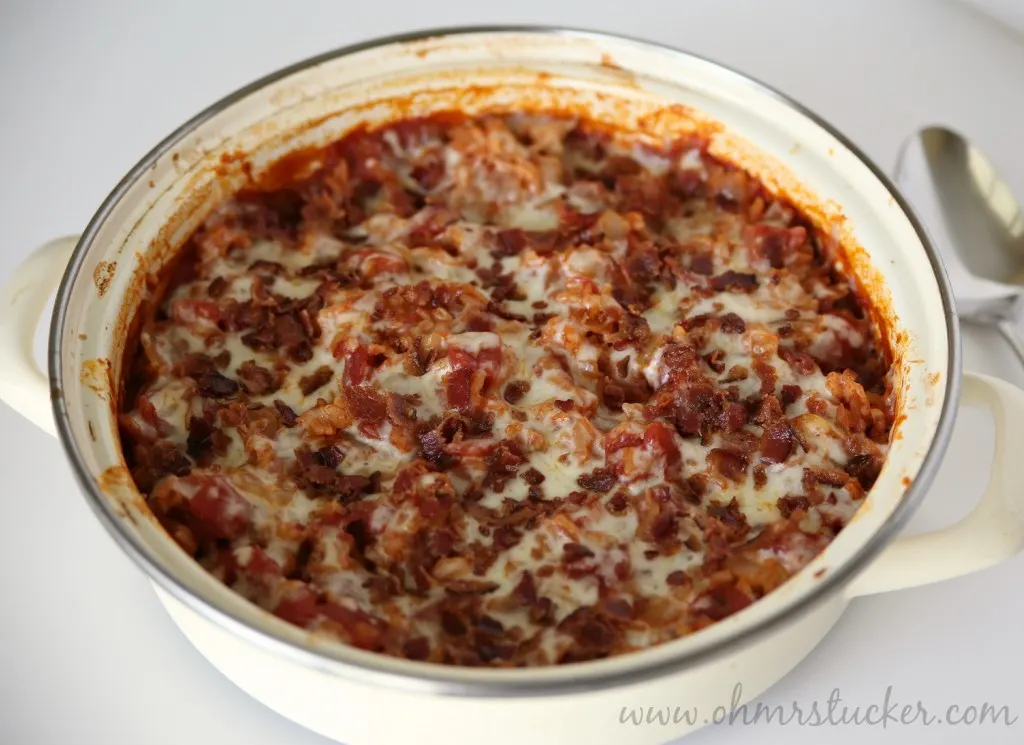 Ingredients
4 bacon slices
1 cup chopped onion
1 1/2 cup diced green pepper
1 16 ounce can diced tomatoes
1 8 ounce can tomato sauce
2 tsp. sugar
1 tsp. salt
1 1/3 cup long grain white rice
1/2 cup shredded cheese
Instructions
Preheat oven to 350°.
Cook bacon until crisp. Drain on paper towels and crumble. Set aside.
Save 2 1/2 tbsp of drippings.
Grease 1 1/2 quart casserole dish with 1/2 tbsp of bacon drippings.
Pour remaining 2 tbsp in the bottom of casserole.
In hot drippings, saute onion and peppers until tender (5 minutes).
Drain the canned diced tomato liquid into a measuring cup and add enough water to make 1 3/4 cup.
Add drained diced tomatoes to onion mixture, along with the 1 3/4 cup liquid, tomato sauce, sugar and salt.
Heat to boiling.
Remove from heat and stir in rice.
Cover and bake 35 minutes. If not quite done after cook time, add 5-10 minutes, being careful not to burn.
Once cooked, fluff with fork and sprinkle with shredded cheese.
Bake 5 more minutes.
Garnish with bacon.
Notes
You can use sweet red peppers in place of the green.
Don't omit the sugar. It cuts the tomato acidity and gives the dish a smooth taste.
Using the bacon drippings to grease casserole dish with and saute veggies in gives the dish an amazing complexity.
To test if the dish is done at 35 minutes, take off the lid and use a fork to grab a small bite of rice. If the rice had any stiffness left, or crunch, cook a bit more, checking every 5 minutes with this method.
https://ohmrstucker.com/easy-baked-spanish-rice/
If you love Tex-Mex, you'll love this Spanish rice. If you want to bring an impressive dish to a pot luck, this is the ticket. If you need to bribe your MIL to watch the babies, make this as your offering. If you need comfort food/a WOW project/a new blog entry…this. Do this.
Get to it, mah babies.