My heart thrilled a little when I wrote that headline. A good wine fridge is a delight to own.
One of my absolute favorite Christmas gifts of late has been my stand alone wine cooler. My first wine fridge was a Danby. Loved it until the compressor went out. I researched having it repaired and found that my particular problem was one that was not worth fixing. So the hunt was on to find a new one and I looked for over a year.
Last Christmas I told Husband I was tired of looking and wanted to find a replacement for my wine fridge…pronto!…and we did. Nothing like a little what-the-heck-am-I-gonna-get-her Christmas anxiety to get 'er done!
~ A gentle reminder: OMT! uses Amazon referral links. When you do your shopping through the Amazon links on this page, you support the blog at no cost to yourself. It's much appreciated!~
Here's my new love: Vinotemp 34-Bottle Touchscreen Wine Cooler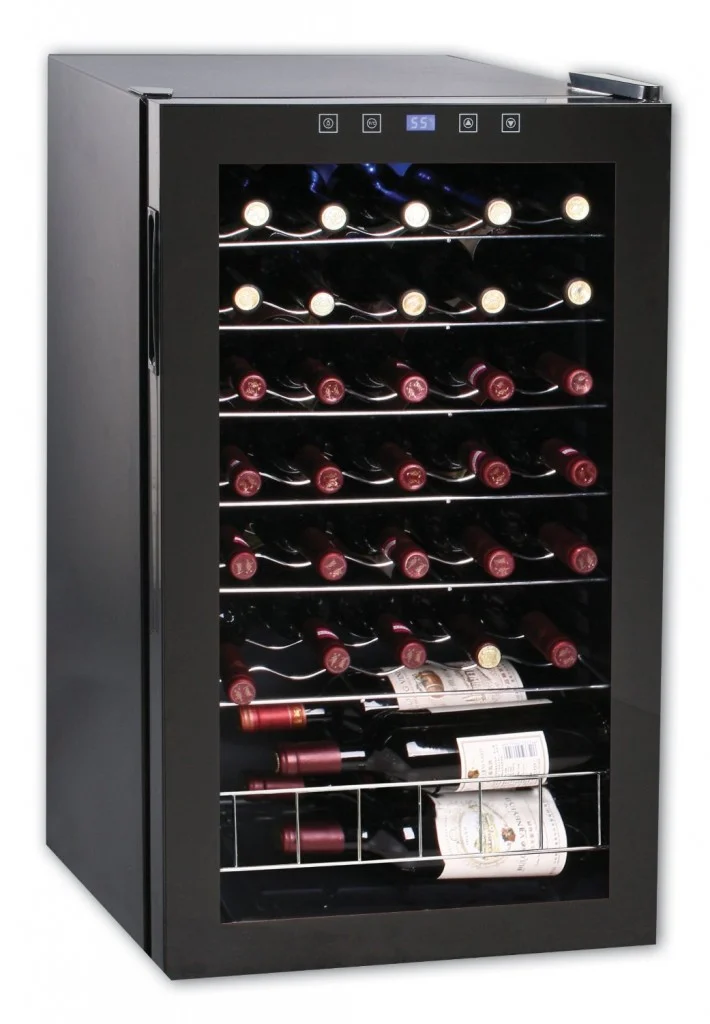 (source: Amazon)
My favorite feature of this cooler is the large bin at the bottom for oversized bottles like Champagne. Those bottles take up too much shelf room; better to have a bin to store them.
For those of you contemplating buying a wine cooler for the first time, let me recommend a site to jump-start your research: CLICK HERE Once you read through the reviews, you'll better understand your wine cooling needs.
One important thing I learned was that most smaller wine coolers aren't built to last. That one fact makes me crazy. Sure some don't cost too much, but COME ON! Build your stuff to last a bit longer, manufacturers. Keeping that in mind, I looked for not only a fridge that would be big enough to cool Grandmama's stash, but also be on the low end of expensive, so when it dies, I will have milked that piece of machinery for all I could.
My original Danby was a dual temp, smoky glass, 32-bottle beauty. It was also surprisingly easy to slip into a small place, as it was only 19 inches wide. It pained me when it started misbehaving and then eventually stopped cooling altogether; I loved that beautiful beast.
As mentioned earlier, turned out that particular Danby had a known compressor issue that was as costly to repair as to buy new. While I only owned if for a couple of years, I didn't pay too much for it, so I consider it a wash because I learned what I liked about wine coolers (dual temps, large racks, humidity control) and what I didn't (oversized bottles take away from the appliance's bottle count, the lower end models are basically "throw-aways", the humidity containers are useless).
This time around I did a bit more researching, but it honestly didn't sway me too much because of the throw-away aspect of the size I was looking for. To be clear: the manufactures aren't saying their products are disposable items. It's the consumers having their say. Just read a few reviews on any brand and you'll see what I'm talking about. So, make sure you do some homework before you buy.
I was also educated on brands that I had no idea existed, like Vinotemp and Koolatron. Koolatron wins for the coolest brand name.
One day, I'd like to have a much larger (better built) wine cooler, but for now, mines serves me perfectly.
I paid within the price range I wanted to be in (they go on sale…BUY ON SALE!) and got the features I wanted. I'm a happy camper.
Important Fact: If you're a wine drinker, not collector, the smaller ones are the way to go.
Anyone else have one? If so, do you love it?!
Or, are you adding one to your Easter/Memorial Day/Solstice/4th of July/Earth Day/Father's Day/Mother's Day/Grandparent's Day/Halloween/Labor Day/Thanksgiving/Christmas wish list this year?