Gardening and I have always had a love-hate relationship. I love the idea of fresh produce from my own land, yet my garden hates me.
It doesn't stop me though, no sir. Every year, like a total amnesiac, I head to the nursery to find the healthiest plants and do stuff like building raised garden beds in the hopes that this year will be different.
Yeah. I'll keep you posted on that.
What I do know and have great success with are lawns. I am that person in the neighborhood. Our lawn is green and healthy and easy to maintain.
Dexter will testify! (pic was taken the last week of March 2014)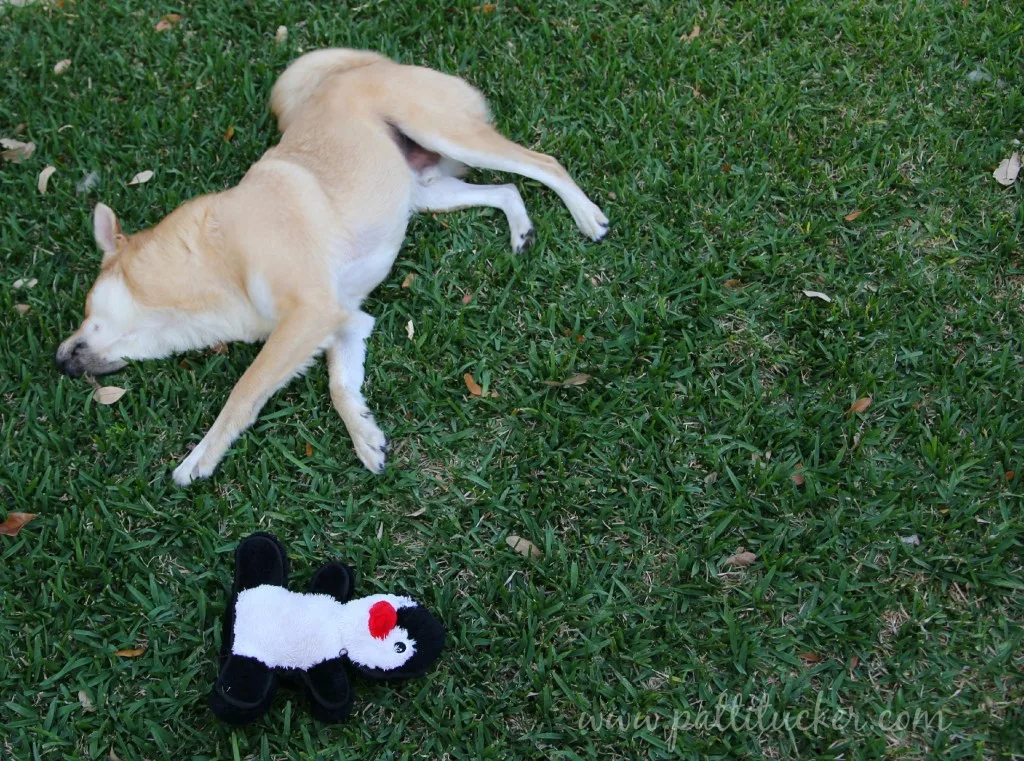 Here's the truth: Other than feeding the lawn and a few odds and ends, I'm never out there to work on it except to mow and pluck a few errant weeds that dare to dig in their roots.
How does she do it?!
Simply, that's how. Now you can too.
5 Thangs I Know About Lawns
#1: They be hungray; they need to be fed. Especially twice a year, in the spring and fall.
Every region has specific needs when it comes to lawn care and it's your job to find out what the needs are for your region. The schedule for feeding here is once in late April (once the ground is warmed up) and once in late October (a few weeks before the first freeze). We uses a 3-2-1 ratio with slow-released nitrogen. This combo helps our lawns make it through the tough summer heat and survive the coldish winters.
Some folks also place a nitrogen mix on their laws periodically throughout the summer to combat yellowing, but I have never found the need as long as my lawn has been fed properly. Plus, I hate any chemicals on my lawn so I try to stick with the twice a year feeding and that's it for anything synthetic.
Find out what your region calls for and go feed your hungray lawn.
#2: Know your lawn's water requirements.
I live in South Texas and have a predominately St. Augustine lawn. It's a water guzzler (we are in a major drought). People who move into the area wonder why so many of us have St. Augustine lawns because of its water needs. The easy answer is it's amazingly shade tolerant and when you live in an area known for its abundance of giant oaks, you understand that our choices are slim for grasses that can tolerate less sun.
I have also resisted replacing my St. Augustine because there is a way around watering requirements.
What? HOW?! One word: compost.
If you spread a good layer of compost on your lawn in the spring (as little as 1/3″ will do it), as it's waking up, and in the fall, as it's going to sleep, you can cut your lawns watering needs by 30%-70%. You read that right.
Throw some good quality compose around = less watering and greener grass than you've ever seen.
Also, follow good watering practices in the spring to ensure that your lawn has strong roots to endure the summer. St. Augustine requires about an inch every 7-10 days in the heat of the summer, but in the spring that can be extended to once every two weeks. Many folks who do not thoughtfully feed their lawns will water much more than necessary when their lawns show signs of stress as the temps rise. It's a waste of a precious commodity that can easily be prevented.
Fun Fact: For every inch of rain you get in the summer, you can delay your watering schedule for at least one week. Mother Nature rocks!
#3: Use a Mulching Mower to Feed Your Lawn
Um, what? How does a mulching mower feed your lawn?
If you're mowing and catching your grass clippings, you're basically taking away about 25% of your lawn's total fertilizer needs during the summer. 25%! The grass clippings are a rich source of nitrogen (mulch that grass instead of using bagged fertilizer).
Some folks won't mulch because they think that grass clippings lead to thatch issues, but when done right (see #4) the clippings not only supply much needed nitrogen to your lawn, but as they break down they help feed the soil. EVERYONE GETS FED!
#4: Change the Height Setting on Your Mower
As a general rule, you want to set your mower blades to a higher setting that cuts your grass to a final height of between 2 1/2 inches-3 1/2 inches, depending on the type of grass you have. Think tall! The primary benefit is that tall grass provides shelter in the form of shade to the roots and strengthens the roots for periods of drought. The secondary benefit is that taller grass keeps the soil from drying out too fast, thus eliminating the need for more watering. Mow too low and your lawn will have a shallow root system, leaving the ground exposed and allowing weeds to germinate and take hold.
BOOOO!
#5: Mow Frequently
In Texas, we have many many days of sunshine, which means the grass grows fast and tall! Some weeks, in the thick of the summer, I have been known to mow every 4-5 days. If I didn't, the grass would become overgrown and too thick for its own good.
The rule for effective mowing is to never take off more than 1/3 of the total blade of grass, which is usually about an inch. Anything over an inch and the grass can become matted and has a harder time getting down to the ground to decompose. If your grass is being scalped (lots of folks like to do this in the spring and it. is. never. a. good. idea.), it's being mowed too short. Let it grow before you cut it. The springtime is known for shaggy looking lawns as the grass fills in and grows tall. Kinda like growing out bangs. Annoying and unruly, but in the ends looks amazing!
In peak growing season, I mow frequently which means my lawn is being fed frequently. Win-Win! It also means I'm out in the fresh air getting a good workout pushing around machinery. Win-Win! OMGOSH! It's the legendary Quadfecta of Winning!
BONUS TIP AHEAD!
#6: If You Don't Want to Pick Weeds, Do Steps 1-5
The secret about a weedy yard is that it's simply a lawn in need of some TLC and feeding. Yep, my lawn has weeds at times, especially after a hard winter that leaves behind a few bald spots. Weeds love a bald patch, or a yard that needs feeding.
About feeding: I never use chemicals to kill weeds, mostly because we are barefoot babies on our grass. I pull the ones I can and then feed, feed, feed my lawn and mow high. Once the grass is happy and fat, the weeds get naturally chocked out. Oh, my. Very Game of Lawns.
Beautiful lawns are easy and almost carefree, once you get into the rhythm of feeding and mowing properly. Yes, it's some work twice a year, but I'm outside on that lovely grass every day, so a few days of hard work is nothing compared to the enjoyment I get in return.
Plus, Sweet E gets glorious lush grass between his toes whenever he's here. Can't beat that!