It's apple season! Wait, no it's not. But, that doesn't matter, does it? No! It doesn't!
What time of the year is the best time to bake your favorite (or soon to be new favorite) apple recipes? Anytime you've made a run for a jumbo bag of organic apples, that's when! Wadda ya know…I just made that very run.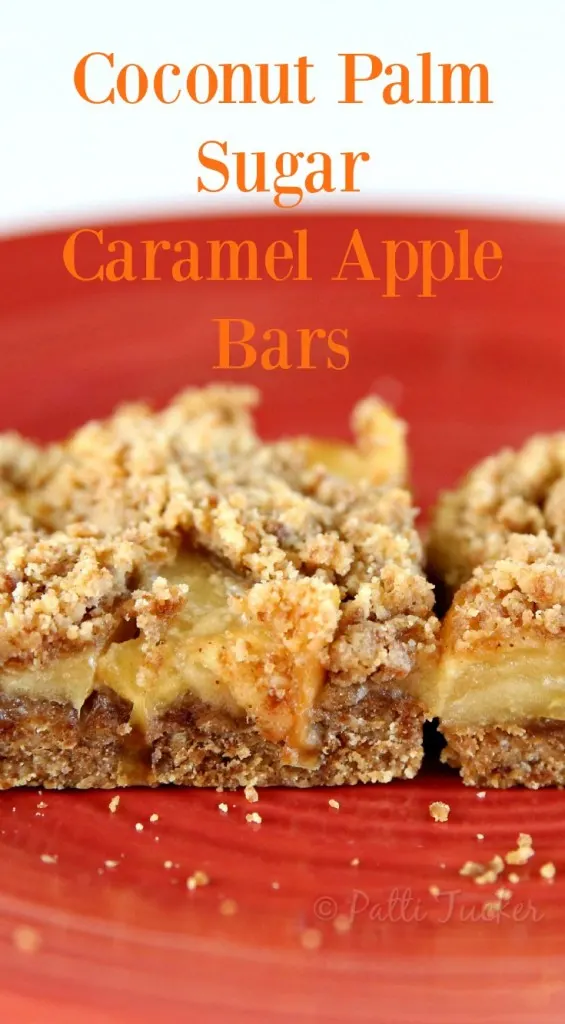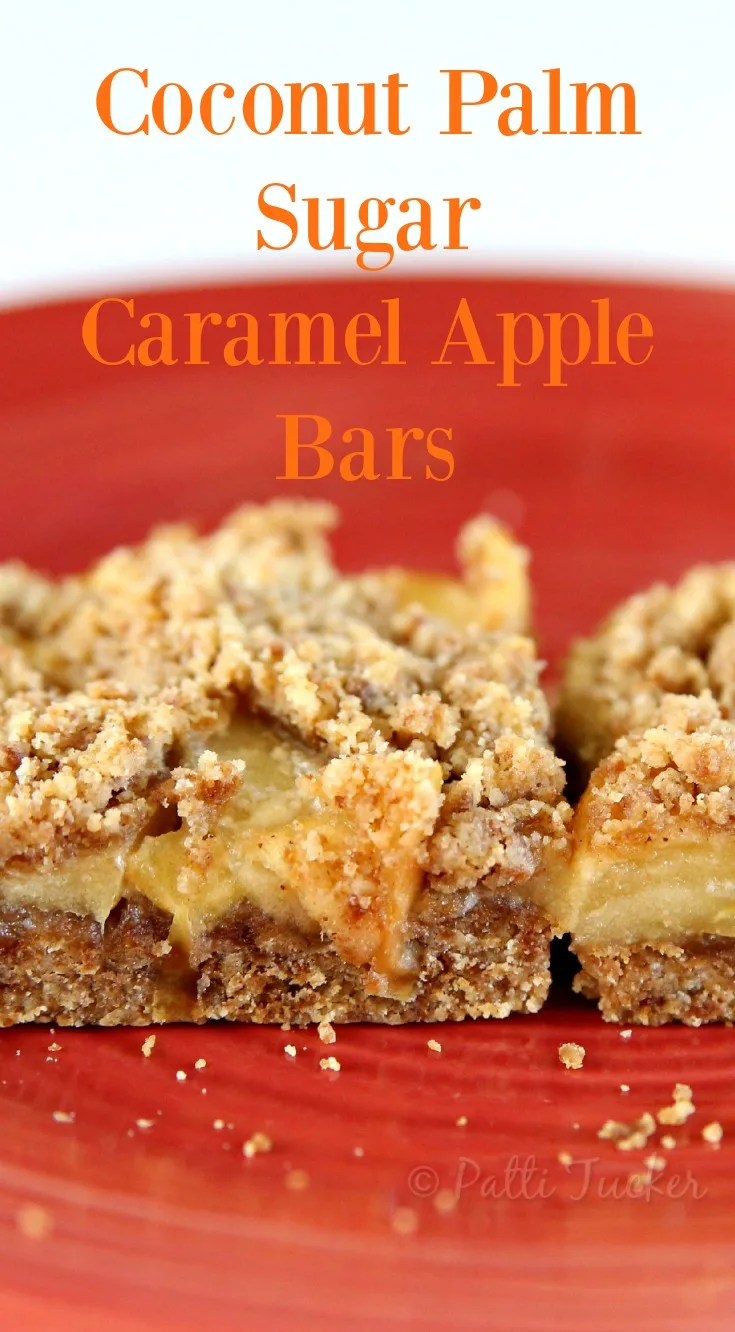 Oh, momma!
I offer this modified recipe of Caramel Apple Bars as a tip o'the hat to Garry. He has given up white sugar and I wanted to try the coconut palm sugar that he now uses in place of the white stuff to see if it holds up.
SPOILER ALERT: It. Holds. Up.
Not overly sweet, but no hint of "this is better for you" either. It was perfectly perfect.
Don't you wanna bite?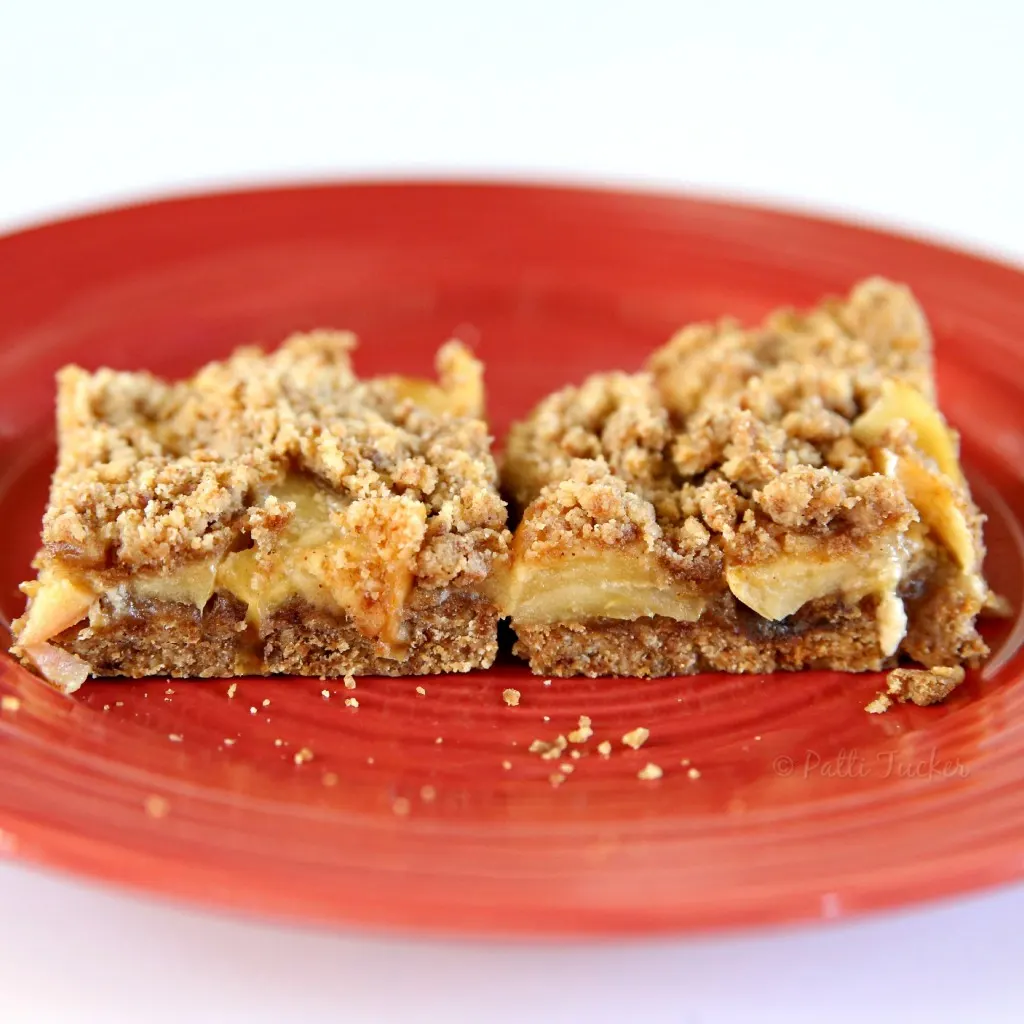 Ingredients
Crust:

¾ cup unsalted butter, softened
¾ cup Organic Coconut Palm Sugar
1 teaspoon Siagon cinnamon
3/4 teaspoon salt
½ teaspoon baking soda
2 cups flour

Filling:

2-3 medium Gala or Granny Smith apples
¼ cup butter
¼ cup packed brown sugar
¼ cup cream or half and half
¼ cup Turbinado Raw Cane Sugar
Instructions
Crust:

Preheat the oven to 350 degrees.
Beat the butter and coconut palm sugar until creamy.
Add the cinnamon, salt, baking soda, and flour and mix until crumbly.
Set aside one cup of the mixture.
Press the rest into a 9x13 baking sheet lined with parchment paper.
Bake for 12 minutes.

Filling:

Cut into quarters.
Seed apples.
Slice the apple quarters as thin as possible.
Melt the butter in a saucepan.
Add the brown sugar and mix thoroughly.
When mixture is about to start bubbling (you will see tiny bubbles forming along the sides of the pan), add the cream and stir until a creamy sauce forms enough to coat the back of a spoon.

Bars

When the crust is done, arrange the apples in an even layer (I overlapped in some spots) over the crust and pour the caramel over the top.
Sprinkle with the set aside crumbles.
Sprinkle with turbinado sugar.
Bake for 30-35 minutes.
Remove from oven, lift out of the pan using the edges of the parchment paper, and allow to cool for 10-15 minutes.
Cut and serve.
Notes
Recipe modified from Pinch of Yum.
https://ohmrstucker.com/coconut-palm-sugar-caramel-apple-bars/
If you know someone who has given up white sugar and is using coconut palm sugar in its place (the science is still not settled, but there seems to be some evidence that coconut palm sugar -in moderation- doesn't spike glucose levels), this makes a lovely dessert for them in mind. Obviously, this is not health food, but every one needs a bit of a splurge now and again, right?
RIGHT!
Happy Baking, Y'all!
~If you liked this post, please help spread the love, by sharing on your favorite social media or with those you think might be interested. Smooches!~