I'm a warrior-shopper. I try like hell not to pay retail and comparison shop like I have an advanced degree in it. Why? Because I know most everything, even OTC meds, can be had for less. The less I spend on essentials, the more we have for non-essentials, or more commonly known as: Stuff for Sweet E!
My pantry is always full so I can pick up stuff I need/want on sale. Surplus is a given and inventory is checked regularly. It's a great way to shop and provide for a family.
We have been members of Costco for a few years, and I'm continuously shocked at their low prices, but I haven't bought our OTCs there until recently (probably because we rarely use OTCs). Turns out Dexter Dog is allergic to something. We don't know to what, but Benadryl alleviates his discomfort (vet prescribed).
When we first discovered his issues, I had some Target-brand generic Benadryl on hand. I ran out pretty quickly and needed more, so I did what I typically do: I picked some up on my next visit. 2 24-count packages for about $4 total. The real stuff was twice that. I was feeling pretty good about being so cost-conscious.
My, aren't you saavy! Why, yes, yes I am!
That is until I made a Costco run and remembered they carried larger packages of OTCs. I thought I'd look to see if they had what I needed in their signature jumbo pack. It would be nice not to buy them so frequently. 48 tabs don't go far when you're administering two tabs a day.
My mouth literally fell open when I saw the price of the Kirkland brand of generic Benadryl. $4.69 for 600 tabs!
~ A gentle reminder: OMT! uses Amazon referral links. When you do your shopping through the Amazon links on this page, you support the blog at no cost to yourself. It's much appreciated!~
How the heck was that possible?! Target's generic worked out to $.08 a pill. Costco's generic worked out to $.008 a pill. LESS THAN A PENNY!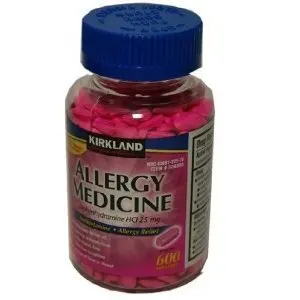 image source: Amazon
Every time I get a pill out for Dexter, I'm flabbergasted all over again. If I hadn't thought to price-check, I would be spending $4.80 per month, or $48.00 for 10 months, for the Target generic Benadryl. As it is, I'm spending $4.69 for 300 days/10 months! That's a savings of $43.31. BAM!
This may be the best deal I've ever come across.
The point to this story is compare compare compare when shopping for your family, even everyday OTC meds.
SAVE THAT MONEY!
If you do not have a Costco near you, CLICK HERE. The cost online is a bit more: $9.25 for 600 tabs, but even then it still beats your local drug store. These tabs come out to $.02 each. GIANT savings!
Now if you'll excuse me, I hear that Sweet E needs some new footie jammies…