In my mountains of research that I do for post ideas, I came across this gem: 9 Rules for Success by British Novelist Amelia E. Barr, 1901
6. "Everything good needs time. Don't do work in a hurry. Go into details; it pays in every way. Time means power for your work. Mediocrity is always in a rush; but whatever is worth doing at all is worth doing with consideration. For genius is nothing more nor less than doing well what anyone can do badly."
– Amelia E. Barr
Amelia knew what's what, even back in the early 1900s.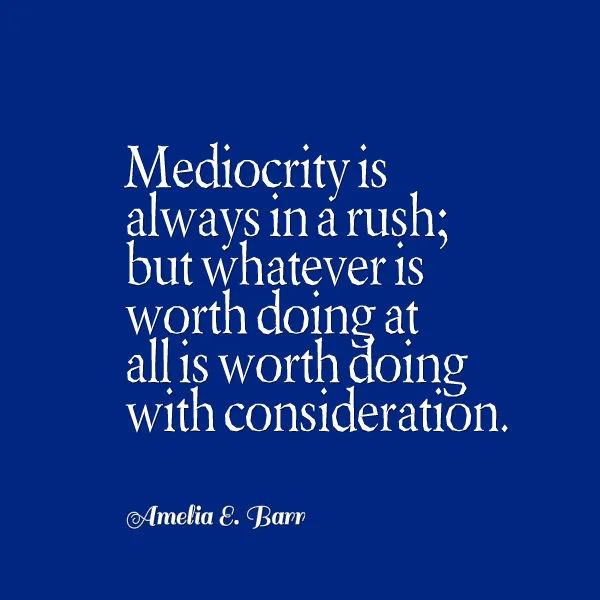 As a writer, my job is to communicate. As a blogger/site producer, my job is to communicate. The two, writer and blogger, butt heads daily.
They look the same, don't they? Both descriptions end with "communicate" and both entail writing. Yet, writing takes on a different urgency when you publish a site that includes new material at least three times a week.
Churning them out, baby!
Since this site jumped onto the Internet (about 16 months ago), I have written over 375 posts (when you figure in the handful of guests posts, it's a bit higher). That's a lot of words. A lot of detail.
There are days I hit a home run, and then there are days when my inner dialogue mocks me: yousuckthissucksWRITESOMETHINGBETTER!
Oy.
I happen to agree with Amelia; I just don't get there every time.
We live in a world of information NOW! We need MORE! FRESH! INSIGHTFUL! FUNNY! DEPTH! LIGHTHEARTEDNESS! A LAUGH! MOREMOREMORE! NOW!
You see the dilemma.
375+ posts. Husband is dumbfounded. He has asked me many times over our years together where I find the words.
I don't. They find me. I don't know that one could write as prolifically as I do, if one struggled to find the words.
I have written three full-sized novels. I currently write for two blogs, including this one. I'm working on an e-book.
Yes. I write ALL THE THINGS!
Still, I write. There is much more to say, to ponder, to discuss.
When I started this site, I had in mind a 2-3 post week. That way I could flesh out my thoughts; I could go into detail and give my work power. Amelia…I heard you and I wanted to be the affirmative nod to your assertion.
I have found that while I publish more than I thought I might, more than Amelia might like, I'm OK with the volume.
Our world is not as slow-moving as we'd like it to be; our world is like a white hot fire through dry timbers: consuming and fierce in its speed.
I decided early on to keep up with that world.
Does that mean this site suffers from mediocrity? Most assuredly, at times.
Amelia had the luxury of being a novelist, and as one as well, I hear her words of wisdom. I have evangelized on the same belief.
Blogging is a different breed of words. I wonder what her advice would be today.
Can we blog/produce sites that are fast-paced and worthy? Yes. I see it every day on my travels through the wormhole of the World Wide Web.
As a lifelong writer, my advice is Amelia's: Everything good needs time. Don't do work in a hurry. Go into details; it pays in every way. Time means power for your work. Mediocrity is always in a rush; but whatever is worth doing at all is worth doing with consideration. For genius is nothing more nor less than doing well what anyone can do badly.
With this addendum for a new age: Write daily. Publish when done. Keep writing. Speed will come.
If it doesn't, maybe you're like Amelia: a novelist. Ain't nothing wrong with that.