Sweet E loves a good puzzle, but still needs a bit of help with the ones that create an image with more than a few pieces. Not so much when the puzzle consists of two pieces and creates an easily recognized picture, like a gorilla or the moon or a toucan. This is interactive fun, y'all!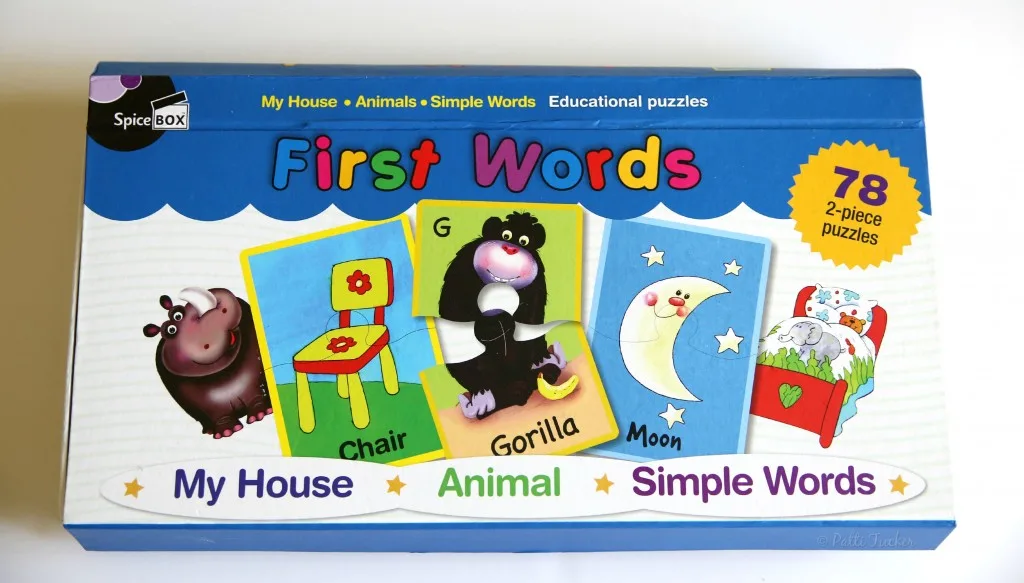 [Tweet " OMT! is a HUGE champion of interactive learning."]
~ A gentle reminder: OMT! uses Amazon referral links. When you do your shopping through the Amazon links on this page, you support the blog at no cost to yourself. It's much appreciated!~
Age Range: 3-5
From the packaging:
Your child learns three different topics including My House, Animals and Simple Words. As children match pictures, they develop language usage skills, hand-eye coordination and memory. By associating concepts, words and pictures, children grow to know. That is the beauty of interactive learning!
This 3-Pack Puzzle Set Includes:
– My House Puzzle: Each puzzle features items from around the house. Using the puzzles as a guide, your child can practice saying the words. Find objects from around the house and discuss how they are used.
– Animal Puzzle: These fun, cheerful characters are sure to be a favorite with your child. Discuss where the animals live, what sounds they make, or which one your child would enjoy having as a pet.
– Simple Words Puzzle: These puzzles feature basic words to help expand your child's vocabulary and familiarize them with objects found in their daily environment. These puzzles will inspire lively discussion between you and your children about everyday language.
Each box includes 78 2-piece puzzles. Each puzzle is colorful and engaging. Even if your 3-year-old knows the words, putting the puzzle pieces together adds a new level of interactive learning. OMT! is a HUGE champion of interactive learning. It's adding fuel to our sweet pea's firing neurons in the form of play. Love it!
Happy Learning, mah babies!