Need something creative to do with the kiddos indoors on a rainy day? Need something fun to do with the kiddos outdoors in the sunshine and fresh air, after you're done gardening with them?
Need something that will entertain you (as you watch the shenanginas) as much as your younger charges?
~ A gentle reminder: OMT! uses Amazon referral links. When you do your shopping through the Amazon links on this page, you support the blog at no cost to yourself. It's much appreciated!~
Take a gander: Stop the Watch: A Book of Everyday, Ordinary, Anybody Olympics!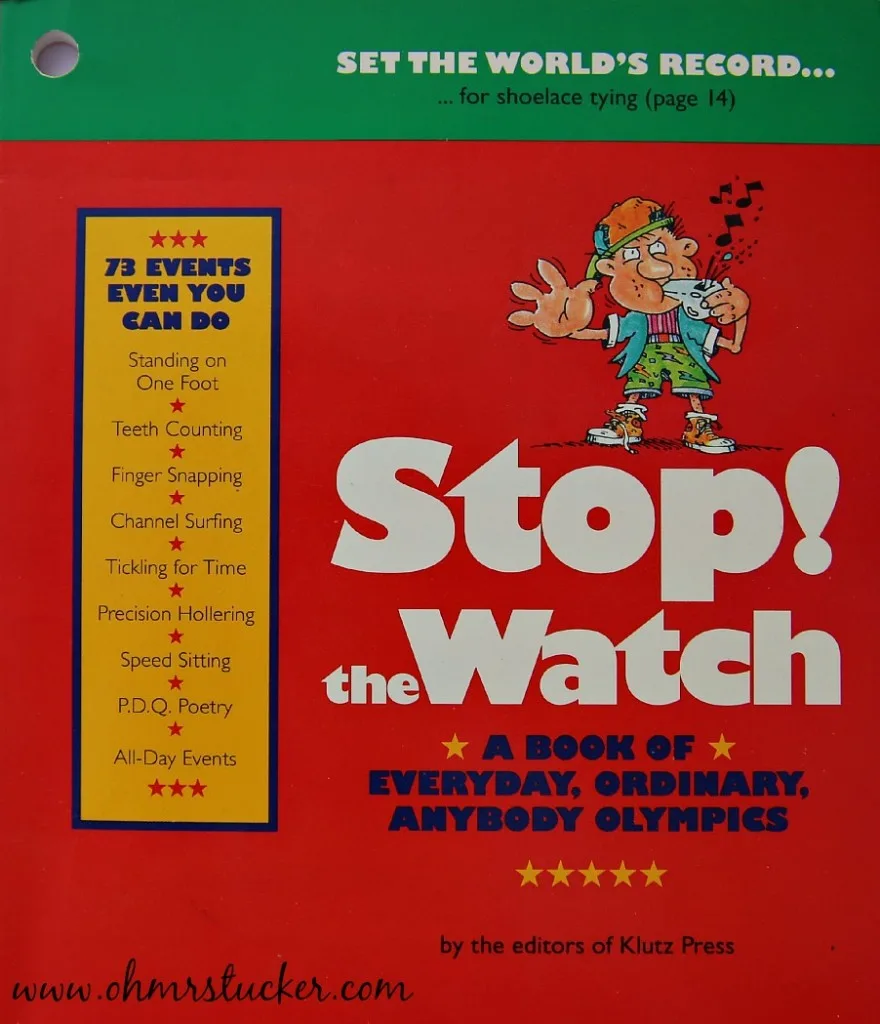 From Klutz:
Our effort to turn you into a world champion — in something. It contains 46 fabulously ordinary events (like walking up the stairs with a book balanced on your head, or switching your shoelaces), done for time. Packaged with a battery included stopwatch that's cute as a button and just as simple to operate.
PRODUCT DEETS:
Age Range: 9 and up
Series: Klutz
Paperback: 71 pages
Publisher: Klutz (September 1993)
Language: English
ISBN-10: 1878257528
ISBN-13: 978-1878257529
Product Dimensions: 7.1 x 6.3 x 0.2 inches
Shipping Weight: 4 ounces
If I remember correctly, Boy used his stop watch into oblivion. This was a fun go-to book for the family, as well as when he had friends or cousins over.
There are solo events, two-person team events and all-day events. The best part about many of the events is that they sharpen math skills, utilize physical fitness, include mental stretching and even encourage nutritious snacking (a raisin toss). All the things we grown-ups like to see in games for the young or young-at-heart!
While the stop watch is long dead and gone, when Sweet E is old enough for this book, we'll substitute my running watch timer instead.
So. Much. Fun.
Happy Fun, my babies!