I've discussed that I find it difficult to cook for two and this post serves as another reminder.
On the upside, we're flush with delicious leftovers and a bit for the freezer to eat another day.
Instead of beating myself up for cooking embarrassing large meals, I'm gonna start thinking of it as time management.
Cook for a crowd when it's just the two of us = not having to cook every stinkin' night.
Whoo-hoo!
More time for umbrelly dranks by Tiny Pool!
OMT WIN!
This is what I've been up to lately: concocting a recipe for Bacon Meatloaf.
Before you roll your eyes and are all…Big whoop, you gave your meatloaf a bacon hat…let me explain: there is bacon on the outside and bacon on the INSIDE.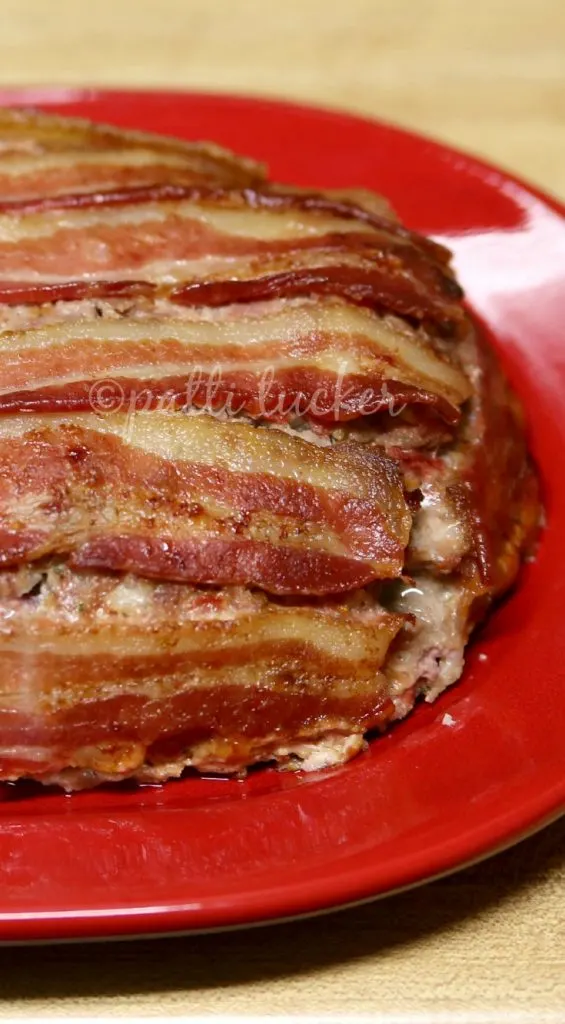 You may start you're drooling engines now.
From this: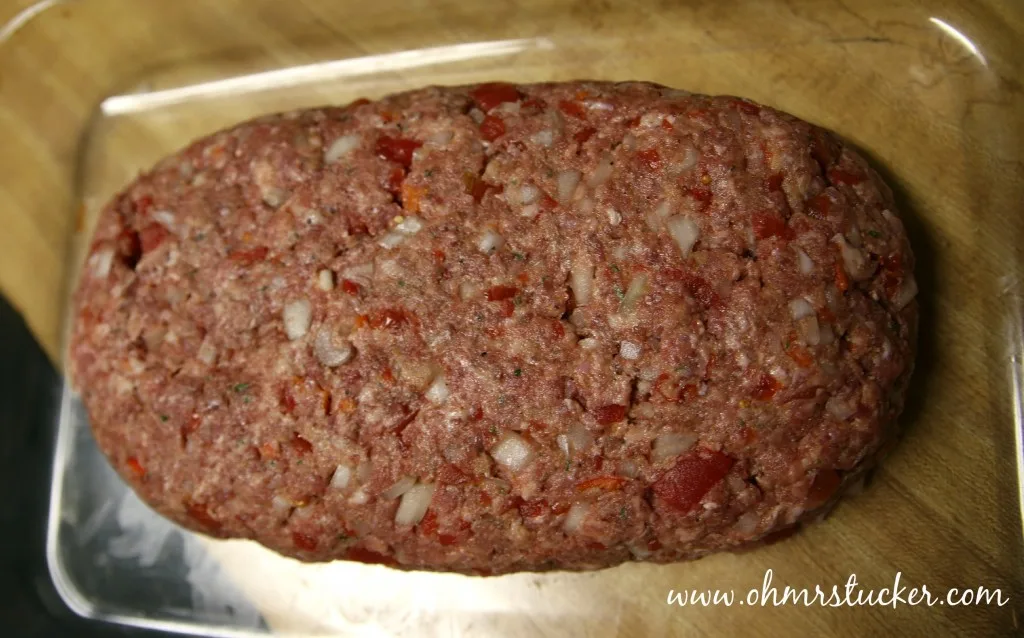 To this: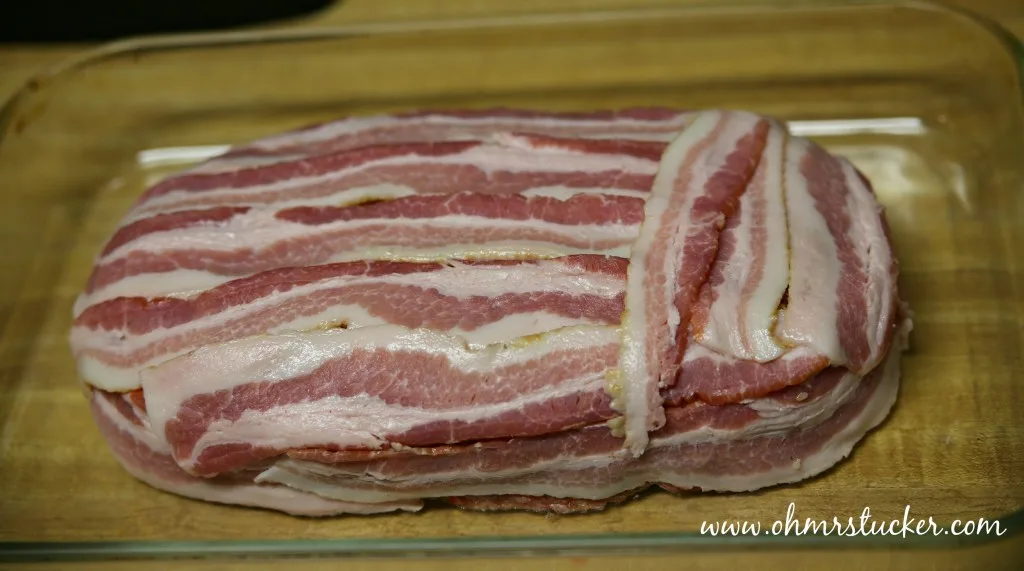 To this: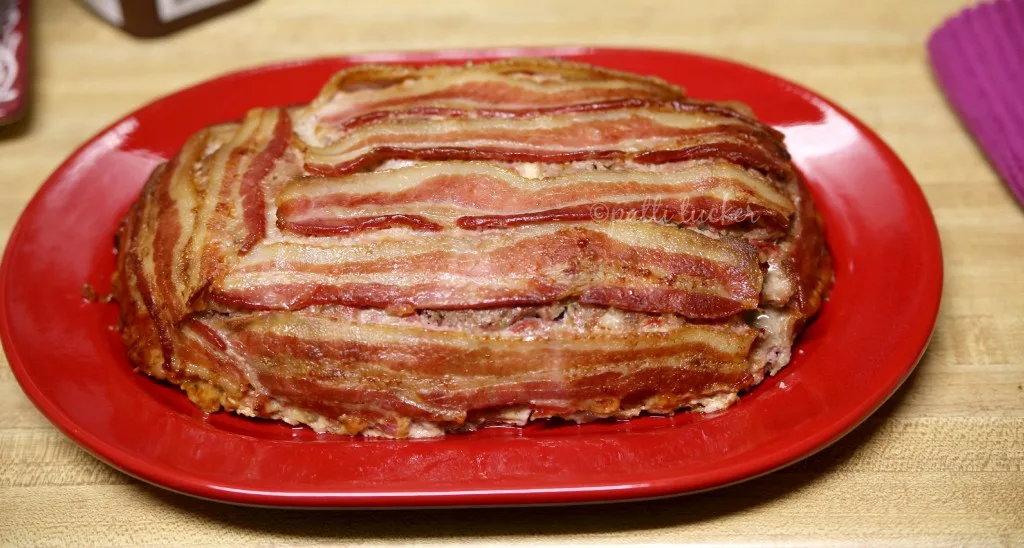 To this (straight from the fridge…good for a sandwich…as I forgot to get a shot the night before.
All I could think about was eating it!
Bacon Meatloaf can do that to a person):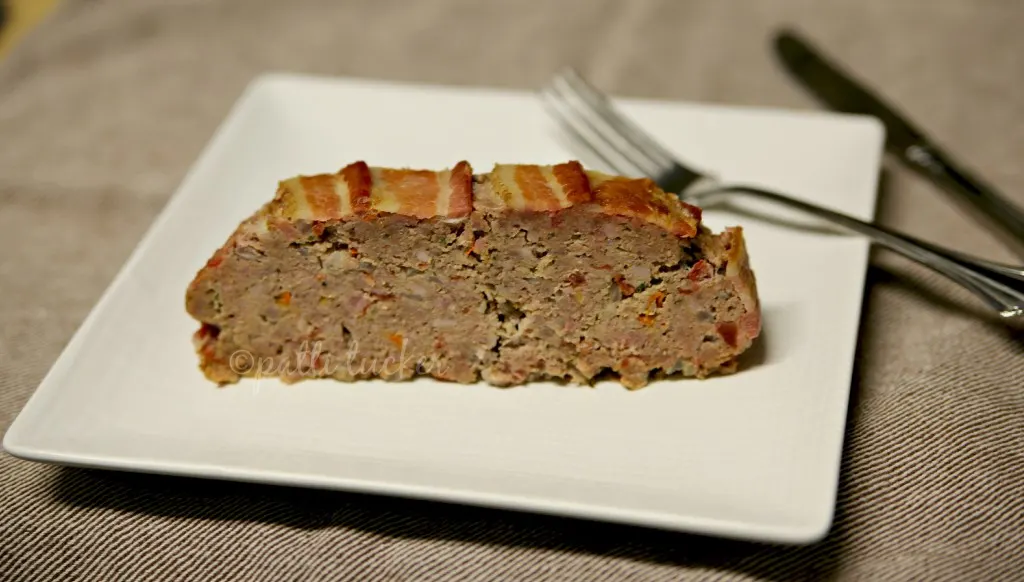 Important Side Notes:
#1) I'm NOT trying to kill off anyone by delicious meatloaf and pork products.
#2) We rarely eat like this, but when we do…we're full hog in!
Live a little!
Other Important Side Notes:
#1) The beef I use for the meatloaf is an 80/20 blend. The same kind I use for burgers. You could go leaner, but you'll sacrifice mouth feel and more importantly, taste. The higher fat content of the beef makes it delicious.
#2) The pork product I use is Farmland's Pork and Bacon breakfast sausage roll.
~ A gentle reminder: OMT! uses Amazon referral links.~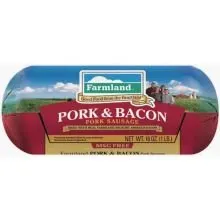 (Source: Amazon)
Yep. Pork AND Bacon. It's a breakfast sausage. To. Die.
I buy it from a local grocer (HEB), but if you can't find it, I'm telling you guys, I'm advising you with the love of all things bacon, to order this product.
~faint~
If you can't find it, no worries. Simply add chopped crisped bacon to the beef/sausage mixture.
To the recipe!
OMT!'s Bacon Meatloaf
Ingredients:
3 lbs 80/20 ground beef
1 lb Farmland Pork and Bacon Breakfast Sausage
1 can diced tomatoes, drained and chopped
1 finely chopped medium onion
1/2-1 cup finely chopped sweet red, orange or yellow peppers – optional
2 lightly beaten eggs
1 cup breadcrumbs (seasoned or otherwise)
1 package thick-cut center-cut bacon
salt and pepper to taste
Instructions:
Place beef, pork sausage in large bowl and mix with your hands until combined.
Add onions, peppers* and tomatoes.
Mix lightly.
Add eggs, breadcrumbs, salt and pepper and mix with a light hand until combined.
Place in a 13 x 9 x 2 glass baking dish and form into a loaf…a meatloaf!
Top with strips of bacon, covering the entire loaf.**
Bake at 375° for about 90 minutes or until thermometer reads 160°. ***
Once cooked, I typically rest the meatloaf for 10 minutes or so before cutting, to allow the juices to say where they do their best work: in the meatloaf.
Enjoy!
Notes:
* The only reason I put the sweet peppers as optional is because Husband doesn't like them. I DID use them in this meatloaf, but adjusted the amount to taste.
I may have added less than 1/4 cup. Nutrition is important to me when eating three types of meat in one setting!
**You will probably have some bacon left over.
Stop laughing!
I bake the remainder in the over for about 20-30 minutes. Eat a few strips (WHAT?!) then use the rest as crumbles in the cream gravy for the potatoes.
Trust me on this bonus bacon tip!
*** The USDA recommends cooking ground beef and pork to an internal temp of 160°. I follow their guidelines.
The meatloaf may appear a bit pinkish, but if your eternal temp is 160-165°, you have nothing to worry about.
I didn't link the USDA internal temp notes in the recipe, but wanted to do it here if you're interested in making sure OMT knows what's what!
We rounded this meal off with mashed potatoes, cream gravy with bacon bits and a veggie combo of corn and carrots.
We were tick-full afterwards, yet talked about the meal until we went to bed and then resumed our conversation first thing the following morning.
PEOPLE OF THE INTERNETS: MAKE THIS BACON MEATLOAF!
This is such an easy recipe that has a JAZZ HANDS-WOW! factor.
I would recommend making this meatloaf if you are trying to dig yourself out of the doghouse with a loved one, or need a raise from a hard-to-crack boss (I defy anyone to eat this and not slip into a happy state of nirvana afterwards), or just want to hog it all for yourself because, gosh darn it, you deserve an entire Bacon Meatloaf.
Happy Eating!
Tired of searching for a popular OMT! recipe?
Rest yer weary fingers.
Except to click on the image.
You still have enough strength for that.
COME ON!
YOU CAN DO IT!