How to add a JET to yer

bed

?
Not a REAL jet, silly.
A JET of glorious cooling or heating air to keep you comfortable through the night and make sleeping, you know, glorious again.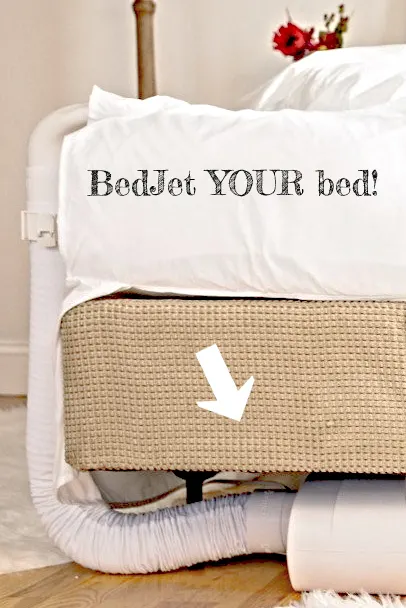 Make Sleeping Glorious Again!
Hang on folks – your mind is about to be blown!
THIS IS NOT A TEST:
PLEASE STAND BY FOR V-I-I…
(nope – not the number seven: Very-Important–Information)
OMTers, are you a hot sleeper?
Is the lump in bed next to you a hot sleeper?
Do you suffer from the crank-producing, sleep-stealin', peri/menopause night sweats?
THIS POST IS FOR YOU!
I may for have the solution for yer ohsohot problem.
~ A gentle reminder: OMT! writes sponsored posts and uses affiliate links- DOLLA DOLLA! – this is one of them. (although, you can garun-dang-tee the opinions below are all mine.)~
Are you ready for the V-I-I? (yeah, I'm trying to make it a thing)
Presenting, BedJet.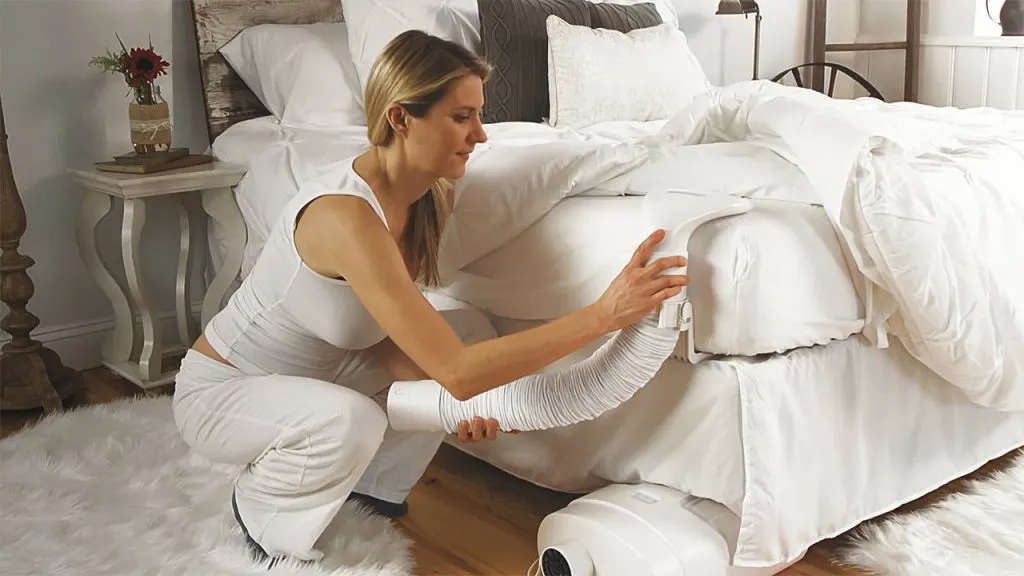 (easy installation)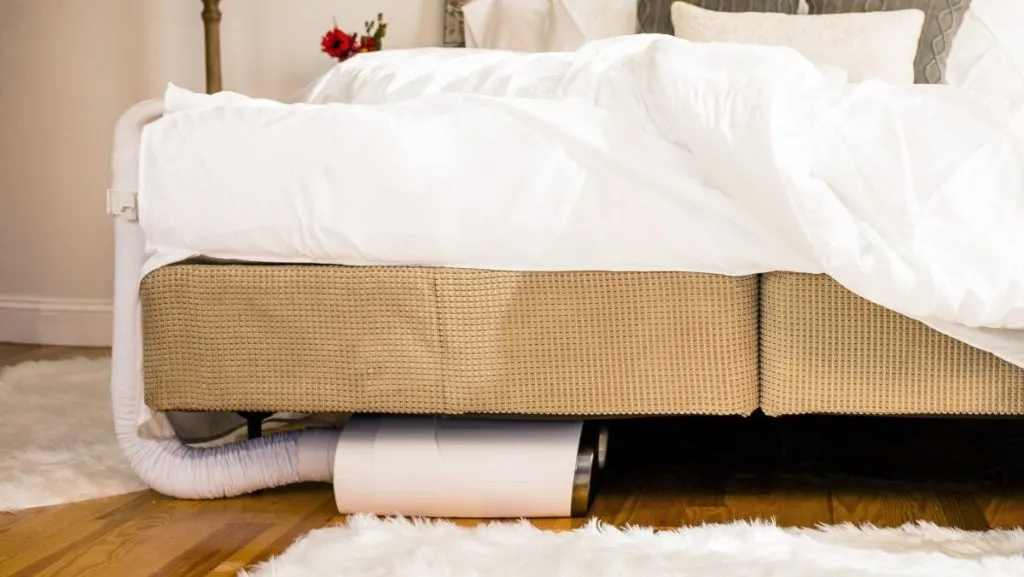 It even has its own app!
(control and track by bluetooth)
I was sent one BedJet v2 unit and a Single Zone King Cloud Sheet to give a whirl (Anyone catch my facebook update about my first legit hot flash I had?! Go on. Click that linkage and read all about it!), and whirl I did.
SPOILER ALERT: Bedjet delivers on what they promise – a cooler bed.
Before I give you my review, let's check out this magical jet for yer bed.
Sharing a bed brings couples closer together. But with over 50% of couples having different sleep temperature needs, it can be a challenge when each partner wants their own ideal sleep temperature.
When one temperature is comfortable to one partner, it may be unbearable to the other – resulting in loss of sleep, a strain on your relationship, or in the worst of cases sleep divorce (sleeping in separate beds).
When your partner isn't sleeping well, chances are you aren't either.
BedJet has the ideal solution for you and your partner to each achieve your own ideal body temperature during sleep. With BedJet's dual temp zoned sleep technology, sleep temperature regulation has never been easier for couples!
How to Sleep Better With a Partner: Bed Heating & Cooling Technology
The BedJet Dual Zone system creates independent cooling and heating zones for each half of the bed.
Each partner gets their own remote control for their half of the bed.
You can have half the bed cooled and crisp while the other half is tropical warm and toasty.
The Dual Zone setup is a bundle of two BedJet machines combined with our super soft Dual Zone AirComforter sheet. The AirComforter replaces your regular top sheet to work its magic underneath quilts, blankets, or regular comforters.
If you are the only one needing temperature control and you want to leave your partner undisturbed with your heating and cooling shenanigans, then combine a single BedJet with the Dual Zone AirComforter to cool and heat just your half of the bed.
Stop battling over the thermostat and start sleeping better together.
No more middle of the night yelling: REMEMBER THE ALAMO!
(wait – is that just a Texan thang?!)
BedJet made an easy to understand video for us (cause if you're like me, your mind is whirling with the concept of REAL SLEEP).
Someone get the lights!
BONUS TIP:
Make sure the clamp is actually clasping the fabric part of the hose with the plastic Air Nozzle resting on top of it for full stability.
Don't clamp it around the plastic part – it could break and it won't be as secure.
V-I-I (yep, let's make this a thang! Let's do this!):
I received one BedJet v2 unit and a Single Zone King Cloud Sheet.
NOTE WORTHY:
~ With a full Dual Zone system (2 BedJet units + Dual Zone sheet) each person gets their own climate control on their side of the bed.
~ With a Single Zone sheet and one BedJet unit, the entire bed can be cooled/warmed the same temp.
Highlights:
~ Comprehensive 2-year warranty
~ Has a lifetime washable air filter located in the air intake grill.
~ Works with your blankets and comforters.
~ Has patented acoustic damping technology.
~ Measured Ambient Room Noise (BedJet off): 37dB
~ BedJet Cool, 50% (most typical highest setting for all night cooling): 38dB• BedJet Cool, 100% (unlikely to be used other than short bursts): 42dB
~ BedJet Heat, 50%: (most typical highest setting for all night heating): 39d
~ BedJet Heat, 100%: (unlikely to be used other than short bursts): 43dB BedJet Burst Heat 100% (can only be used for 10 minutes before auto-shuttoff): 47dB
~ Safe to use under bed. It has been third party tested to rigid Underwriters Laboratories (UL) electric appliance safety standards. The unit has been designed and tested to the same UL standards that electrified hospital beds are held accountable to.
Most Fun Question

BedJet

Gets Asked (this one appeals to my inner 12-year-old boy – prepare thyself!):
What about the infamous "Dutch Oven" – is the BedJet going to make it worse?
("Bwhahahahaha!" – OMT!)
We get asked this question all the time, so we just had to include it in our FAQs! Actually – it's the opposite. Just lift your bedding and the BedJet will circulate out that "situation" very quickly. Plus, the aromatherapy diffuser kit helps too. Add your favorite essential oil scents and freshen your sheets when running the BedJet.
My Experience:
I tested this badboy ever' which way: with the cloud sheet – without the cloud sheet – installed on the side of bed – installed in the middle – under our main sheet – and finally on top of main sheet, yet under the cover.
~ With the cloud sheet:
This was a good option, as the air moves throughout the special sheet, but it wasn't my favorite.
The sheet felt a bit heavier than I like, but Garry liked the cloud sheet.
He felt cool under both the sheet and cover (he's our hot potato, so you know if he's under the covers, he's cool).
~ Without the cloud sheet:
We simply installed with the nozzle under our main sheet, at the foot of he bed.
I liked this way much better, as it seemed cooler.
The drawback (if you can even call it that) was it got very chilly! I actually shivered. During the summer. In Texas.
With the outside temp hovering around 96°(inside temp was cooler- but ya get what I'm saying – it was hot, y'all!). Garry loved this method. Cool air on his toesies = ahhhhhh.
[Tweet "Inquiring minds – "What about the infamous "Dutch Oven" – is the BedJet going to make it worse?" #bedjet #omtshops"]
~ Installed nozzle on side of bed, with and without cloud sheet:
Meh. We kept playing with it.
The biggest reason Garry didn't like the nozzle there was that he hangs his foot off the side of the bed and sometimes bonked the nozzle.
~ Installed nozzle at bottom/foot of bed:
Yes, please.
I thought having the nozzle at the foot of bed would get in the way of our feet. In two weeks time, I haven't hit it once. Garry prefers this position.
~ Nozzle under main sheet:
Yes, please.
Once we figured out this was the winning location, we haven't changed it since.
~ Nozzle on top of main sheet, yet under cover:
Yes, please.
This method works GREAT if you no likey air blowing on you. The air is blown on top of the sheet, cooling the bed and no cold air blows on yer sensitive limbs.
~ The sound is, well, not so loud. Think of using an oscillating fan. Like that.
As a gal who has super sonic hearing, the only problem I had was when the unit was on full blast.
As we experimented with the level of cool air jetting around our bed, we settled on the medium speed, which served as a pleasant and soothing soft white noise.
~ The cord was a bit short to reach our outlet. We are currently using a surge protector to extend the length.
~ We had no problem fitting the unit under the bed.
~ There's an app for that!
BedJet has a free app that connects via Bluetooth. You can set a timer, air flow, and an alarm.
While some folks are having trouble connecting their device to the app, it worked for me.
~ As of this writing, we haven't used the BedJet throughout a full night.
Why?
CAUSE I'M SUCH A WEENIE WHEN IT COMES TO COLD! (Garry refers to me as the Princess and the Pea – I'm extra when it comes to sleep!)
Garry could run that badboy all night – which means, we'd probably be better served with another unit and a Dual Zone Sheet.
The dual zone lets each person decide what's the best sleeping experience for them.
Garry could have his cool cool bed and I could set the timer for my side.
Keep in Mind:
~ BedJet uses the convective and evaporative method for keeping you cool in bed.
The BedJet is NOT a portable AC unit and there is no Freon involved. The environment thanks ya!
~ BedJet pulls from the coolest air in the room – the room from the floor – and circulates it through your bedding to cool you off.
This is incredibly effective for bedroom temperatures under 79 degrees.
~ BedJet isn't a substitute for zero air conditioning in extreme heat and it works best in bedrooms that are 78-79 degrees F and cooler.
~ Instead of cooling the bed, it's designed to cool you.
Lastly, this is the video that grabbed my attention (devil is tongue-in-cheek, yo!). I HAD to work with this company (and I'm a lil' sad I didn't write the copy for them).
Get the lights!
If you are struggling with a hot bed for whatever reason – perimenopause, menopause, you're a hot potato like Garry – you should consider BedJet.
Their 60-day Risk Free Return Guarantee means you have nothing to lose – except for all that sweat dripping off ya in the middle of the night.
Happy Sleeps, Y'all!