Using a quick-read meat thermometer is easy peasy. Let's make sure we're doing it right, shall we?
How To Use a Meat Thermometer in Two Easy Steps:
1) Insert thermometer into the center of the thickest part of the meat. If need be, insert thermometer horizontally. Thermometer should not be touching bone or fat.
2) Wait 10-15 seconds before reading.
BAM! You're now an expert in meat thermometers. Easiest tutorial, evah!
Here's a scan of the chart I use to determine the degree of doneness: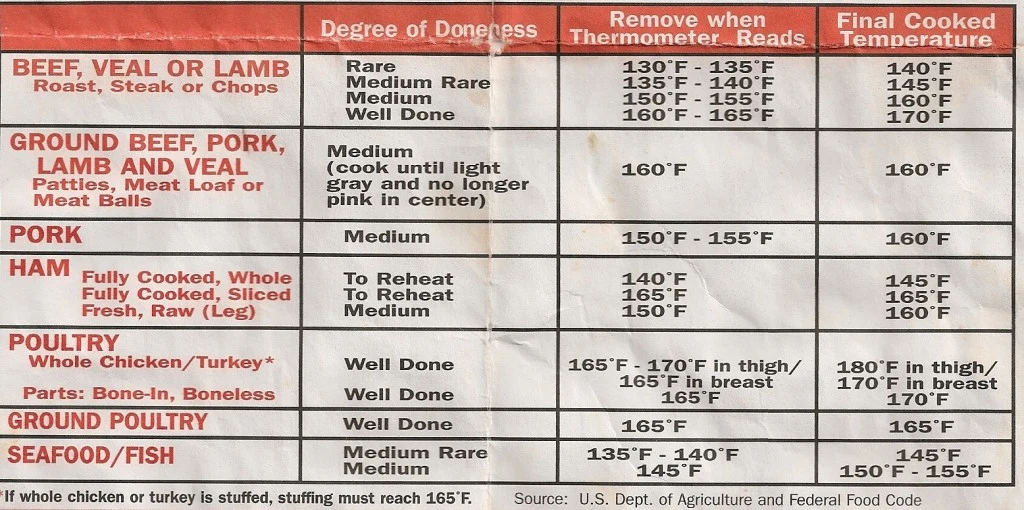 Technically, the thermometer should be inserted two inches and there's a very good reason for that. Quick-read thermometers sense temps from the start of the tip to the end of the probe. Two inches allows for an average temp along that area. Remember, if you can't get a good probe from the top of your meat, go horizontally. (anyone else snickering like a 12-year-old boy?!)
Do I do two inches every time? No. But, the caveat here is that I'm a veteran cook and also use my sense of touch, smell and sight to determine doneness. If you're just starting out and learning how to cook, using a quick-read meat thermometer will ensure food safety.
DON'T KILL GRANDMA AT SUNDAY BRUNCH!
~ A gentle reminder: OMT! uses Amazon referral links. When you do your shopping through the Amazon links on this page, you support the blog at no cost to yourself. It's much appreciated!~
Here's the thermometer I use:
image source: Amazon
It's easy to read and I like that it's old school (but you may prefer a digital reader).
One more thing, and this is important: after you've inserted the thermometer into the meat and it isn't done yet, make sure and thoroughly wash the thermometer before inserting again. You don't want to transfer any bacteria from probe to probe (seriously…stop laughing!) that will make you sick.