Some days you can't drag me from the kitchen. Other days, I need the easiest-to-make meal evah!
These chicken enchiladas will be the easiest you've ever made (not to mention dee-licious!).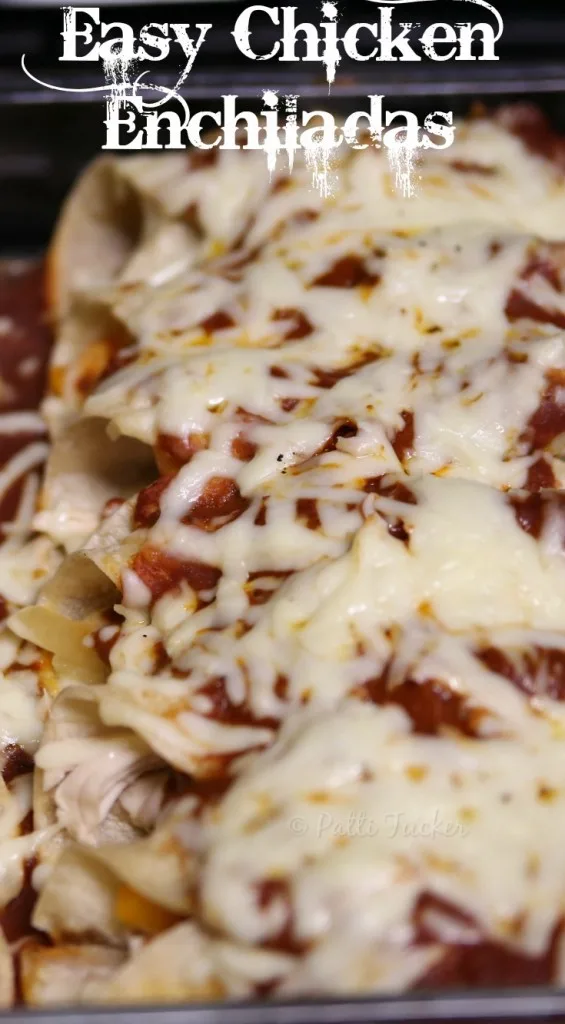 First thangs first: make this red sauce. This will be the hardest part of the recipe, and by hard I mean it's not even hard.
Why should you bother with a homemade red sauce when the grocery store shelves are lined with ready-to-go sauces?
1) It's easy.
2) The taste is superior to anything store bought.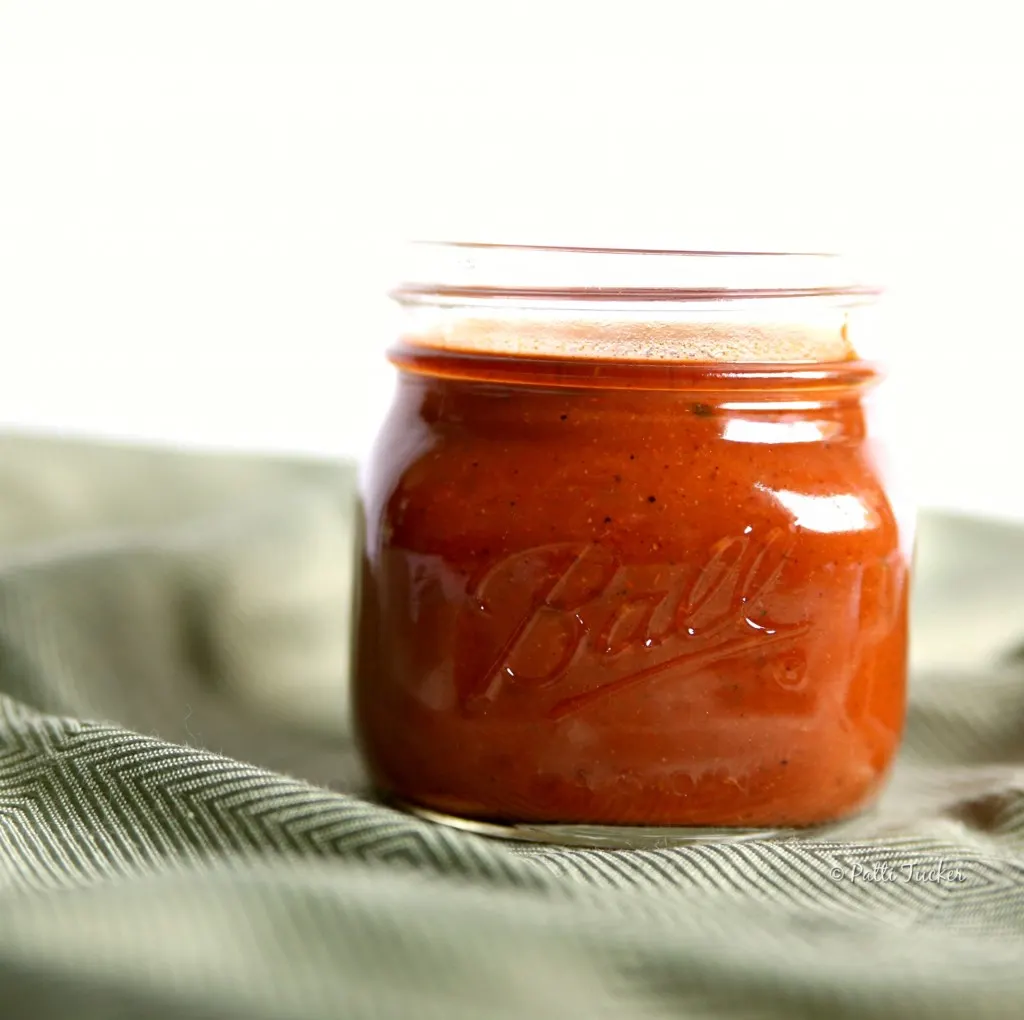 Now to the actual easy peasy chicken enchiladas.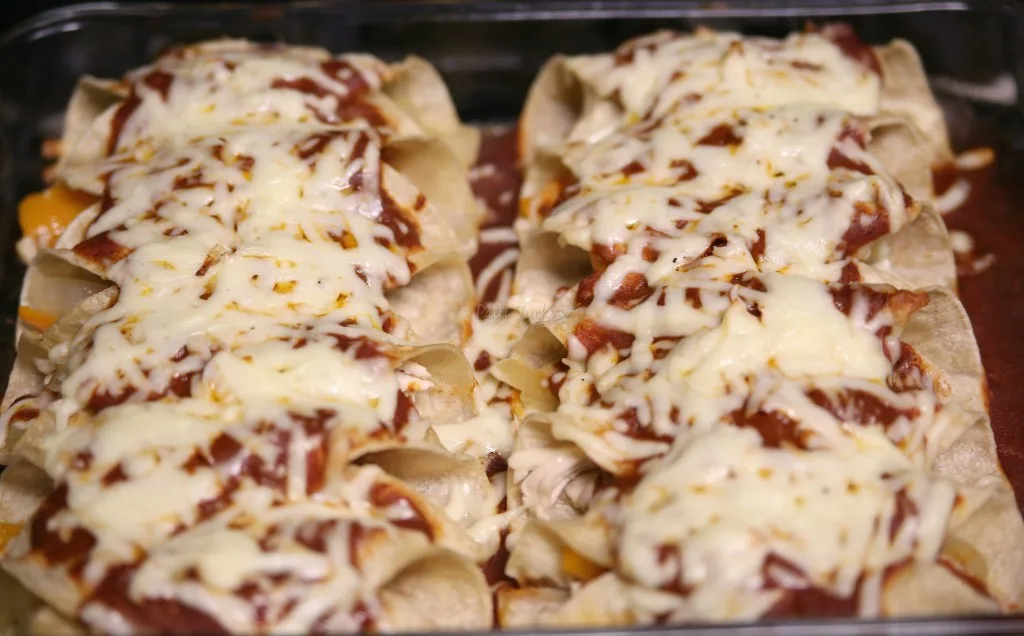 [Tweet "These chicken enchiladas will be the easiest you've ever made (not to mention dee-licious!)."]
Easy Chicken Enchiladas
Ingredients:
Rotisserie chicken, deboned
Sauteed onions and sweet peppers
Grated Monterrey cheese (or whatever kind rocks your enchilada world)
Red Sauce
12 Corn or flour tortillas (I used corn in the pic)
Vegetable oil
Toothpicks
Directions:
1) Saute a medium onion with sweet red/yellow peppers in olive oil. Set aside.
2) Grate cheese. Set aside.
3) Pull meat from rotisserie chicken. Set aside.
4) Spray a 9 x 13 pan with cooking spray, then pour a thin layer of sauce into pan to coat. You'll lay your enchiladas on this once constructed.
5) Heat saute pan with a tbsp of oil and once hot, place one tortilla at a time in pan and heat through, then flip and heat through again. Place on plate, then cover with foil sheet and topped by a kitchen towel to keep warm until all tortillas have been heated through.
Keep adding oil to pan as necessary throughout process, so tortillas do not stick and are sufficiently coated. This process will make the corn tortillas pliable and will prevent cracking when filling.
6) Once all tortillas have been heated through, it's time to fill. Start by layering chicken, then sauteed veggies, then a bit of cheese and finally top with a spoonful or two of sauce.
7) Roll tortilla, set in pan and secure with a toothpick. Repeat until all tortillas are filled.
8) Top enchiladas with red sauce, then grated cheese.
8) Place in a 350° oven for 20 minutes.
We like to eat hot-from-the-oven enchiladas with a side of cold coleslaw. The juxtaposition of the heat and cool is perfection.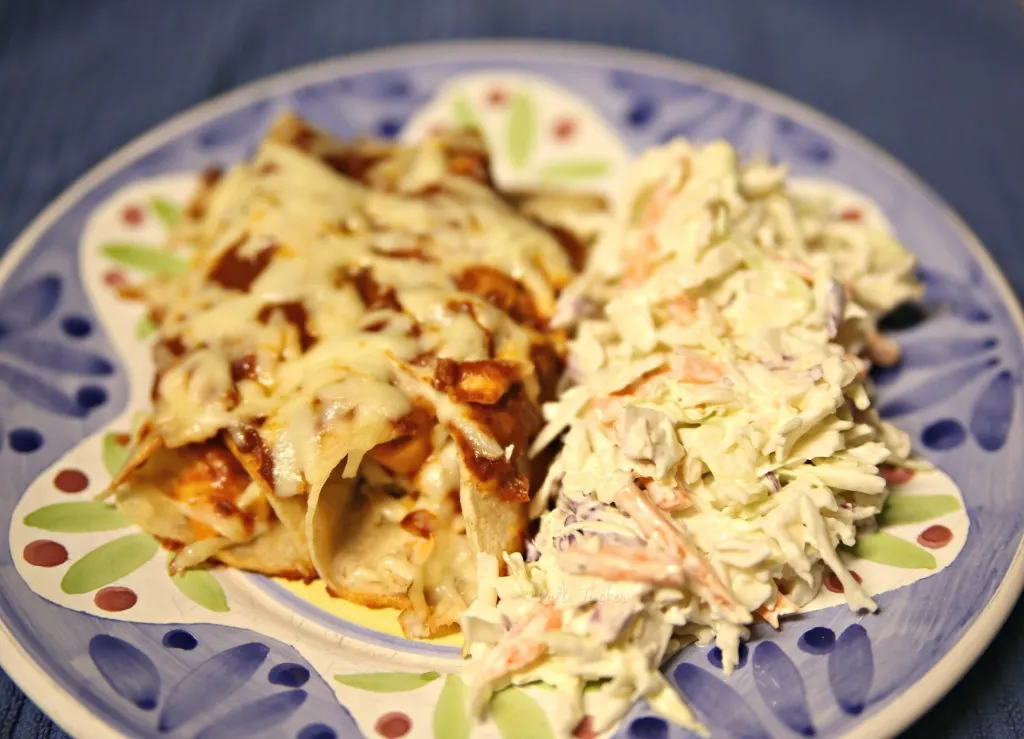 Happy Eatin' Your New Fav Meal, Y'all!