I live in Texas and Texans love their 'picy foods. It's jalapeno this and jalapeno that. (btw: proper pronunciation in Texas = hal-eh-pain-nyo)
The dirty little secret for some of us big bad Texans (me) is that we prefer our taste buds not be seared off when eating our favorite Tex-Mex meals.
So, what's a jalapeno-loving gal to do?
~ A gentle reminder: OMT! uses Amazon referral links. When you do your shopping through the Amazon links on this page, you support the blog at no cost to yourself. It's much appreciated!~
Core those suckers with a Norpro Jalapeno Corer!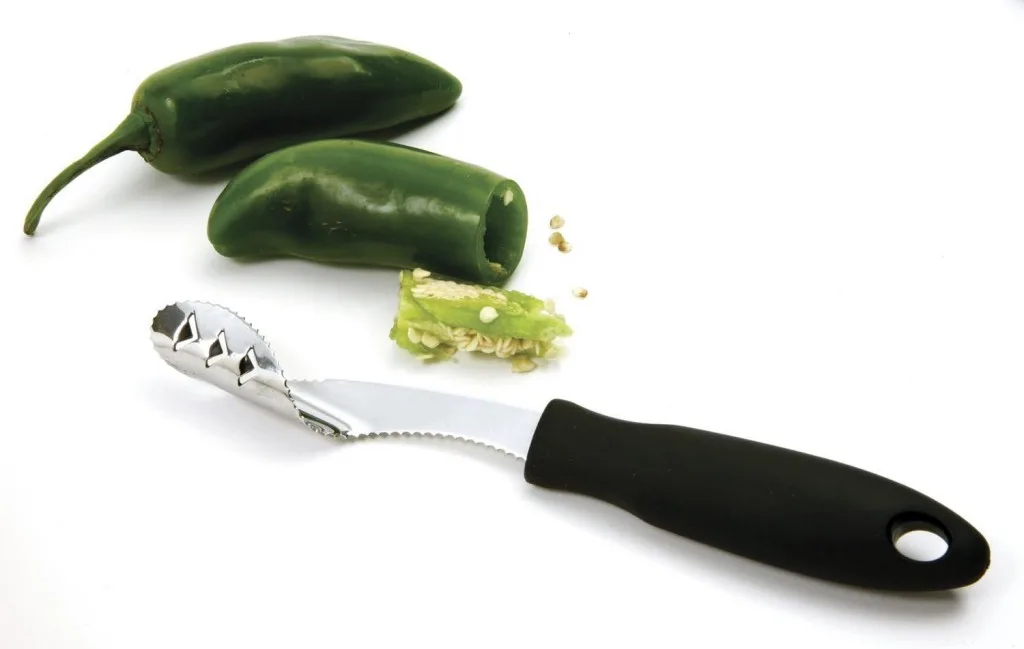 image source: Amazon
Product Deets:
Stainless steel blade
Soft santoprene handle
Serrated edge and sharp inner teeth
Dishwasher safe
Every heat-adverse Texan knows that the heat of the pepper lies within the seeds. Take out the seeds and you're left with the mild flesh that's mmmm, mmmm good.
When I make Pico De Gallo, I de-seed the peppers for those who don't want to breathe fire, and leave them in for those that do.
Also, this handy jalapeno corer makes stuffing peppers so easy. Jalapeno poppers have never been so easy to make!
Ingredients
20 whole fresh jalapenos, 2-3 inches in size
2 cubes cream cheese, softened
1 pound bacon, sliced into thirds
Instructions
Core jalapenos. (see note)*
Fill with softened cream cheese.
Wrap jalapenos with bacon pieces (1/3 slice), then secure with toothpick.
Bake on a pan with a rack in a 375-degree oven for 20-25 minutes. If, after 20 minutes, the bacon doesn't look brown enough, just turn on the broiler for a couple of minutes to finish it off.
Notes
*When working with jalapenos, it's a good idea to wear latex gloves. If you don't, the oil from the seeds can get on your hands and if you inadvertently wipe your eyes or mouth....FIRE!
Adapted from Pioneer Woman
https://ohmrstucker.com/jalapeno-popper-heaven/
Get one for the chef's stocking and an extra for you!
CALIENTE, NO MORE! Unless, of course, you like going through life with nubs for taste-buds…