I offered my first What I've Learned as a grandmama when Sweet E hit six months. How much more could I have learned in three months? Plenty.
~ I'm good in a crisis concerning Sweet E, but once I get a green light to cry, I'm all in.
Sweet E and DIL were in a car accident that left me anxiously waiting for word of their safety. I relayed the info to Husband as I got it from Boy, and together we were collected and calm and all things strong during the crisis. My mind was on what we could do for my son, my DIL and sweet Sweet E. (we live 5 hours apart…there wasn't much I could do other than offer my ear, my guidance and my unending prayers, as well as those who joined me). After a flurry of phone calls and a texted picture of happy Sweet E handling his first accident like a Boss, we got the thumbs up from Boy. All was OK. After I told Husband the good news, I started crying. And I couldn't stop.
My mind suddenly filled with of the possibilities of "what-ifs" and I realized I had held my fear at bay until I knew I had the luxury of crying, of falling apart, in a surge of relief. Those damned what-ifs.
~ In a crisis concerning Boy and his tiny family, it's torture living 5-hours away and feeling like there is nothing I can do.
In the aftermath of the accident, later that night, there was an ER run because Sweet E repeatedly threw up large amounts throughout the evening. Having a doc examine him was the prudent thing to do. I got a text that they were headed to the ER. It was late in the evening and I decided I wouldn't go to bed until I heard what the doc had advised. During the time from the text to the time I went to bed, I paced and tried to figure out who I knew who could fly me to Dallas. Yep. Granny went off the deep end. Funny aside: my BIL was visiting the next day. He's a FedEx pilot. Cargo planes. I told him for future reference that I could fit in a box. ~winkwink~
~ My awe of Boy as a daddy is a sweet comfort.
When Boy was in his first year of college, I worried about him more than I ever had and I relayed this information to my wise FIL. I lamented the fact that my son was grown, yet I was worried beyond what I thought was possible at that age. This is the sage advice he offered: Patti, you'll always worry about your children. Doesn't matter how old they get. True enough. Then he closed with a this worrisome note: But you'll always worry about your grandkids more, because your kids are raising them.
I laughed. I was also a bit annoyed and told him so. Didn't we do a good job with Boy? He agreed that we had. But, once you've been through it, once you know things as a parent, it's hard to watch your kids find out for themselves.
So true. It was hard knowing the fear and anxiety that Boy and Girl were feeling and I wished I could have been there, if for nothing else but to be present and available.
They are raising my grandson. It's a comfort knowing they are good and capable parents. The best I can do is be a loving support.
~ My fierce devotion and protection of my family has not diminished as my family has grown.
Some days make us weary, don't they? Some days grind us down. As we get older, many feel a break is necessary, a break from our complications and responsibilities. Some equate that with a distance from family. I find it's the opposite for me. I want my chickens close. I want my babies safe (even if they're nearing 30. 30!). Nothing makes me happier than spending time with those I love. This life is short. I want ALL THE LOVE!
~ Technology allows instant access to current baby info while I shop.
I no longer have to keep notes in my purse or try to remember sizes of Sweet E while I shop, because as we all know, it's a text away. I was shopping for a fleece jacket and asked Boy to zip me Sweet E's size. Once I had the size, I sent them several pics of the choices available. I have said it before; I'll say it again: I ♥ technology.
~ I lose all seriousness when someone asks about E.
I could totally be ripping someone a new one and all they'd have to do is bring up dat baby and I'd go all mush-headed. Your own baby certainly has a wondrous effect on you, but your grandbaby?! Holy smokes, people. I think the effect is a double-whammy because you're the one just lovin' them, and not so much raising them.
~ My grandbaby trumps your grandbaby.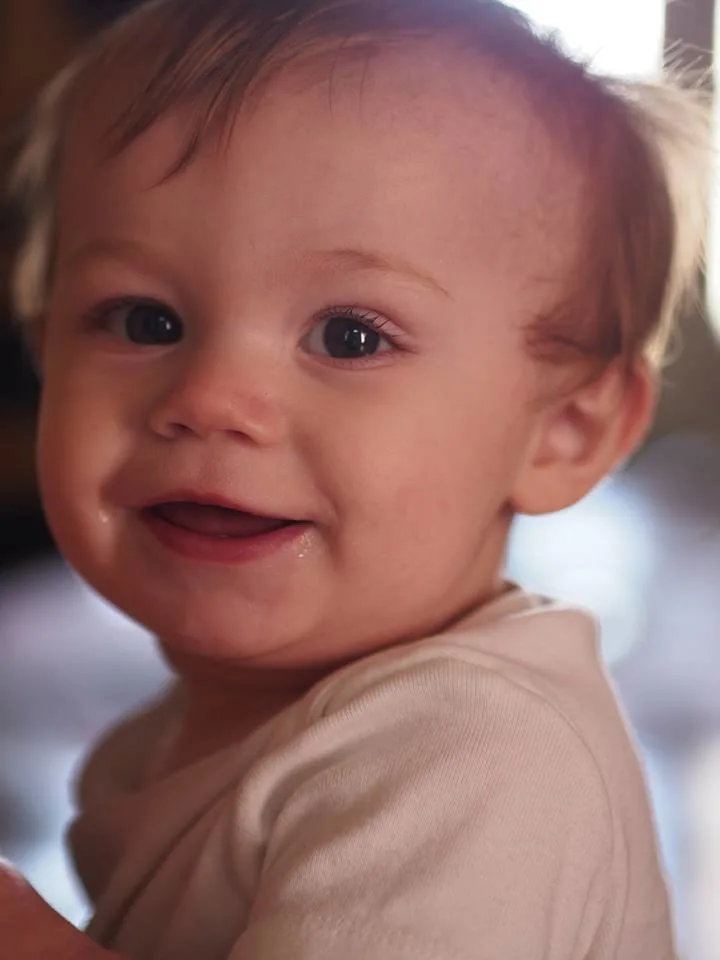 What? This surprises anyone?! It's the same as when you were parents, only like for real this time. Know your grandbaby is cute, but…
~ I fear I'll be a bad comedic influence of my grandson.
I know that after some point, let's say after a weekend visit, E is gonna get in trouble for doing something, saying something, that was funny to us, but not so much meant for polite company, like a good smelly fart joke. I'll try hard to teach him the wisdom to differentiate between the two. Grandmama + nonsense jokes = high hilarity. Public + fart jokes = note sent home from the principal, who at this point is not so much your pal no matter how it's spelled.
~ I find myself scheming for the future and it involves so much of the past.
Finger paints. Days exploring downtown. Visiting the Alamo with a 3rd generation (on his daddy's side) Texan. Making Christmas cookies. Sidewalk chalk. Climbing trees. Fredricksberg strudel. West Texas. Bug jars. Science projects. Discussing possibilities. Museums visits. Moon gazing. Making up stories. Playing chase. Keeping kiddie secrets. Mud pies. Dancing in the rain. Exploring the ditch. Animated movies. Go-cart racing. Laughing over the ridiculous. Birthday cakes. Video games.
The list is endless. God-willing, we'll do all of this and more.
Three months has passed since I update this list and I'm stunned to know there's still so much more to learn and discover.
I can't wait.