"One is, we should never, ever give up. Two is, you're never too old to chase your dream. Three is, it looks like a solitary sport, but it is a team." ~Diana Nyad
Diana is the first person to swim from Cuba to Florida without the aid of a shark tank. She's also a 64-year-old grandmother.
Astonishing.
The badassiest athlete in the world is a grandmama and honestly, I'm not surprised.
Women are tough. Women are resilient. Women do not like being told they can't do something.
As a woman in my 50s, and a lifelong runner, I feel stronger than I have ever felt in my life. I have deep endurance, a strong body, but most importantly I have a mind that has been honed through years of motherhood to power through the toughest of situations and a will that refuses to be bowed.
As Diana said post-historic swim, "My mantra was 'find a way'."
Indeed.
Find a way.
I have written before about following a dream at my age. It isn't an easy thing to do at any age, but not following where your heart is leading is worse. To follow means sacrifice. You will suffer. Diana suffered. Those around you may suffer.
Do it anyway.
If Diana's triumph doesn't inspire you to cast aside your fear, or if you're more like me and your fear rides shotgun along the way, I certainly cannot offer you anything to ease your journey, for whatever may be holding you back from fulfilling your dream. My victories have been smaller in scope, but large enough for me.
There is a reason why folks like to talk about their dreams instead of acting on them: it's easier.
To act upon a dream means fighting, flailing, sinking, hoping, praying and charging into the battlefield. You're gonna have to dig deep; you gonna find out what you're made of. You may fail, you may face embarrassment, or you might, like Diana, after more attempts than you'd like, succeed.
Wouldn't that be something!
As a long distance runner, pain and suffering are my constant companions. The great challenge is mind over body. When I feel thisclose to broken, I take another step, and then another, and even more still. The simple act of continuing, of fighting through and overcoming the part of me that thinks I can't, teaches me I can. Each I can leads to renewed faith, to deeper strength, to finding my way.
The idea of never giving up no matter my age is also the reason I face my fear every morning, as I sit in front of my computer and live this dream of making a place of community for you and me here at OMT!
I know if Diana had the opportunity, she'd encourage you: find a way. I encourage you: find your way.
Don't let age excuse you. Don't let being a grandmother excuse you. Embrace those badges of life, let them now serve you as you have served so many others, and together, let's never, ever give up on chasing our dreams.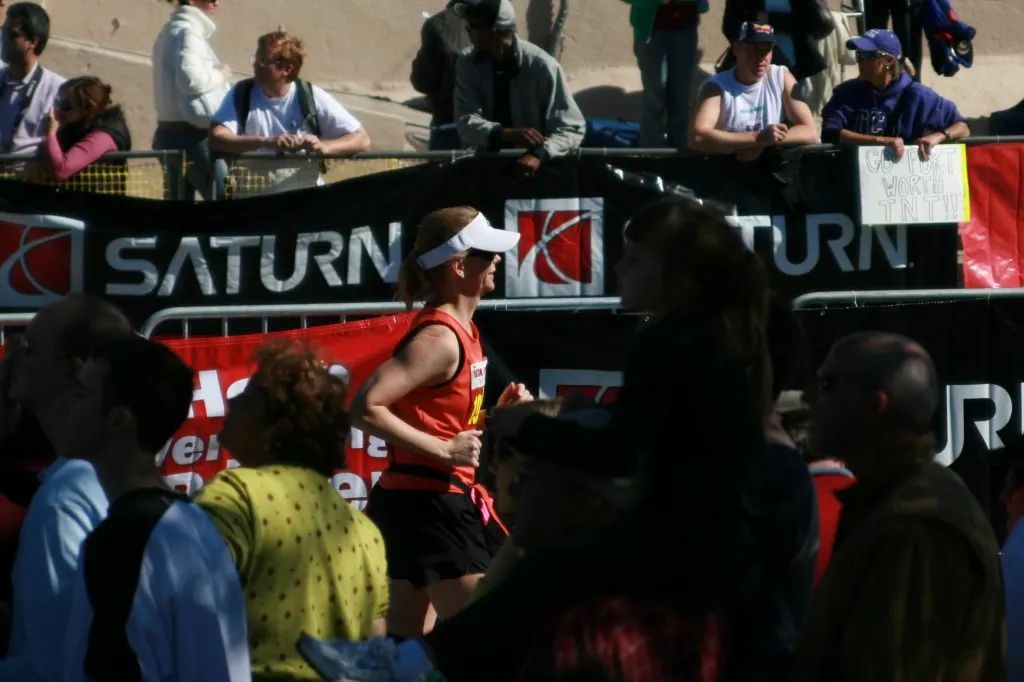 (Photo Credit: Scott Tucker)
Running on pure adrenalin through the suffering: mile 26.1, with .1 to go.
Find a way, my babies; chase your dreams.