As a newly-minted grandmother, I think about opportunities to pass wisdom on to Sweet E when he's old enough. And life is one big lesson, isn't it?
Last week I received news that a lifelong friend's mother was going into hospice care. Not the news any of us wanted to hear.
Some days are tough, aren't they? You try to pick yourself up, you try to avoid focusing on the tribulations, you try to smile through the pain, you try to convince yourself things aren't that bad, you fill your head with grace-laden platitudes, yet…
I propose instead of pretending that the pain doesn't hurt, instead of side-stepping the obvious, instead of lying to ourselves, instead of betraying the truth, we embrace our agony with faith, thereby gaining at the very least, a new perspective, but on the higher end, possibly something even more valuable.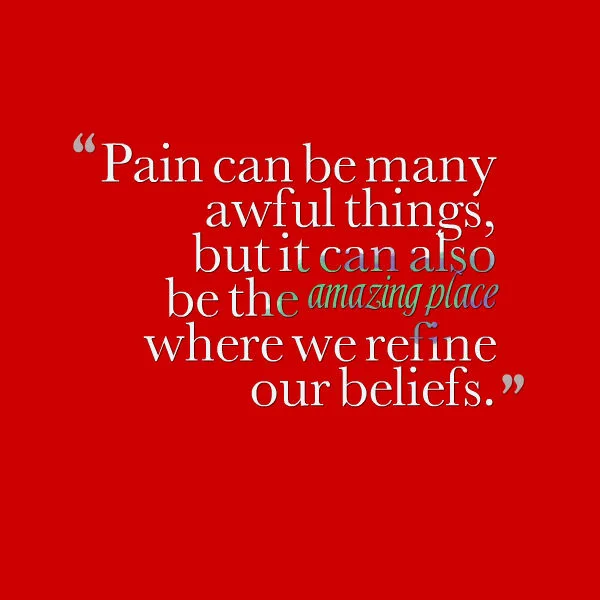 Will the new perspective fix the situation at hand? Most likely not. Life is never that simple. Then why even try? Because, there is more to gain from truth than there is to gain from deception. Accepting what is, instead of wishing it to be something it isn't, is powerful.
I am not suggesting, by the act of accepting what is, that we are changing our pain into something magically better; I'm merely suggesting that the acknowledgement of what is, can help us to move through the situation in a way that allows us gain, instead of loss.
It isn't an easy task to embrace our agony. Wrapping pain in pretend-happiness makes the torment more palatable. We've all done it. No one wants to deal with pain, no one wants the mess of our pain to get on others, no one wants to be that person mired in the muck.
Yet, truth reigns supreme, even if it comes in the form of pain. Pain can be many awful things, but it can also be the amazing place where we refine our beliefs. It takes faith to face the darkness of pain, rather than disguising it as light for a fleeting respite.
What's the upside to embracing what is instead of trying to convince yourself of what isn't?
Unrealistic expectations evaporate. Unnecessary drama retreats. Lies dissolve. Pride is tamed. Humility reigns. Wisdom grows. Self-respect emerges. Strength is forged.
This life is tough. We cannot change the fact that we will experience pain, but I'm suggesting that we use our pain for something bigger, rather than allowing it to use us.
The news that a beloved mother will pass too soon from our lives is a heart-breaker, but accepting the hardness of this truth, as it is, offers my suffering soul some peace.
As the days pass, may we find our pain diminished and our joy remembered.