I have already offered this recipe under Almond Coconut Dream Bars, but wanted to offer you the pecan version, too.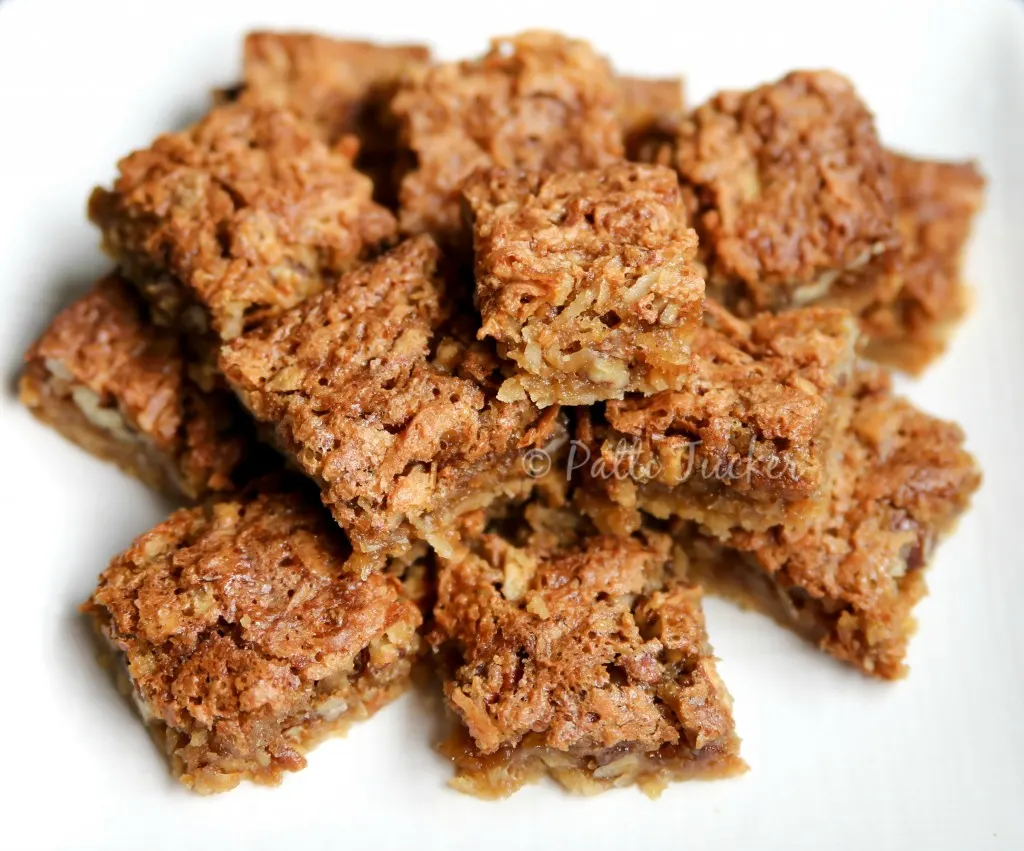 In the past, when I've made the Almond Dream Bars, I'd always say I'd make the pecan version, but, um, well, I, uh…
Lazy baker much?!
WAIT! Here they are!
As soon as they hit Garry's taste buds, he decreed this version his favorite version. He said they reminded him of little pecan pies.
I can't decide which ones I like best. They are both so incredibly melt-in-your-mouth buttery, yet substantial, that it's hard to pinpoint one as better than the other.
Ingredients
CRUST

1/2 cup shortening (I use butter)
1/2 cup packed brown sugar
1 cup flour

TOPPING

2 eggs, well beaten
1 cup packed brown sugar
1 tsp vanilla
2 tbsp flour
1 tsp baking powder
1/2 tsp salt
1 cup moist shredded coconut
1 cup coarsely chopped pecans
Instructions
CRUST

Heat oven to 350°.
Mix shortening and sugar thoroughly.
Stir in flour.
Press and flatten to cover bottom of ungreased 9x13 pan. (1)
Bake 10 minutes.
Spread with topping. (2)
Return to oven and bake 25 minutes (or a bit more or less) until golden brown.
Cool slightly, then cut into bars.

TOPPING

Mix eggs, sugar and vanilla.
Mix flour, baking powder and salt together and then add to egg mixture.
Stir in coconut and pecans.
Notes
FOR DEM NEWBIE COOKS
1) I typically use my hand for flattening.
2) This may take some care as the crust isn't firmly baked yet. If you tear a piece, do the best you can to slap it back in place and keep on going!
https://ohmrstucker.com/pecan-dream-bars/
One thing that I'd like to point out here is that some of you may skip right over this recipe because of the coconut. I feel ya. Not a huge fan either. So, what you're gonna have to do is trust me when I tell you that while the coconut adds a lovely texture, there is not an overwhelming coconut taste. I'd go as far as saying I never even taste the coconut when I'm yumm-ing my way through these bars.
Make them once. Then come back and tell me if I wasn't right. That I didn't lead you astray. That they are totally worth having a half-used bag of coconut in your pantry for the next year.
These are perfect for your holiday dessert table, left out for Santa, for toasting a New Year, for celebrating a roaring fire, for easing a bad day, for ______ (your thoughts here).
What are you waiting for?
Happy Baking, mah babies.