Perfect this – perfect that…
Oh, OMT!, have you actually found the recipe for perfect oatmeal cookies?!
YESH!
Wish there was a smell button on this thang.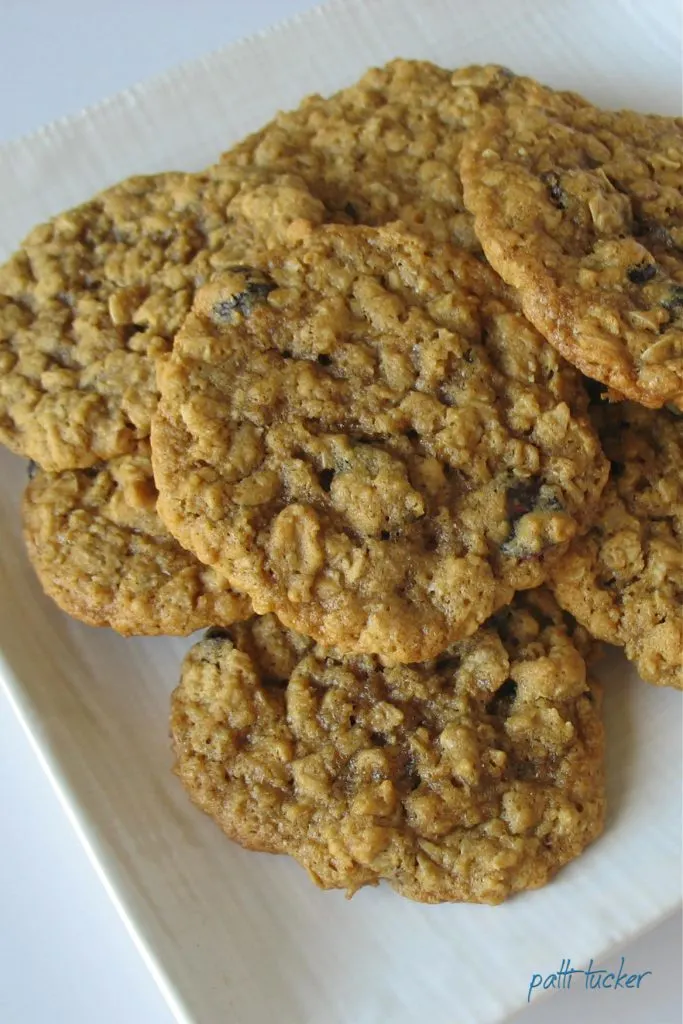 Right before I started to write this post, I made a dash for the freezer, where I had stashed a batch of Perfect Oatmeal Cookies the weekend before.
My field research for this post consisted of grabbing one of the cookies from the bag and stuffing it into my piehole to confirm my hyperbole of perfect.
Yes: perfect.
Also, I'm sure you noticed I noted that I ate a cookie right outta the freezer. It's true. Once I bake any cookies, other than a few left out, the majority are stored in the freezer.
Why?
#1: I can't eat 3 dozen cookies before they go bad.
#2: I prefer to eat my homemade cookies right outta the freezer because of the crunch. Love it!
If you'd rather not eat yours frozen (but also need to store them until ready to eat), simply pull them out about 5-minutes before you plan on eating them and they'll be thawed to perfection.
Ready for unexpected company, rugrats or just because you'd like one.
Smart cookie, you!
The thing I love about this recipe is that I've modified it in several ways over the years and each time, I'm all, "PERFECT!"
Oatmeal cookies are a staple in most homes with kiddos.
They love 'em cause they're tasty; moms love them because they're a sneaky way to get their kids to eat a bit of oatmeal!
They are also a staple in many homes where the kiddos have flown the coup.
Cause once you make/taste a perfect oatmeal cookie, you can't just have them around for others to enjoy. Nope. You gotta make them for YOU to enjoy.
I see ya nodding yer approval of OMT!'s way of thinkin'.
Alright – enough jibber-jabber. Time to get your bake on.
These perfect oatmeal cookies are worth it!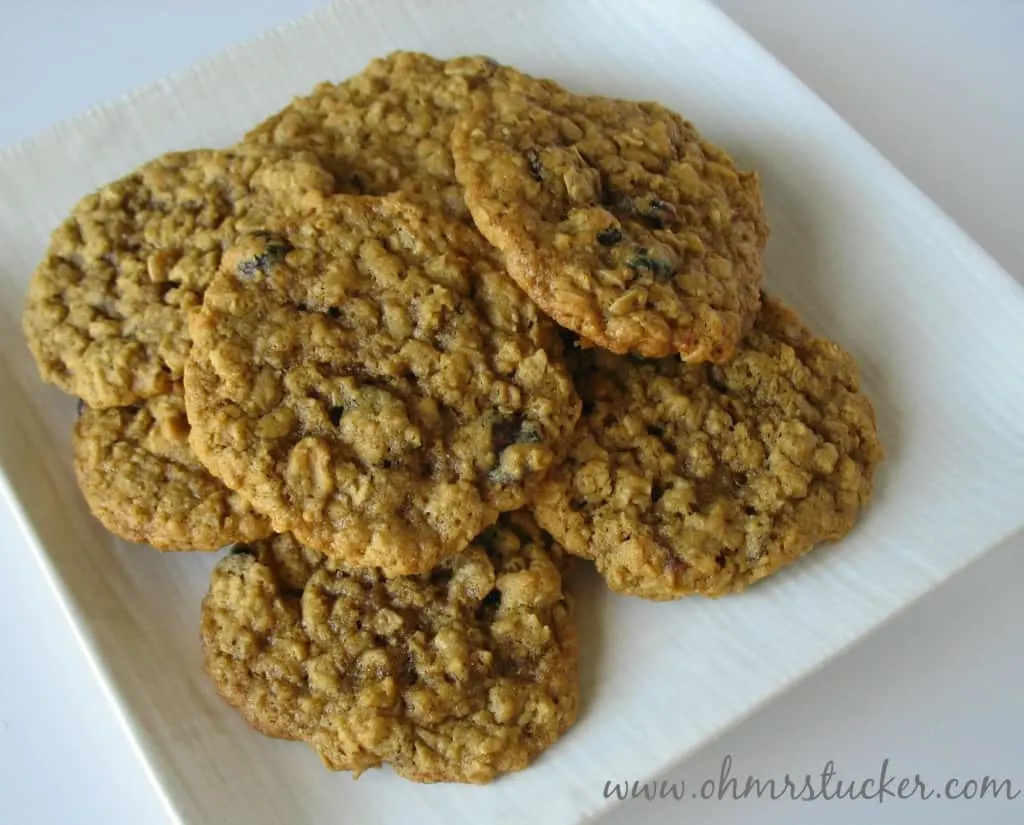 I have included a few links to handy products within the recipe card, if you're in need or could use a bit of guidance.
~ OMT! uses affiliate links at no cost to you. HUZZAH! ~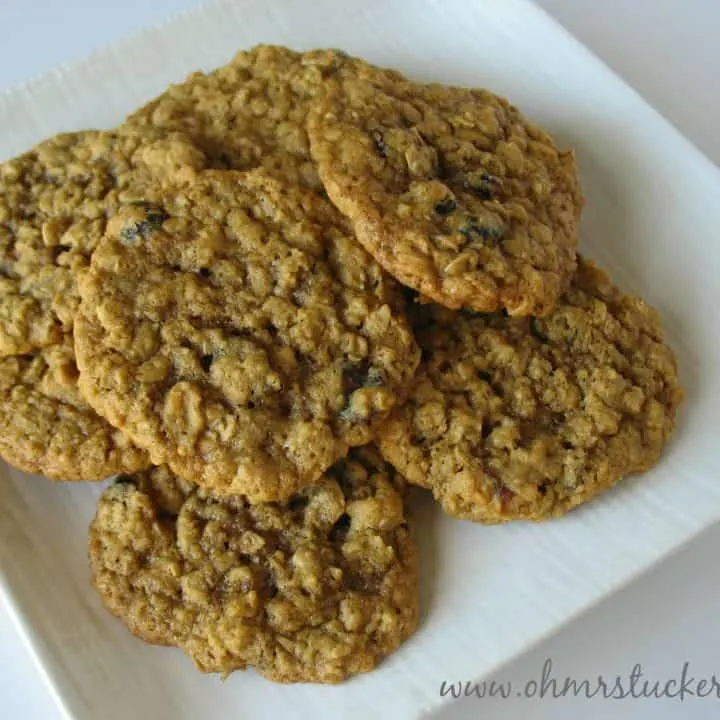 Perfect Oatmeal Cookies
Yield:
3 1/2 dozen 3-inch cookies
These easy to make oatmeal cookies are the perfect snack.
Ingredients
1 3/4 cups all-purpose flour
3/4 teaspoon baking soda
3/4 teaspoon baking powder
1/2 teaspoon salt
1/2 teaspoon Siagon cinnamon
1/2 teaspoon freshly ground nutmeg
1/2 lb butter, softened
1 1/2 cups brown sugar (light or dark)
1/4 cup sugar
2 large eggs
2 1/2 teaspoons vanilla
1 1/2 cup Craisins
3 1/2 cups old-fashioned rolled whole oats
Instructions
Preheat oven to 350°F.
Whisk together thoroughly flour, baking soda, baking powder, salt, cinnamon, and nutmeg.
Beat butter, brown sugar, sugar, eggs, and vanilla.
Combine flour mixture into butter mixture until well blended.
Stir in Craisins and oats.(1)
Drop by spoonfuls, about 3 inches apart, onto cookie sheet lined with parchment paper. (2)
Bake at 350°F for 6-9 minutes.(3)
Remove cookie sheet and let stand for a minute or two until cookies are slightly firm, before transferring cookies to wire racks to cool.
Notes
1) I have subbed with raisins and chocolate chips, but my favorite substitution is chopped dried apricots, which I'm generally not fond of, but in these cookies...WOW!
2) If you've never used parchment paper, DO NOT BE AFRAID! Go get some and use it, my babies. It is wonderful. Clean up consists of wadding up the paper and tossing! The best part though, is that the cookies bake more uniformly when you use parchment paper. Get some; bake like a boss!
3) Purists will tell you one sheet of cookies in the oven at a time. BOOO! OMT! is a busy gal, and I bet you are too. I always throw caution to the wind and bake two giant sheets at a time. This means that cookies may need the full 9 minutes. Keep an eye on the first sheets you throw in and bake accordingly.
BONUS NOTE! Of course you can use regular cinnamon and nutmeg, but these two particular ingredients, as written, are the secrets to these cookies being perfect...step outside your comfort zone and try it!
Happy Baking, my babies!
Recommended Products
As an Amazon Associate and member of other affiliate programs, I earn from qualifying purchases.
Nutrition Information:
Yield:

42
Serving Size:

1 cookie
Amount Per Serving:
Calories:

157
Total Fat:

5g
Saturated Fat:

3g
Trans Fat:

0g
Unsaturated Fat:

2g
Cholesterol:

20mg
Sodium:

97mg
Carbohydrates:

19g
Fiber:

1g
Sugar:

13g
Protein:

1g
Happy Baking, my babies!
If you are tired of searching for OMT!'s top recipes – look no further!
Rest yer weary fingers.
Except to click on the image.
You still have enough strength for that.
COME ON!
YOU CAN DO IT!