Right before I started to write this post, I made a dash for the freezer, where I had stashed a batch of Perfect Oatmeal Cookies the weekend before.  My field research for this post consisted of grabbing one of the cookies from the bag and stuffing it into my piehole to confirm my hyperbole of perfect.
~yes: perfect~
The thing I love about this recipe is that I've modified it in several ways over the years and each time, I'm all, "PERFECT!"
I'll let you be the judge.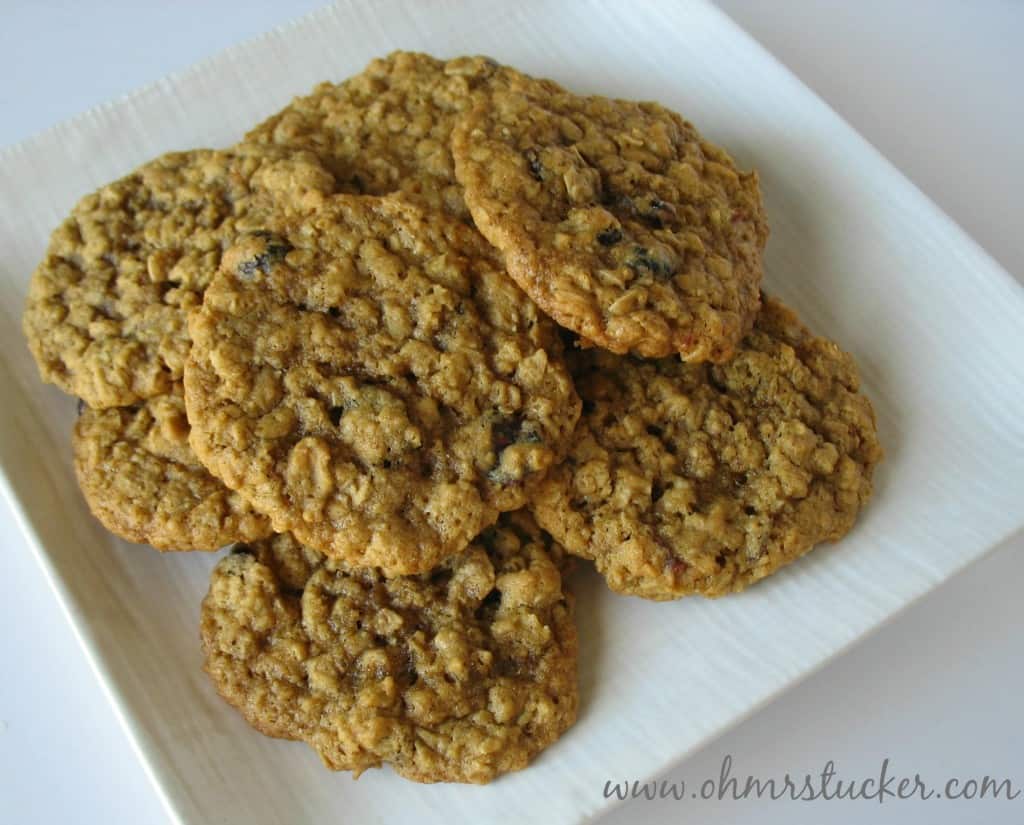 You don't think I'd leave you hangin', did ya…here's the recipe:
Ingredients
1 3/4 cups all-purpose flour
3/4 teaspoon baking soda
3/4 teaspoon baking powder
1/2 teaspoon salt
1/2 teaspoon Siagon cinnamon
1/2 teaspoon freshly ground nutmeg
1/2 lb butter, softened
1 1/2 cups brown sugar (light or dark)
1/4 cup sugar
2 large eggs
2 1/2 teaspoons vanilla
1 1/2 cup Craisins
3 1/2 cups old-fashioned rolled whole oats
Instructions
Preheat oven to 350°F.
Whisk together thoroughly flour, baking soda, baking powder, salt, cinnamon, and nutmeg.
Beat butter, brown sugar, sugar, eggs, and vanilla.
Combine flour mixture into butter mixture until well blended.
Stir in Craisins and oats.(1)
Drop by spoonfuls, about 3 inches apart, onto cookie sheet lined with parchment paper. (2)
Bake at 350°F for 6-9 minutes.(3)
Remove cookie sheet and let stand for a minute or two until cookies are slightly firm, before transferring cookies to wire racks to cool.
Notes
1) I have subbed with raisins and chocolate chips, but my favorite substitution is chopped dried apricots, which I'm generally not fond of, but in these cookies...WOW!
2) If you've never used parchment paper, DO NOT BE AFRAID! Go get some and use it, my babies. It is wonderful. Clean up consists of wadding up the paper and tossing! The best part though, is that the cookies bake more uniformly when you use parchment paper. Get some; bake like a boss!
3) Purists will tell you one sheet of cookies in the oven at a time. BOOO! OMT! is a busy gal, and I bet you are too. I always throw caution to the wind and bake two giant sheets at a time. This means that cookies may need the full 9 minutes. Keep an eye on the first sheets you throw in and bake accordingly.
BONUS NOTE! Of course you can use regular cinnamon and nutmeg, but these two particular ingredients, as written, are the secrets to these cookies being perfect...step outside your comfort zone and try it!
Happy Baking, my babies!
https://ohmrstucker.com/perfect-oatmeal-cookies/
Happy Baking, my babies!
Please Share on Your Favorite Social Media! ~ OMT thanks you! ~