The weekend Boy, Girl and Sweet E came to visit, Husband slow-smoked pork ribs out on the pit. If you've never had slow-smoked pork ribs, what are you waiting for? Heaven, I tell ta!
We had family over and fed everyone, then sent some of the leftovers home with Boy's crew.
That still left us with enough leftovers to have two full meals, with a half-meal or so left (have I mentioned when Husband smokes stuff, we go all in?!). That half-meal portion wasn't enough to feed both of us, but enough that we each wanted it. There was a smack-down brewing. Who would get the prized smoked ribs?
What to do, what to do?
Sliders, my babies. I made Slow-Smoked Pork Rib Sliders.
I apologize for the quality of the one pic I was able to capture. We were ravenous from a late day and this is it!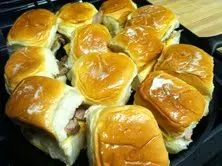 While sliders can be made with any small dinner roll, I used what we had on hand: King's Hawaiian Sweet rolls.
~ A gentle reminder: OMT! uses Amazon referral links. When you do your shopping through the Amazon links on this page, you support the blog at no cost to yourself. It's much appreciated!~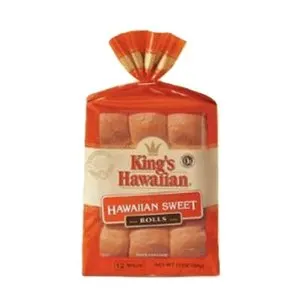 image source: Amazon
Since Boy was home, I thought these rolls would be a fun addition to dinner. They are light and fluffy, with a hint of sweetness. If you have never had King's Hawaiian Sweet Rolls, again, what are you waiting for? Heaven, I tell ta!
Basically, we made the sliders like grilled cheese.
Split each roll, spread a thin layer of butter on each inside piece. Slap a piece of cheese on each inside piece, then fill with pork. Spread a thin layer of butter on the top and bottom outsides of the rolls and place on a medium-hot griddle. Flip once. Eat. Roll eyes in ecstasy. Repeat.
Best use of leftover smoked ribs, ever.
Bonus: smack-down averted over who got to eat the last delicious remnants.