Take a Buttermilk Cupcake. Add a frilly chocolate buttercream hat. Take a satisfying bite. Catch a whiff of the vapors. You may now pass from this world a happy soul.
I could end the post here (with recipe) and that's all that needs to be said, right? LOOK AT IT! Cupcakey Heaven.
This was such a popular recipe, that I'm running it again, y'all. Buttermilk = brings out the Southern gal in me.
When I first found this recipe, I immediately printed it out. Then, I promptly forgot about it. I blame my peri-brain fog.
When I ran across it again, I made a note of the ingredients, ran to the store for buttermilk, then got to baking. I wasn't disappointed and I don't think you will be either.
My biggest challenge was deciding with what flavor to frost these delightful cupcakes. I settled on a dark chocolate buttercream (my recipe follows). Again, I wasn't disappointed, nor was Garry.
Oh, momma.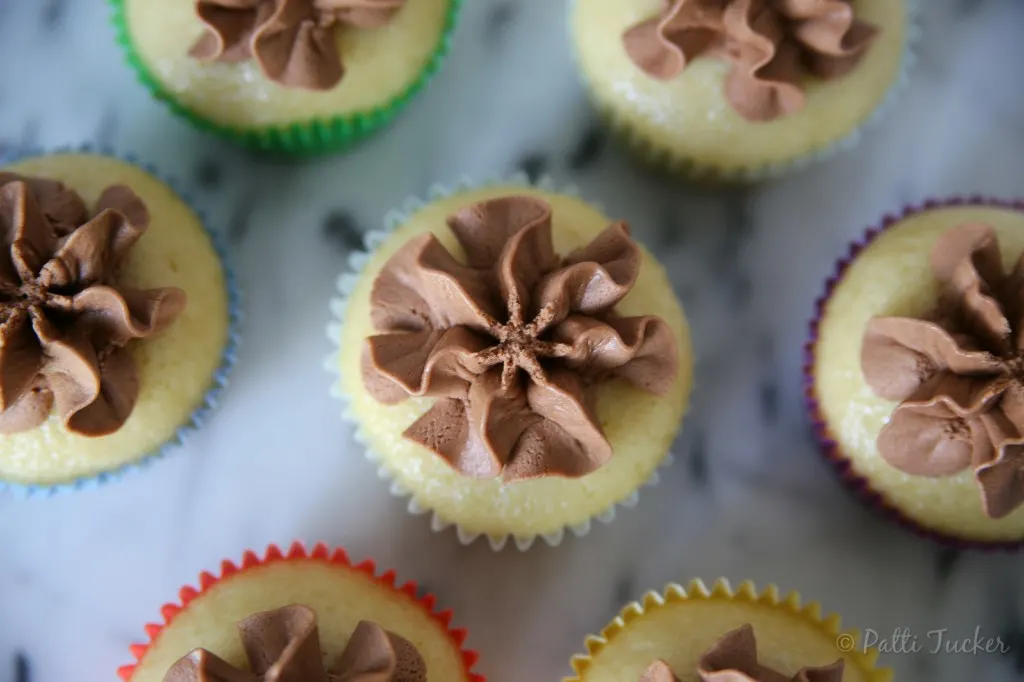 These cupcakes are good, yet different. Addictive, even.
How do I know?
I had two right out of the oven, sans frosting. Then, after I frosted them I had…well, let's just say I had a stomachache afterwards. Numbers aren't important here. ~urp~
The cupcake itself, is a substantial small cake. It's not an airy fluffy cupcake. Nope. It's like eating an actual cake in miniature size. While not dense, the cupcake had some weight to it, with a delicate, yet perfectly formed crumb.
Garry used the word "spongy" like a sponge cake; I thoroughly disagreed with him. He affirmed my "not dense" attribute, but denied my "delicate" crumb, mostly because he didn't know what in the world I was talking about.
That's right, we have heated debates about cupcake texture in our house. It's actually a lovely thing to debate, because after the other has made their point, you need to try another bite just to be sure they're wrong.
To the recipe!
Ingredients
3 cups cake flour
1 1/2 cups all-purpose flour
1 teaspoons baking soda
2 teaspoons baking powder
1 1/2 teaspoons coarse salt
1 cup plus 2 tablespoons canola oil
2 1/4 cups sugar
6 large eggs
2 cups buttermilk
1 tablespoon pure vanilla extract
Instructions
Preheat oven to 350 degrees.
Line standard muffin tins with paper liners.
Whisk together dry ingredients.
In a separate bowl, mix wet ingredients.
Add flour to wet ingredients in batches and continue beating until combined.
Divide batter evenly among 36 muffin tins.
Bake for about 17 minutes or until a cake tester comes out clean.
Frost with Dark Chocolate Buttercream.
Notes
This recipe yielded 40 cupcakes for me.
Recipe from simple girl
https://ohmrstucker.com/southern-buttermilk-cupcakes/
Simple Girl offers her cupcake recipe and now I offer my Dark Chocolate Buttercream Frosting recipe.
OMT's! Dark Chocolate Buttercream Frosting
1/2 cup softened unsalted butter
1 cup dark chocolate chips
2 cups (16 oz) confectioners sugar
1 tsp vanilla
Whole milk or cream
1) Over a very low flame, melt the chocolate chips, stirring constantly to prevent scorching. Cool.
2) In a mixer, mix sugar, butter and vanilla.
3) Add cooled chocolate and beat. Mixture will be very firm.
4) Add milk or cream in very small amounts (by teaspoons) for whatever consistency of frosting you desire. If you plan to pipe the frosting onto the cupcakes, you will want to add less milk, so that your frosting is a bit thicker. If you want to spread onto the cupcakes you will want a thinner frosting and a bit more milk. Add the milk, whip, then check frosting. Keep doing this until you are happy with the result.
* No worries if you end up adding too much milk, simply add a bit more sugar. Frosting fun!
Note: These babies freeze like a champ. Since the recipe made more than I should eat in a few days (not could, but should), I frosted a dozen that made their way to Nephew #3's home, a few for us, then froze the rest to take to Sweet E and family for the next time I saw them. Just to be sure that freezing them didn't diminish their texture or taste, I took a few out and tested them. While they were still good thawed, I decided that they were much better fresh. If I make them again, I'll make sure that I have a crowd to eat them instead of freezing the overflow.
If you're game for a new buttermilk cupcake recipe, I think you just found it.
Happy Baking, Y'all!
~If you love you a miniature cake in the form of a cup, please consider sharing this on social media. Dark Chocolate Buttercream Smooches!~