I can't believe that we're already up to nine posts on the subject of how Perimenopause Can Suck It. This series started innocently enough with Post #1 and here we are, eight more later. Just so you know, it's not over yet. I still have a few more informative (horrifying?!) posts to bring you up to speed on the amazing miracle that is a woman's perimenopausal body. Every dude I know just shuddered.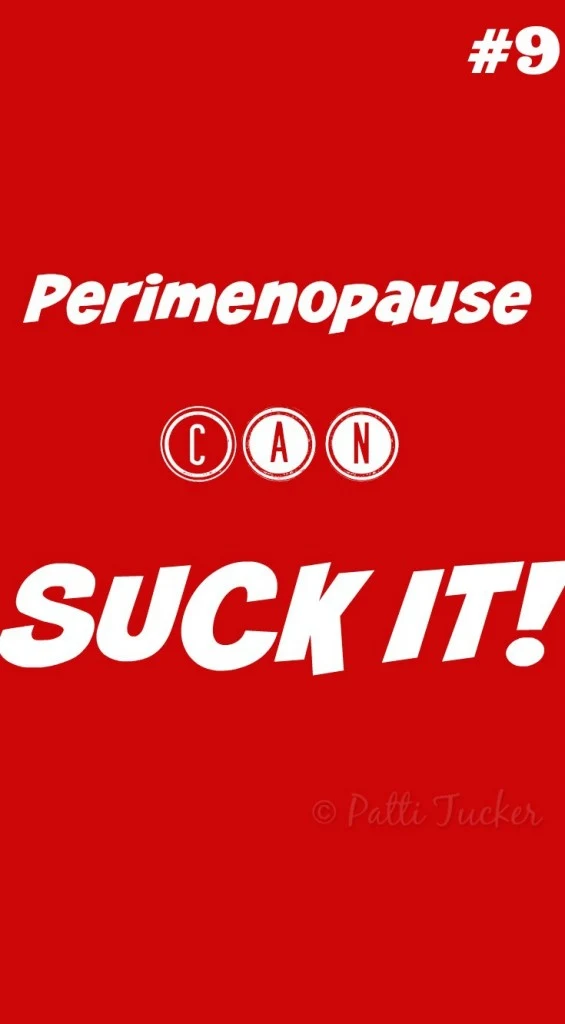 Brain Fog
Sounds like a bad B-movie. Can't you picture it? It's a dark and stormy night…an unsuspecting, regularly ovulating, woman, suddenly starts down a dark and unfamiliar path, exhibiting strange and powerful symptoms of the change of life only to temporarily forget almost everything she's ever known. A scream in the darkness: WHAT IS HAPPENING?! ~cue foreboding music, an uncontrollable need to slap the stupid out of people, and possible hormone patches~
Or something like that…
What the holy hell is brain fog?
Brain fog is simply short-term memory loss that can have its roots in many causes. Lack of sleep, hormonal changes and stress can all impact this disturbing symptom of perimenopause.
When I first started experiencing brain fog, Garry would note that I seemed "scattered." He said I wasn't finishing sentences or that I seemed to just walk off. I would brush it off by saying I had a million things on my mind, then promptly forget about it. The first time he pointed it out to me, we were shopping and I said, "But, I didn't run into anything!" Ha! Showed him! Right?
When he mentioned it again, I asked for specifics that he could point to as proof for his ridiculous claim. It wasn't one thing in particular or anything obvious, like crushing fatigue, that he could cite. It was more a feeling of being brushed off that he kept noticing. While I tried to defend myself, I felt I would never purposefully ignore his concerns, I also tried seeing it from his POV. Brain fog is tricky in the fact that it can come off as not paying attention or being fuzzy in thought or word because you plain forget about things, only to remember later, which then you'll probably forget again.
It takes the appearance of what my grandmother used to call 'flighty" behavior.
It wasn't until I was out on a run and thinking about his complaint that I realized that the scatteredness he was observing was a perimenopausal symptom of brain fog. THANK GOODNESS! I would hate to think that not running into things was my new bar of achievement.
When Does a Foggy Brain Occur?
Lifeclimax.com offers this: "A foggy brain is found to establish itself at different phases of the reproductive life of a middle-aged woman. The stage at which the symptoms show up and the severity of symptoms differ from woman to woman…Women report high cognitive disturbances in the late perimenopause when compared to the early phase. These symptoms further get worse after menopause and improve in the late postmenopausal phase."
Anyone else have an Oh, Shit! moment? Man, I thought this was gonna be an easy and quick symptom. Doesn't look that way, does it? The article goes on to say the first year post-menopausal is the worst. STOP IT!
[Tweet "Perimenopause Can Suck It #9: The Dreaded Brain Fog. What? What did you say?"]
Important Note: if you have a natural transition into menopause, your symptoms will be gradual, but if you have surgery-induced menopause, hang on, baby, because it's pretty much a tougher transition.
More Important Note: Brain fog is temporary. HUZZAH! Finally, something we can hang on to as we slide on skinned knees to the other side. Hang on! We'll all get there and then how we'll laugh! Remember that time…no?…okay, nevermind.
What Causes Brain Fog?
Your declining estrogen hormone, lack of sleep based on your skewed hormonal balance, possible medical issues (malfunctioning thyroid) based on your whacked out hormones, and stress bases on all the a fore mentioned. See a pattern? Waning estrogen is key in brain fog.
What Can You Do For Brain Fog?
* Up the nutritional value of your diet. Super boost the fuel you're putting in your perimenopausal-ravaged body (some say supplement with omega 3s, but that's your call. personally, I don't) and boost concentration and overall well-being. I find when I overdo on less nutritious foods, I have trouble concentrating, yet when I'm hyper-aware of my diet and take care to eat my vitamins, I'm much less scattered.
* Get moving. Y'all know I'm a runner. When I'm injured and can't run, it's not only hard for my physically, but mentally I'm not as sharp. When I'm not able to run, I bike, lift weights or walk. The point is to get your body sweaty and your breathing heavy (winkitty wink…that works too). More movement = better brain flow to the brain = better concentrating and memory mad skilz.
* Hormone replacement. Big topic. I hit on this subject HERE. This is a highly personal choice. Do your research. Talk to doctors. Talk to friends. Do more research. I have opted out of hormone replacement; I'm gonna white-knuckle this ride with Garry's support. My choice may not be your choice, but whatever your choice may be, let it be an informed one.
* Check in with your doc. Can't hurt to be evaluated and to discuss your options.
While I'm fascinated about the changes occurring in my body and my resilience throughout, perimenopause has overstayed its visit. I'm ready for this bad guest to pack up and leave me (and Garry!) in peace.
I've accepted what is happening to my body; it's out of my control. The very best we can do in this situation is to arm ourselves with as much knowledge as possible to meet our needs, so we can figure out a plan of action….even if we'll just forget about making such a plan in 3…2…
Oh, my babies, perimenopause can suck it!
* Disclaimer: All information in this series is based on my personal experience and is not intended to take the place of your doctor's advice.
~If you can remember what this post is about, please consider sharing on social media. Smooches!~