I had my first Spicy Pretzel when a friend dropped off a birthday package for Garry.  There they sat, in a ribboned-adorned apothecary jar, looking very ordinary, as pretzels are known to do.
Pretzels being pretzels are not exciting, although the jar was a keeper (if only it had come in this jar!).
Garry took off the top and popped a few pretzels in his mouth.  ~BIG EYES OF SURPRISE!~  Huh.  That was an interesting reaction to ordinary pretzels.
He silently offered me the jar, which I took, and then tossed a few in my piehole in birthday pretzel solidarity.  ~BIG EYES OF SURPRISE!~
'Picy!
Our snacking world tilted that day.  These seemingly ordinary pretzels held a surprise; they were baked with a delicious and unexpected kick.
What follows is the recipe that is now held in hallowed esteem in our house.
Ingredients
1 package mini-pretzels (14-16 ounces)
1 cup canola oil
1 Package dry Ranch Dip mix (or 2 tbsp. if you buy the larger container)
1 tsp. garlic powder
1/2 tsp. Cayenne pepper
Instructions
Measure the oil into a measuring cup and add all ingredients. Whisk together until full mixed.
Place pretzels in a roasting pan that is at least two inches high (for mixing purposes) and pour oil mixture over entire pan. Mix with a spatula until all pretzels are coated.
Place in over heated to 200°.
Cook for two hours, stirring pretzels every 15 minutes to prevent burning.
Cool, prepare a libation and enjoy.
Notes
I always double this recipe. Trust.
https://ohmrstucker.com/spicy-pretzels/
We eat them; we gift them; we hoard them; we share them.
I like them hot out of the oven.  I like them by a roaring fire with an ice cold beer or a Jack and Coke.  I like them on the hor d'oeuvres holiday table.  I like them in a bowl while watching a Netflix marathon.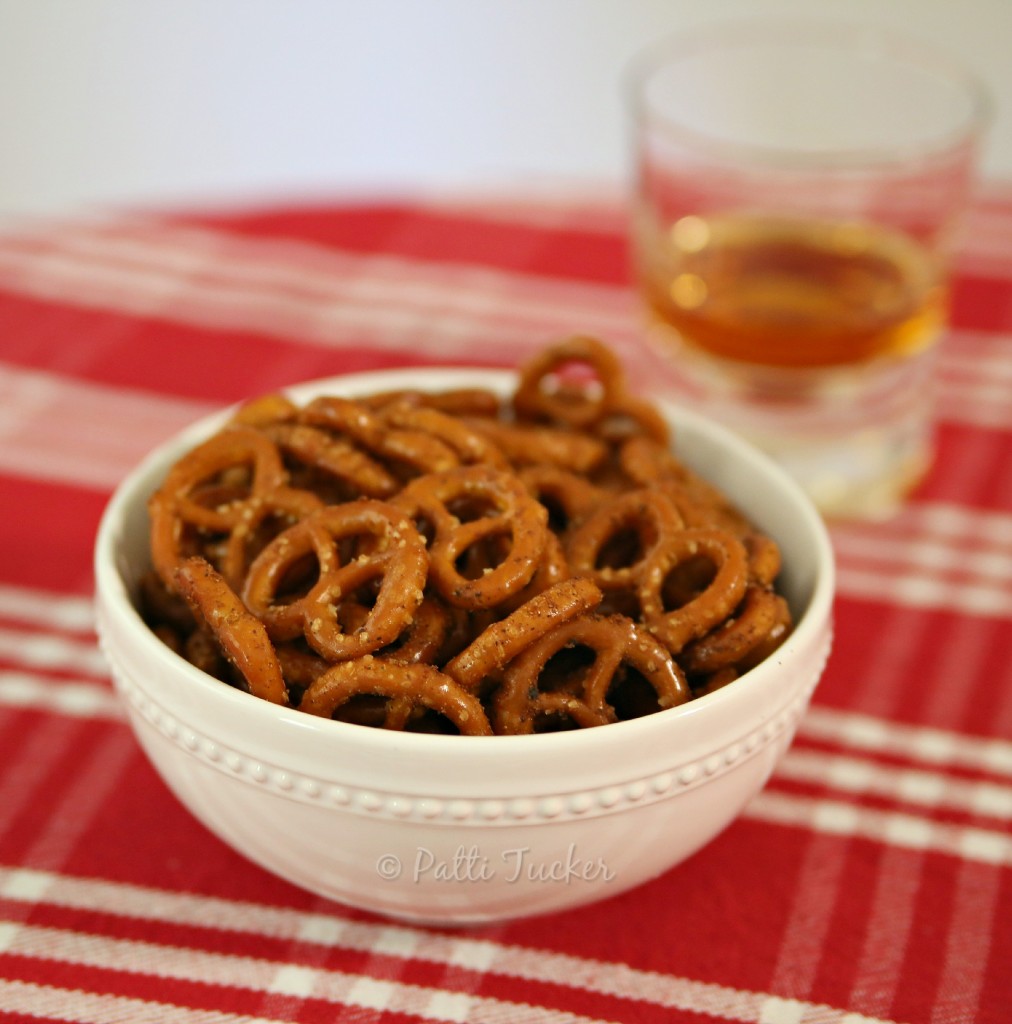 I. Likeove. Them.
And you will too.  Probably.  If you don't, I can email you my shipping address.
Spicy Pretzels are so easy to make, but their impact is deep and complicated.  Make them for those you love, so they know who's amazing: YOU'RE AMAZING!
Make them for your nemesis, so they know who's boss: YOU'RE BOSS!  (okay, maybe not everyone has a nemesis, so make them for your kid's teacher, your bossy boss or for your eye-squintin' inlaws/outlaws)
Happy scorin' all the brownie points, mah babies!