Ball jars that are not used for Ball/Mason jar purposes (storage) makes me itchy.
Ball jars were meant for canning, storing food, maybe nuts and bolts for Dad, but the prevailing theme is storage.
They are not dishes!
So, how to not put a salad in a Ball jar?
Don't. Do. It.
Grab ya a bowl, like a civilized person, yo.
All kidding aside (I'm not kidding), I love me some Ball/Mason jars and have about four or five different sizes in my pantry as I write.
~ A gentle reminder: OMT! uses Amazon referral links. When you do your shopping through the Amazon links on this page, you support the blog at no cost to yourself. It's much appreciated!~
My absolute new favs are these: 24 ounce, Wide Mouth Ball Jar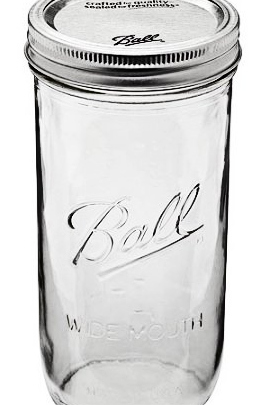 (source: AMAZON)
PRO TIP: You can get these pretty inexpensively at Hobby Lobby (check when they have a sale – they go 1/2-off), so the only way I'd use the link is if you don't have access to a store that sells them.
I L-O-V-E mine.
I store my raw honey in these bad boys and push them to the back of the pantry where it's cool and dark.
Easy to grab when I need to fill my honey dispenser or if I'm cooking and need more than a spoonful.
Product Deets:
~ Single – Ball Mouth ( oz.) Jar with Lid and Band
~ Ideal for preserving jams, jellies sauces, mustard & flavored vinegar
~ Does not contain bisphenol A (BPA)
~ Dishwasher Safe & Reusable
~ Made in the USA
Product Description:
Ball® Glass Mason Jars are ideal for fresh preserving recipes such as salsas, syrups, sauces, fruits and vegetables. Our famous glass jars and closures go beyond fresh preserving to help you with serving, creative décor and gift giving.
BIG CAVEAT: the link I'm posting is for one jar. Not two.
So why post the link? It's for the poor souls that have no easy access to a Target or Hobby Lobby.
THE HUMANITY!
If you're lucky enough to pop into a store and pick up, look for the jars with the measurements on the side. FUN!
Or not.
You do you, baby.
Please Share on Your Favorite Social Media! ~ OMT thanks you! ~