I haven't baked in a while and I was itchin', ITCHIN'!, to make these Sugar Cookie Bars: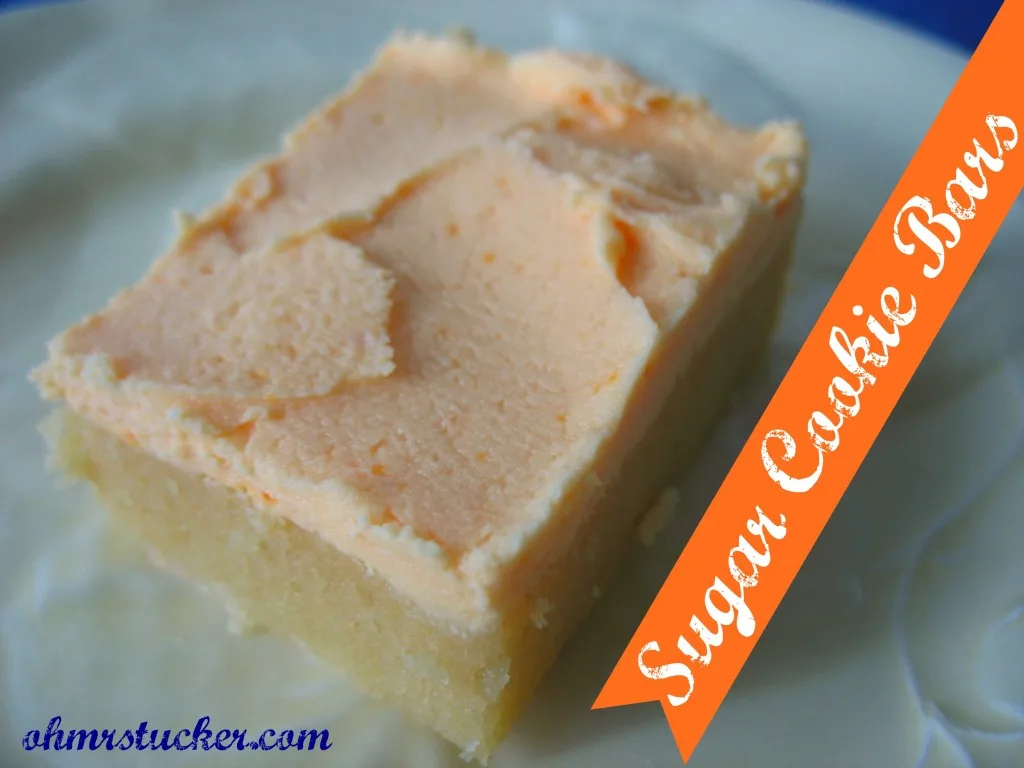 I had a hard time keeping Husband away from them long enough for me to get a photo.
Recipe:
Ingredients
Bars:
3/4 cup butter (1 1/2 sticks), softened to cool room temperature
3/4 cup granulated sugar
1/4 cup powdered sugar
2 large eggs
1 teaspoon vanilla extract
2 1/4 cups all-purpose flour
1 teaspoon baking powder
1/2 teaspoon salt
Frosting:
6 tablespoons butter, softened
2 1/2 cups powdered sugar
3 tablespoons milk or cream
1/4 teaspoon vanilla extract
I pkg Kool-Aid flavoring (I used orange) to taste (optional)
Instructions
Preheat oven to 375 degrees F.
In a large bowl, cream together the butter, granulated sugar and powdered sugar until light and fluffy. Add the eggs and vanilla and mix for 1-2 minutes. Stir in flour, baking powder and salt. Mix until combined.
Lightly grease a 9X13-inch baking pan with butter. Press and/or spread the sugar cookie mixture gently into an even layer into the bottom of the pan.
Bake for 10-13 minutes. Don't overbake! The bars shouldn't have any color around the edges and barely be set in the middle. Let the bars cool completely before frosting.
For the frosting, cream together the butter and powdered sugar until smooth (if the mixture has trouble coming together, add a drop or two of milk). Add in the vanilla and mix. Add the milk or cream and mix until the frosting is light and fluffy. Add Kool-Aid flavoring a bit at a time until desired taste is achieved, if desired.
Notes
Adapted from: Mel's Kitchen Cafe
https://ohmrstucker.com/sugar-cookie-bars-sugah/
I adapted this recipe to include Kool-Aid flavoring…AGAIN! This time I let Husband pick. He was having a hard time between grape and orange, so I did the old put-them-behind-my-back-and-you-pick-a-side silliness.
BAM! Orange it was!
I used about 1/3 of the flavoring packet and the taste was poppin'. I just wish, for photo purposes, the color had been as well.
The only other thing I did off-recipe was to use a smaller pan (can y'all believe that a gal who bakes as often as I do, doesn't own a 9 x 13?!) My pan was 8×11, I think. I had to add almost 5 minutes to bake time. This week or next, I'm gonna get me a 9 x 13 and do it right.
This is one of the easiest recipes I've ever made. Would be great for any party you are required to bring something, but you don't want to spend hours in the kitchen. Or for a Saturday afternoon treat.
Whatcha waitin' for?
Get to bakin'!