Enjoying good health is like winning life's lottery. Keeping it is altogether different.
As many of you know, Mrs. Tucker is a lifelong runner (who obviously enjoys referring to herself in third-person). On June 29th, I participated in a run billed as: This is an old fashioned road race on a helluva tough course that will make you tough, strong, and wanna curse the race director.
Yes, yes it did. Yes, yes I did.
The Texas Tough 10k was my toughest race to date.
Before we get to the pics, I want to say that many people, especially women, tell me they wish they could do what I do. I want to say it straight here: YOU CAN. (of course, if you are in my age bracket or have any health concerns/issues, you must check with your doc first)
You won't start at my level, because I've been running almost my entire life, but I'm just a regular gal out on the roads and you can be too. There's nothing special about what I do. I tie on my shoes, head out the door and run. THAT SIMPLE. I'm just like you, except maybe a bit crazier because I agreed to this particular race (which I was compensated for to write this, but not so much this one!)
We all know how important it is to keep one step ahead of our good health, especially as we age, and running has been my good health salvation. Plus, it allows me (and most runners) to EAT ALL THE THINGS!
Onward to the pics!
Ah. Pre-race and still all happy and excited. Look! I'm in Helotes! Wheee!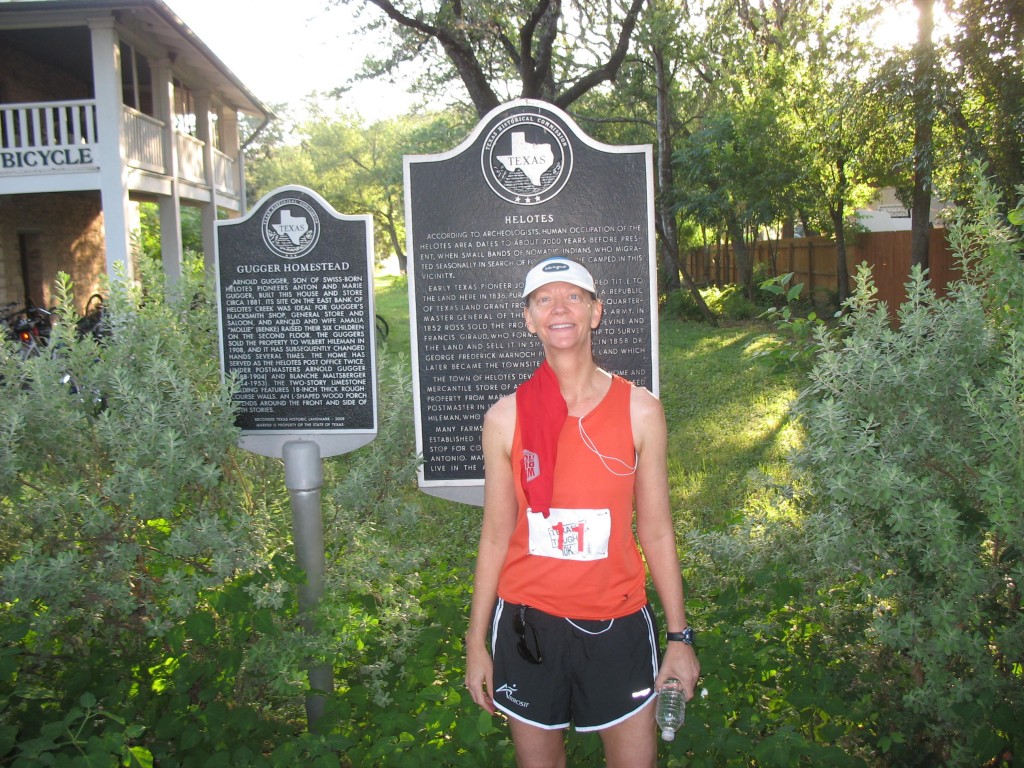 We saw lots of folks with numbers written on their arms and legs passing us as we walked to the starting line. Helotes is a popular place for races and as we passed these bikes I exclaimed: They must be doing a Tri today!
Garry snorted and then insisted on stopping to take the shot. Look closely: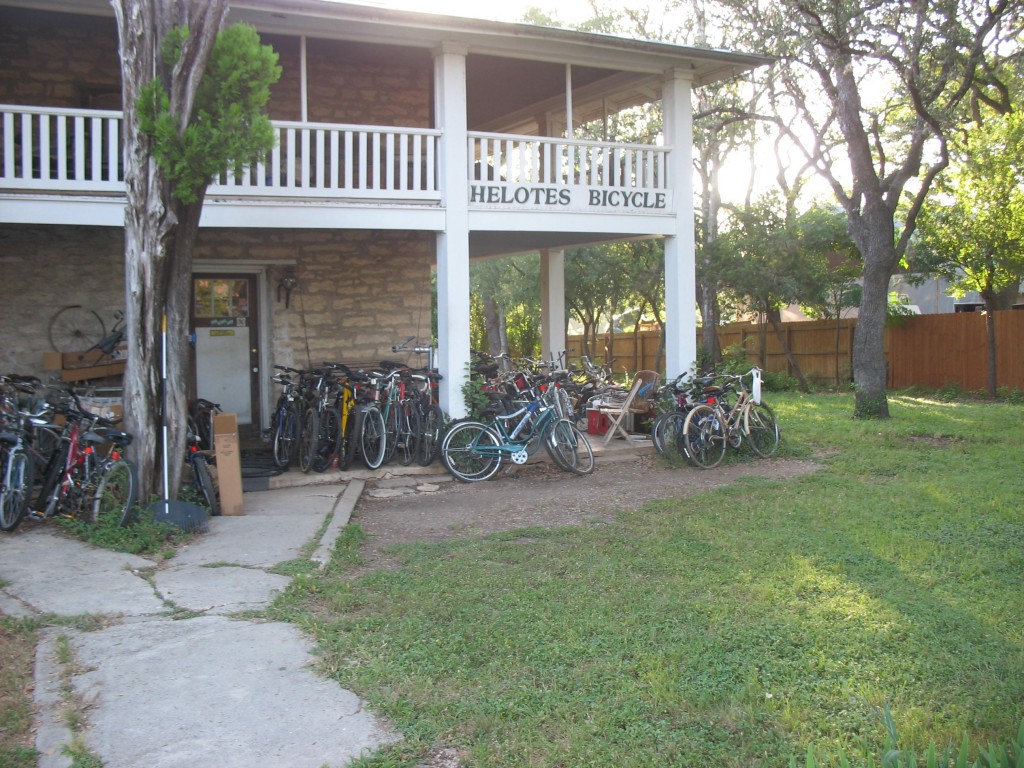 Here, does this help: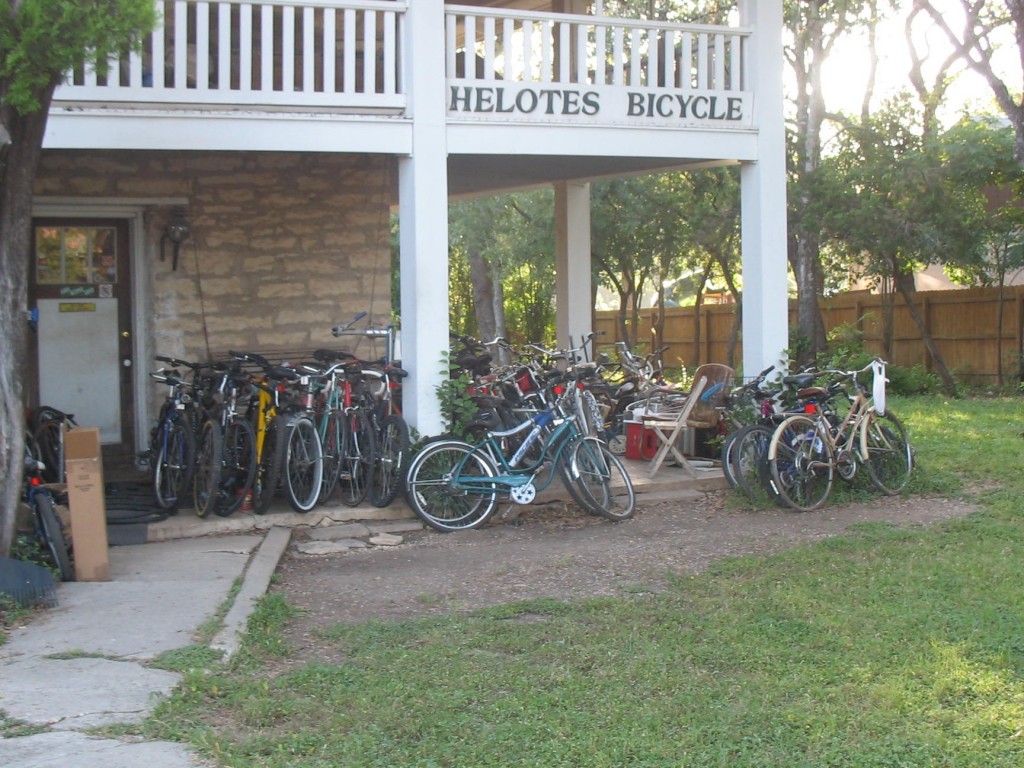 Yeah, my enthusiasm was blinding me to the fact that these particular style of bikes are not used in triathlons. He's still laughing about it.
Next up was meeting the race co-coordinator, Edgar. He was such a nice guy and did an amazing job putting this thing together. He's smiling cause he knows what's about to happen to us. I'm smiling because I have no idea what's about to happen to us.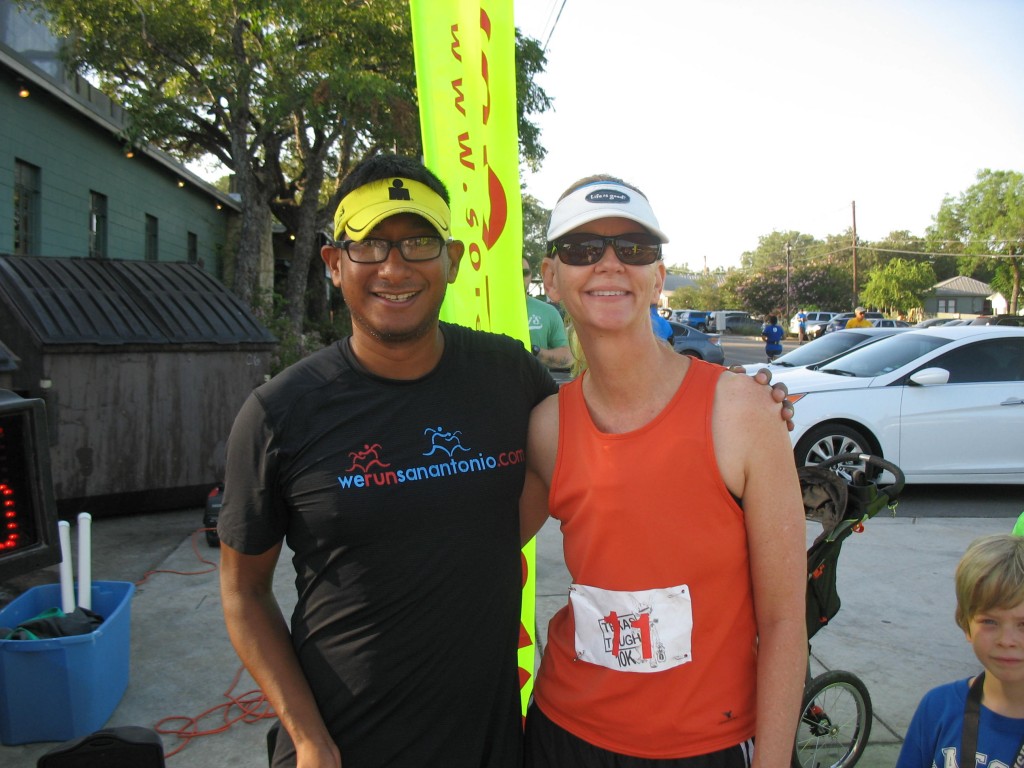 This is me starting out, all HELL YEAH! (lucky orange shirt, black socks) I'm checking out the ravine/creek bed we have to drop into to start the insanity.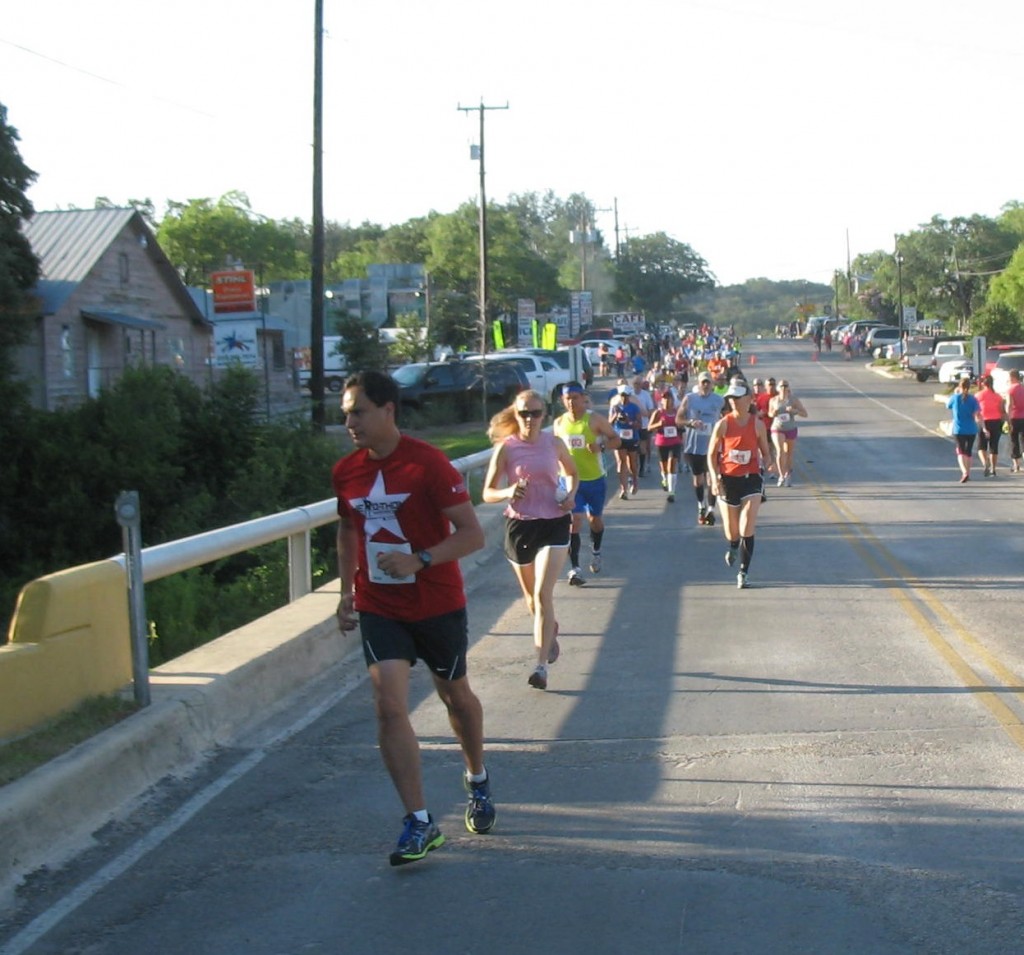 This is Jim. We yakked and yakked about running and found out we have a friend in common. Plus, we both love Airrosti. This pic was post-race. You can see I'm soaked from all the water I doused myself at the water stations, trying to keep my core temp in check. My forced smile says it all, but if there was any doubt that more needed to be said about this hella tough run, look behind us at the other dudes.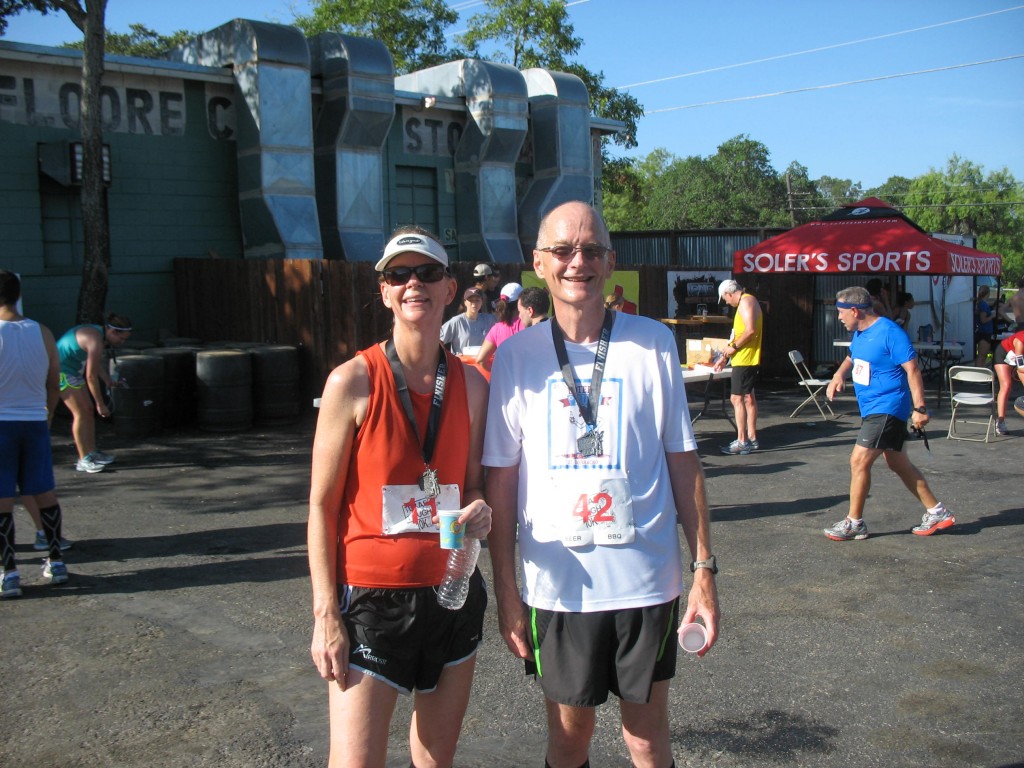 The magnificent post-race meal they fed us. ARE YOU KIDDING ME?! We had full on BBQ, Corona's and a live band at 9am in the morning. Baby, I was livin' the dream. I coulda kissed Edgar had he stayed still long enough. This is how you do it, race organizers! For the record, I had a few bites of the meal (Garry had the rest as a Sherpa thank you), drained my beer and then a large part of Jim's. WHAT?! He gave it to me. Sheesh.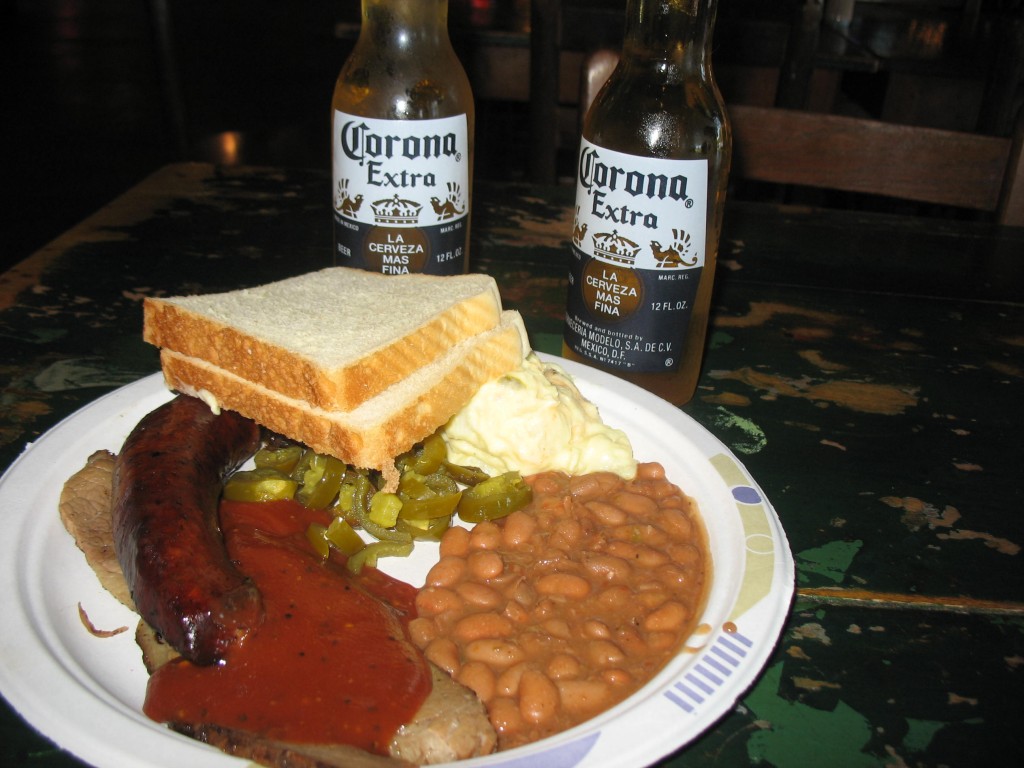 These guys joined Garry, Jim and me at our table. I was so tired I knew I'd forget their names and I did. If you two lovelies are reading here, leave your names in the comments. DO IT! The four of us shared runner stories while Garry laughed at us. RUNNERS!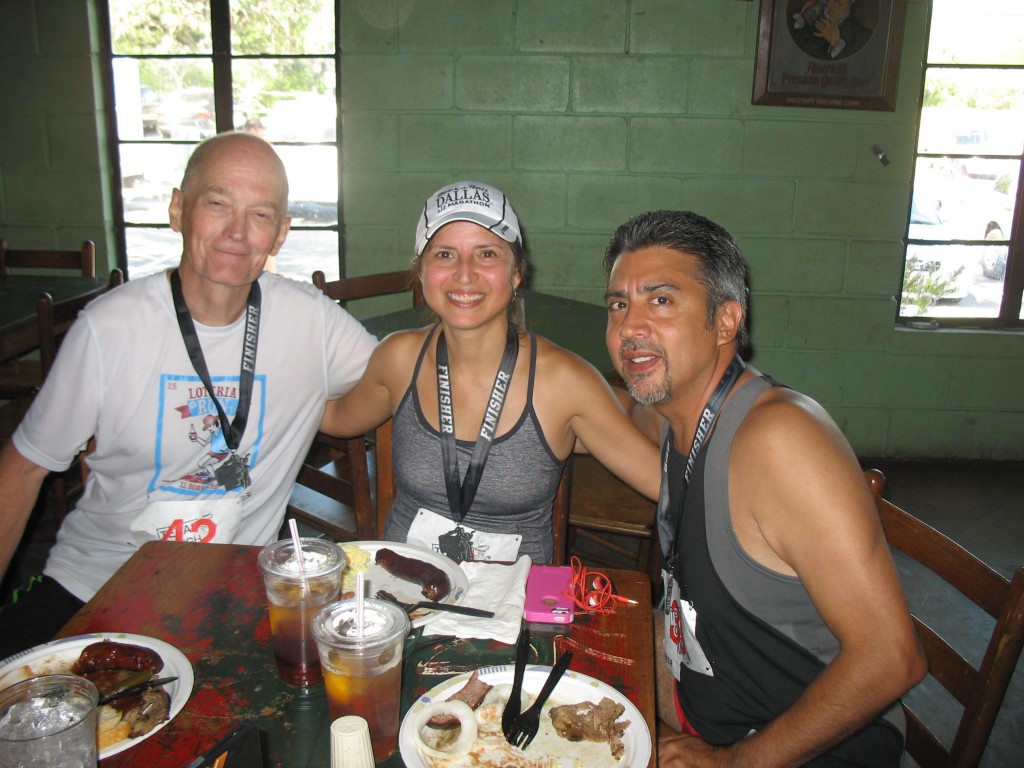 And as we all know, this is the real reason I run these races: the medal! This one is a definite standout. I can picture Sweet E trying to swipe it at a later date.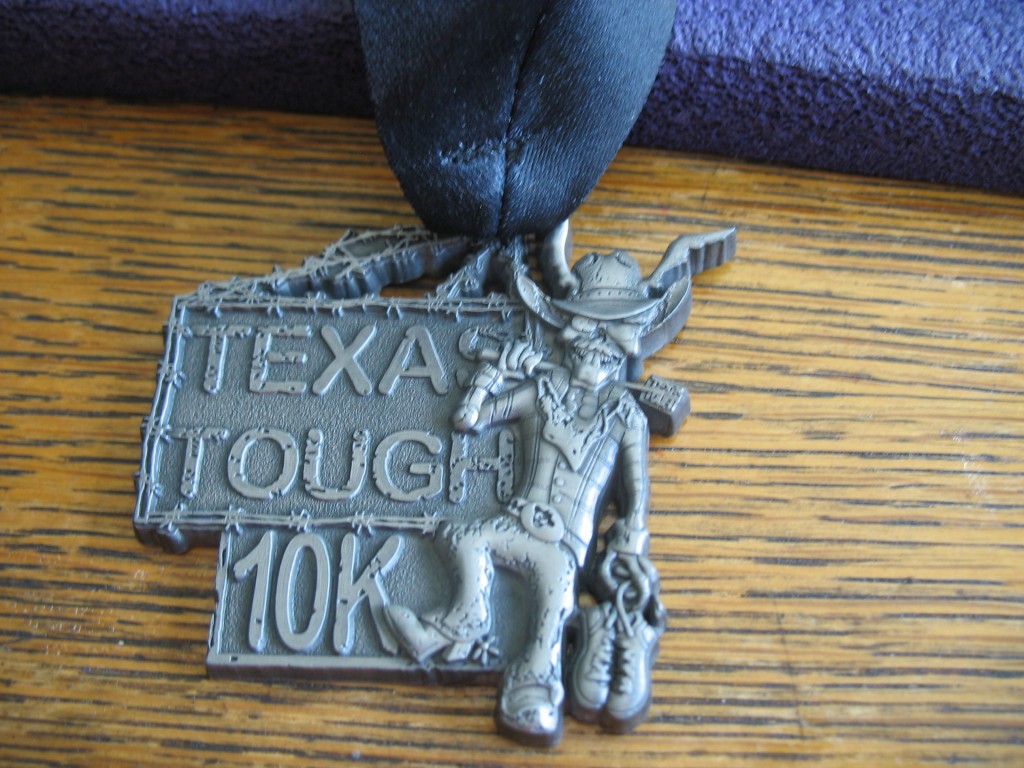 The race, a great meal, a FULL ON BEER (take note Rock & Roll organizers), new friends, the fantastic medal, and of course bragging rights.
Totally want you on my team next year. Yep, I'm talking to YOU!
Just think, then you too can be goaded by Garry like I was: BONUS VIDEO!
I look like I am hardly moving! LOL!
One last thing. My final results:
#55 overall out of 100 = top 55%
#19 out of 55 among all women-all age brackets = top 35%
#2 out of 4 in my age group = top 50%
For my first showing on this shockingly tough course, I'm happy with my results, as my age bracket was the oldest bracket for women. To place in the top 35%, with those hills = HELL YEAH!
Now for a short rest and on to training for the Rock & Roll in November.
What are you guys doing to stay one step ahead of your good health?