This self-dressing salad is such a tasty way to eat your veggies!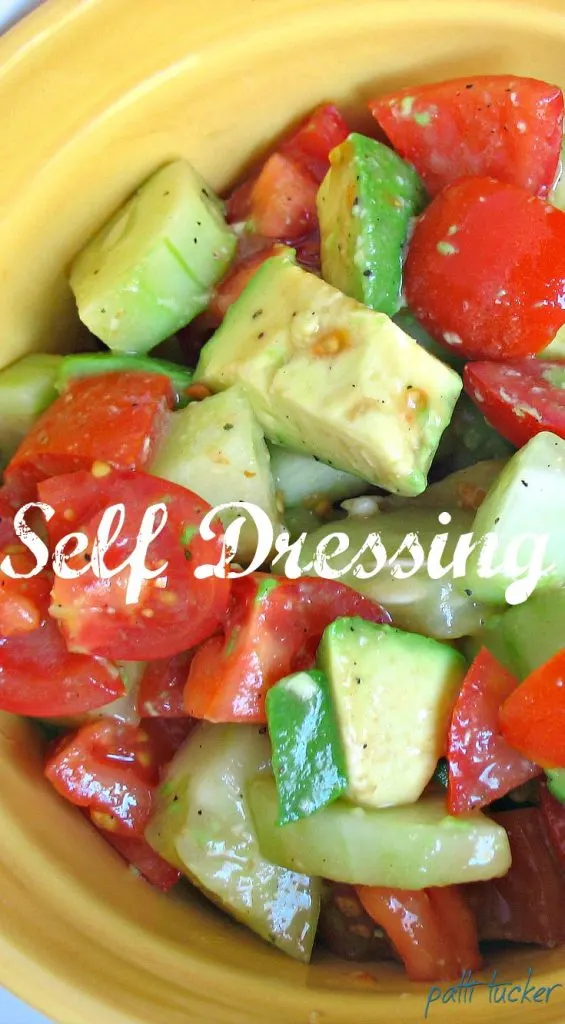 I have shared this salad before, and I'm sharing it again because #1) it's a popular side dish and #2) it really is my all time favorite self-dressing salad.
There are so many great points to made about a salad that dresses itself: #1) it's simple, #2) it's delicious and #3) if you're a newbie in the kitchen or an experienced cook, bringing this dish to any occasion will add to your kitchen cred.
This recipe is traditional summer fare, but works on any table, any occasion. Well, maybe not a bachelor's party or a cookie swap, but you get what I'm telling you, right? This salad be versatile!
I've made it for Thanksgiving, Christmas, and all through BBQ season, which really is any day of the year in Texas. Without fail, folks want the recipe. It really is that good.
[Tweet "Eat your veggies! This self-dressing salad makes it easy."]
Ingredients
1 medium cucumber
2 medium tomatoes
2 avocados, peeled
2 garlic cloves, minced
1 tsp. fresh lemon juice
1 tsp. freshly ground pepper
Instructions
Chop all veggies into 1-inch cubes.
Mix chopped veggies with garlic, lemon juice and pepper in bowl. Cover and refrigerate for 1 hour before serving.
Notes
This salad is good in the winter when you want something to offset heavy meals and can be mixed into pasta, but in the summer, with homegrown produce, it's off the charts delicious.
Trust me, baby.
* This recipe was cut from the San Antonio Express News Food Section almost 20-years ago; I don't know the original source.
https://ohmrstucker.com/eat-your-veggies/
Typically, I double the recipe. I also prefer to eat it the day it's made. There's something about avocados that have been sitting around that is. just. not. right. But, you totally do what feels right to you. Don't let my weird food issues get in your way, no sir.
What are you waiting for? Get to whizzing in the kitchen!
Happy Eatin', Y'all!