Y'all know I'm a thankful kinda gal and ain't afraid to show/tell it. It's that time of year again when I make me a listy-loo of the thangs I'm most thankful for this year. You can read last year's list HERE.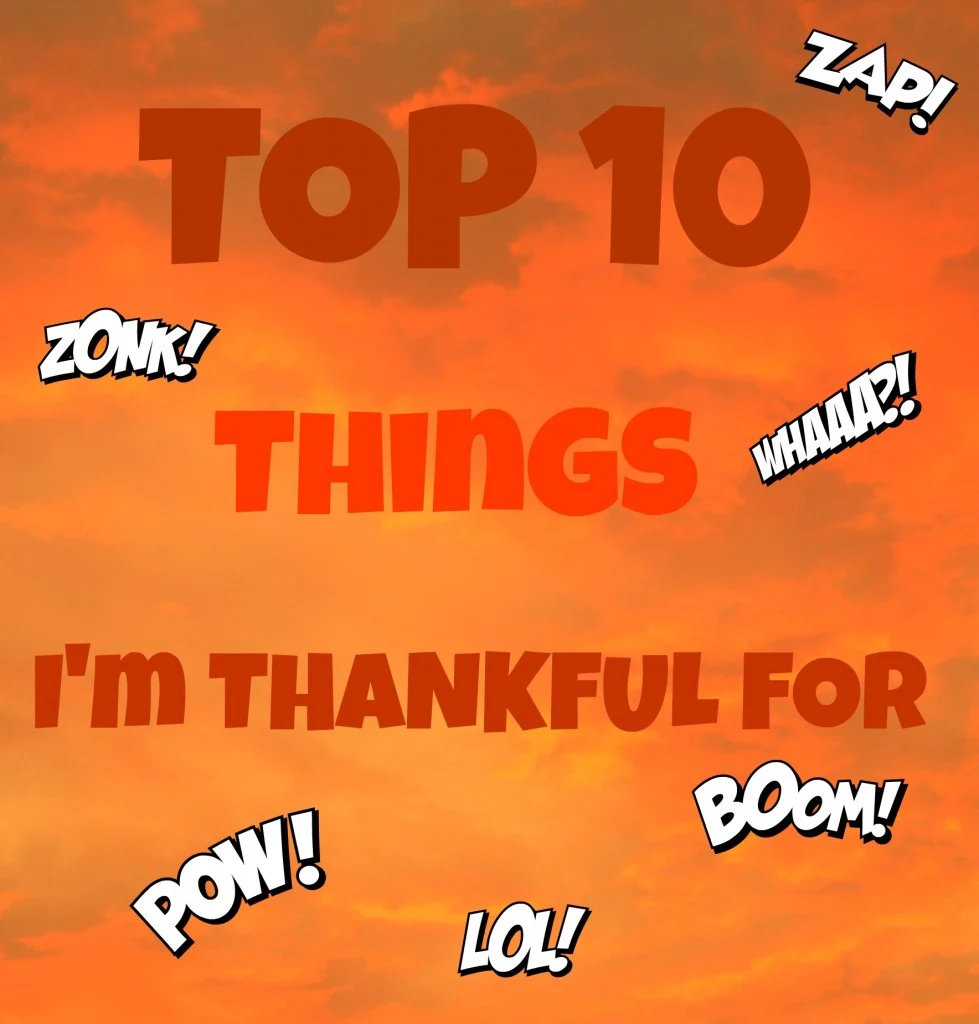 To the list!
#1: As you read this post, Garry and I are a'quiver with anticipation of our first week with Sweet E sans parentals! The time has come for Boy and Girl to GET OFF OUR LAWN! and go have some fun without that tiny whippersnapper. A week without E will most assuredly be harder on them than they think (they are giddy with travel plans at the moment), but he's in excellent hands.
My only hope is that we don't send him home with too many bad habits or inappropriate jokes. ACCIDENTALLY, y'all!
Now that I reread the last couple of sentences, it sounds like they might be leaving him at a frat house. Not true. We drink our beer out of glasses, not spigots. True story.
#2: Our collective health. Those that have their health have everything and that's what it feels like to me today; we have everything. I had a cancer scare a few weeks back and as many of you know, the unknown is excruciating. As a melanoma survivor, I had already been through an unknown waiting period, longing for good test results, and it served me well this time around.
The biggest lesson: until it's definite bad news, don't panic. Even then, don't panic, educate yourself for proactive badassery. When we got the news that all was well, there were literal and figurative high-fives. The bonus was that we didn't have to postpone the fun time #1 thang I'm thankful for! (see above)
#3: My great auntie passed this year. She was the matriarch of my tiny family (I told The German the mantel now fell to her and she gasped…as did I!) and I'm going to miss her for the rest of my life. She was 95-years-old and I talked to her every week for the last 20+ years. It never failed that we would laugh…hard…at something in our lives during our conversations. We shared a mutual affection, a deep love, for the other and I think it oozed out of each and every encounter.
Yet, in these last years, she was growing tired. She missed all who had gone before her, which was every person whom she shared memories with from her youth. There was no one left to remember the old days with her. No one left to commiserate about her world gone south. Each time we talked in these last months, I would tell myself to remember her voice, to take in her love, to remember her spunk, because I knew she wasn't long of this world.
When I got the news she passed, it was a combination of feeling elated, knowing she had gone home to all she had loved and feeling devastated that she was gone.
I am thankful for all that we shared, but more importantly, I am thankful she is at peace.
#4: I am thankful that I actually attempted gardening this year with a brand new cedar bed and had more success that I thought possible. TOMATOES! Nothing like a homegrown red ball of yum to remind you that life is good.
#5: Speaking of DIY projects, the one I am most thankful for is the patio curtains. I love me some privacy (you wouldn't know from this site, but still, I do!). I have already taken them down once to wash and it worked out beautifully. When I step outside, I can't tell you how happy these simple drop cloths make me. SO HAPPY!
#6: I'm still not running. That doesn't seem to be something to be thankful for, especially since this injury has vexed me for over a year. Right?! Right. Butt (a really big but), I am thankful that my injury is slowly improving which means that maybe I'll be running by the spring. I'm hanging on to that nugget.
#7: You guys. Yep, you made the list again! I sit alone in my office pounding out posts, hoping that they resonate with you, that they help or lift or give something of some value to your lives (or at the very least make you shoot coffee through your nose from teh funny). And what do you guys do? You respond with comment gold or share my stuff through social media or make purchases through my affiliates.
You take the time, your precious time, to respond to my words, when I know that you could be doing a million other things or hanging out with a million other way cooler people. I not only appreciate the kindness, but am awed and grateful to the very core of who I am for the amazingness that is you. Yeah, spell check told me "amazingness" is not a word and I argued that they obviously haven't met you yet. Sheesh.
#8: My Canon EOS 6D. Seriously, y'all. That camera gives me the deep satisfying sighs. When I upgraded, it was like going from a two-wheeler with a card in the spokes and handle bar streamers to a sophisticated Ducati. I still get a bit light-headed when I pick it up to shoot, knowing that it's mine…all mine! ~laughing maniacally while twisting my imaginary handbar mustache here~
#9: That I'm surviving perimenopause with all its confusion and angst with a good attitude*. This time in a woman's life is like having a bad boyfriend who just won't leave you the hell alone, even when you threaten to cut him. There are mood swings, weirdo period schedules, forgetting all the things, and sometimes a waning libido. NOOOOO! But, here I am, thankful that my symptoms are not so outrageous that I require medical intervention or a padded room. Thankful that I can still remember some of the things. Thankful that I haven't cut anyone. Thankful that my mood swings are short-lived and afterwards there's a little bow-chicka-bow-wow.
* Garry absolutely might disagree with this statement.
#10: This last bit of thankfulness is something I'm thankful for most days: my ability to recognize and laugh at the ridiculousness of life. This year handed us some tough days; it handed us some tender days. I've laughed through all of it. My joy comes from my faith, which allows me laughter, even in the face of the tough stuff. I know life here is temporary. I know that I could make things harder than they have to be by focusing on the pain, but why?
Laughter is a gift. One that I'm happy to spread around. We're all going to face events that suck the joy right out of us, but somehow, given a hot minute, I'll be able to find the stuff to laugh at and then I'll share it with you, hoping you can see the ridiculousness of it all with me.
It's a lovely thread that connects us, don't you think?
Your turn! What are you thankful for this year?
Tell us!